Two-strand twists are a hairstyle that is created by twisting two sections of hair together. This hairstyle can be created on both natural and relaxed hair. The process of creating two-strand twists involves taking a small section of hair and dividing it into two even parts. Then, the two parts are twisted together, starting at the roots and working towards the ends, until the hair is twisted tightly together.
Two-strand twists are a versatile and low-maintenance hairstyle that can be worn by people with all hair types and textures. They can be dressed up or down and are a great option for those looking for a protective style that promotes healthy hair growth. In this article, we will show you how to style two-strand twists, including tips on how to maintain them, and different ways to accessorize and personalize the look.
20 Beautiful Ways to Style Two-strand Twists
Two strand twists are a protective hairstyle, as they help to keep the ends of the hair tucked away, reducing the amount of manipulation and exposure to the elements which can lead to breakage. Here are a few ideas on how to style your twists:
Create a chic updo by gathering your twists into a ponytail or bun. This is a great option for formal occasions. Braid your twists for a different look. You can braid the twists all together or separate them into smaller braids. This style is perfect for a casual look, a workout, or for keeping your hair out of your face.
Do a Half-up, half-down– Leave the top half of your twists down and gather the bottom half into a ponytail or bun. This style is great for a relaxed, everyday look. Add some flair to your twists with hair accessories such as beads, barrettes, or satin scarves.
Making a bun with twists is an elegant style that looks great on all hair lengths. You can make a bun on the top or the side of your head depending on the shape of your face. By experimenting with different styles, you can find the one that works best for you and your hair type. However, we compiled a list of 20 unique ways to style two-strand twists!
1. An Updo
Creating an updo is a fantastic way to style two-strand twists as it offers a chic and playful look all at the same time, and it is surprisingly easy to pull off.
2. A Bun
Bun is a favorite styling technique and it doesn't get old, as it does wonders in accentuating facial features and highlighting the cheekbones. For buns, all it takes is determining how high you want them to be. Afterward, you grab a scrunchie, secure it in a high ponytail, and wrap it around.
3. A Loc Knot Bun
Nice and simple transitional style. A "transitional" style is a style within a style. This is a two-strand twist into a loc knot bun. The loc knots can be taken down and made into a curly ponytail. The ponytail can be taken down and you'll still have the two-strand twists. Lastly, the two strands can be taken out, and now you have wavy locks.
4. Chunky Updos
For those with chunky twists, styling can be particularly difficult, however, this style inspo can be recreated! All that is required is a lot of bobby pins.
5. Accessorized with Bows
Bows are a beautiful way to style two-strand twists, especially for kids.
6. Two Strand Twists Out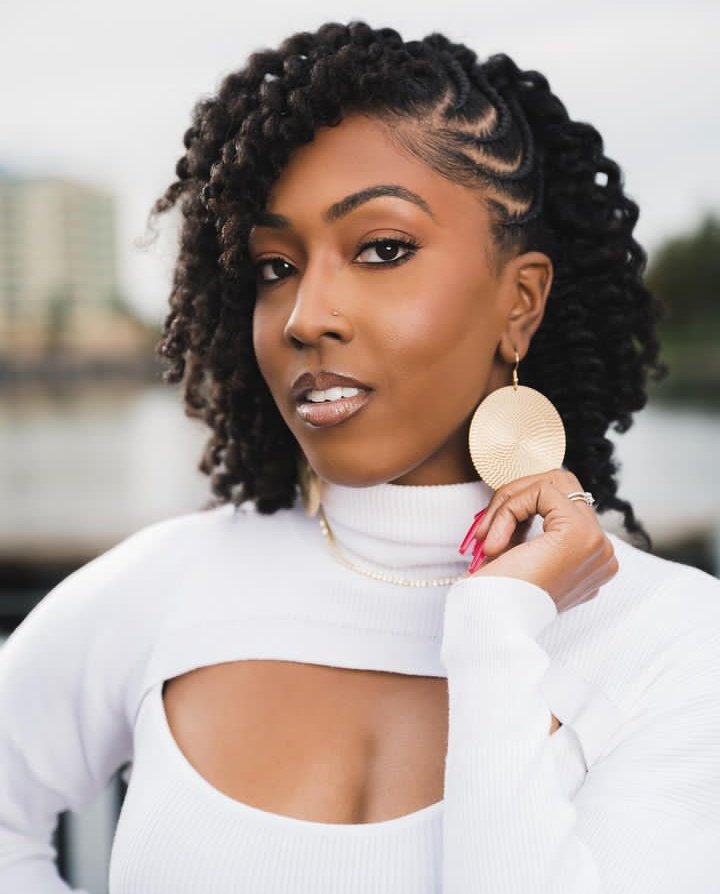 The unique thing about two-strand twists is the versatility it offers, you could opt to style your two-strand as a twist out after keeping it for long and twists out helps to add volume and curl definition. Another interesting fact, you could do a retwist afterward, it helps to stretch your hair.
7. Half n Half
The half-up half-down is a popular styling choice and for great reasons such as it is easy to create and suitable for casual, formal occasions and girls' hang out.
8. Low Half up Half down
Two-strand twists are an amazing way to rock natural hair and styling in a low half up half down look does suit the vibe the twists have going on.
9. Bun with Bangs
This is a stunning way to style two-strand twists and is quite easy to install. Start by taking out the twists for bangs in a way you'll like it to fall and bun the rest section up!
10. A Low Puff
Mini two-strand twists are an absolute stunner! This style features a low ponytail secured with a satin scrunchie.
11. Two-strand twists with messy bun
Slightly messy buns are a beautiful way to style two-strand twists perfect for formal and casual events.
12. Double Bun
Putting your twists in a bun is simple enough and a cute look but double buns are a notch from the normal and an ultimate baddie move!
13. Accessorized with Hair Ornaments
Hair ornaments such as rings, barrettes, hair cowries, and beads are an amazing way to style two-strand twists, the outcome leaves you slaying and roving in confidence.
14. Two Strand Bang with Ponytail
The bang and ponytail blend makes for an interesting style choice. It is incredibly easy to create as well.
15. Space buns
Space buns are a nice tweak from the ole regular buns.
16. Two strand Ponytail
A ponytail is a forever dope way of styling two-strand twists, it is simple and does a fantastic job of keeping the hair from the face.
17. Messy Half n Half
A half up half down done in a tousled and slightly messy look gives off an edgy and beautiful look.
18. Low Ponytail
This style features securing your twists in a hair tie or scrunchie at the back area of your head.
19. Low half n half
A low half up half down is just as the name implies, a half n half brought backward.
20. Low bun
Buns are the real deal when it comes to styling and the low buns are no exception.
How to Care for the Twists to Prevent Unraveling and Frizz
Caring for two-strand twists to prevent unraveling and frizz is an important step in maintaining the style. Here are a few tips on how to care for your twists:
Retwist: As your hair grows, the twists may begin to unravel or become loose. To prevent this, it's important to retwist your hair every 2-3 weeks. This will keep the twists tight and neat.
Moisturize: Keeping your hair moisturized is essential for preventing unraveling and frizz. Use a leave-in conditioner or oil to keep your hair hydrated and soft.
Protect your hair: Use a satin or silk scarf or bonnet to protect your twists at night. This will prevent your hair from getting tangled or frizzy while you sleep.
Avoid harsh products: Avoid using harsh shampoos, conditioners, or styling products that can dry out your hair. Instead, opt for gentle, sulfate-free products.
Sleep on a satin pillowcase: Sleeping on a satin pillowcase can also help to prevent frizz and unraveling. Regular cotton pillowcases can absorb moisture and cause friction that causes frizziness.
Keep your hands off: Avoid playing with your twists or running your fingers through them, as this can cause unraveling and frizziness.