Faux locs are a great protective hairstyle that gives you that dread vibe while still looking cute. The interesting part is that faux locs can be styled in various ways. A faux locs novice's first question is usually "What type of hair do I need?" and "What does the installation process entail?" All of these questions and more would be answered in this article.
What are Faux Locs?
Faux locs are just that—fake locs. Faux locs look like dreadlocks and can grow out quickly or be touched up.
Different faux loc styling options result in a variety of stylish hairdos. Among the kinds are goddess locs, soft faux locs, butterfly faux locs, distressed faux locs, and crochet faux locs; the difference lies in how they are applied.
Faux locs are a preventative hairstyle that guards against environmental variables that could cause hair breakage since natural hair strands are tucked into the locs. If you want to aim for a look that says a little bit unconventional, stunning, and smart, try faux locs.
What is the Best Hair for Faux Locs?
The hair used for the locs is crucial to getting the desired look, and the Kenakelon and Marley synthetic hair are not only reasonably priced but also excellent choices.
How Many Packs of Hair for Short Faux Locs?
Short locs are simple to manage and allow for a more flexible styling. Four to five hair packs are often needed for short locs, depending on the thickness and texture of your hair.
How Many Packs of Hair for Medium Faux Locs?
The medium faux locs hairstyle offers for more versatility with hairstyling, and would require anywhere from four to six packs on average and it varies depending on the length, size and hair texture.
How Many Packs of Hair for Long Faux Locs?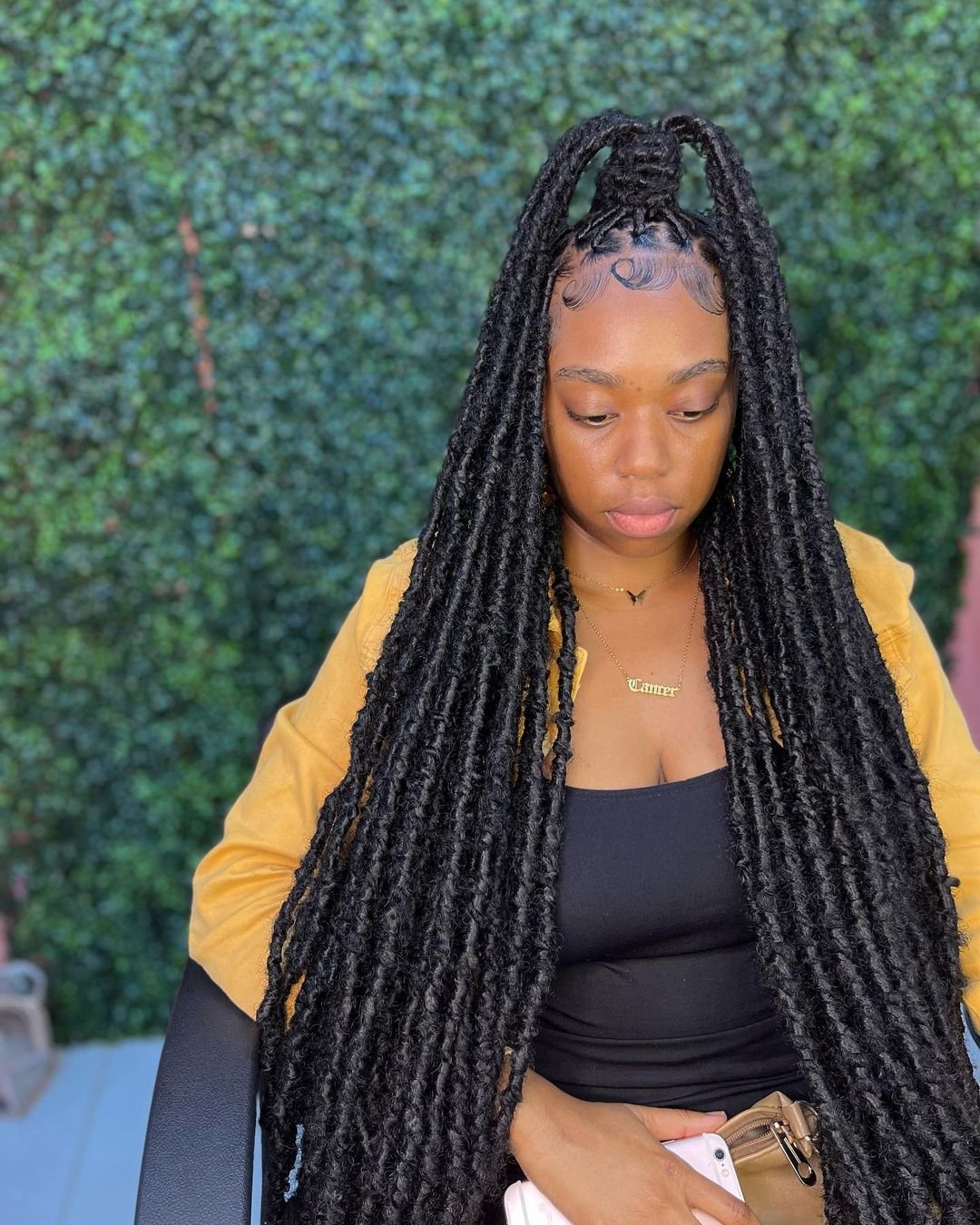 Longer locs are beautiful, but because they are thinner, they may take six to eight packs or even more for very long faux locs.
How to Install Faux Locs
Faux locs can be applied using either the braid and wrap method or the crochet method.
For the braid and wrap technique, after properly separating your hair into sections, take one fraction and braid it halfway, then repeat for all of the sections. Once the braiding procedure is over, mist hair oils on the scalp to keep it moisturized.
Open the loop on the synthetic or prefabricated loc, fasten it to the third braid strand, pull it in, and continue braiding with the loc. You'll be able to distinguish between the braid and loc once you're done.
Thread a crochet needle through the braid roots and pull the wrapping hair so that one half appears longer than the other and tightly wrap twice at the roots to create that knot-free, natural look.
Following that, wrap loosely as you move downward. Either wrapping left or right is up to you. Do not forget to palm roll each loc after wrapping the hair around it.
The crochet method involves braiding your hair into cornrows or single plaits and crocheting in the ready-made locs; this method is quicker and somewhat easier to do.
To avoid damaging your hair or irritating your scalp. For the installation, a prepped and ready-to-use hair bundle must be used, along with freshly washed hair.
Run some lukewarm water into a bowl and add about two and a half cups of vinegar to prepare your hair bundles by washing them in the solution to remove any coating that could irritate the scalp. The bundles should be completely submerged in the bowl, left to soak for two hours, then rinsed out with water and allowed to air dry overnight.
How long does Faux Locs take to Install?
Bring snacks with you to your visit because faux locs can take four to nine hours to complete – less time if you do the crochet method, and more time if you do the wrapping method. Just remember that how long and how thin you want your locs to be, as well as the technique your stylist employs, will determine how long the process takes. If you're feeling uneasy, calling in advance is always a good idea.
Faux Locs Hairstyle Maintenance Tips
Are faux locs washable? Yes! It's not as difficult as it seems. The easiest approach to wash these locs is to keep your fingertips on the scalp exclusively, letting the shampoo wash the locs down. By doing this, you'll avoid putting too much pressure on the locs, eventually making them loosen and fall out.
Wash your hair normally if you intend to keep your locs in for more than four weeks.
Use a dry shampoo or an apple cider vinegar hair rinse if you don't plan to wash your hair to eliminate product buildup and grime on the scalp.
Oils and leave-in conditioners complement protective hairstyles.
Use mousse to tame flyaways and occasionally give shine to your locs.
To seal in moisture, promote healthy hair growth, and reduce frizz, concentrate on the condition of your scalp by spraying hair oils.
When accessorizing your faux locs, exercise caution. The edges and roots of faux locs can become stressed from headbands and hair ties pulling on the hair.
Wear a silk cap or scarf while you sleep to keep the fake locs looking fresh because cotton or other textiles drain away moisture.
Faux loc removal technique
If the installation was done properly, there is no need to be concerned about the removal process damaging your hair.
However, you must exercise caution when removing the locs to prevent damaging your hair. Cut the locs at their root before gently unwrapping the hair.
If you have crochet locs, you might need to first remove the braid before removing the loc. This process is straightforward. The braids below need to be undone next. I suggest massaging the braid roots with oil or water to prevent hair loss brought on by-product accumulation.