Transform your ponytail from ordinary to extraordinary with these 20 feed-in ponytail braid styles. These braids not only add a touch of elegance to your look, but they also protect your hair while keeping it out of your face. From sleek and simple to intricate and bold, these styles are perfect for any occasion.
What are feed-in ponytail braids?
Feed-in ponytail braids are a type of braiding hairstyle where small sections of hair extensions are gradually added to the braid as it is being styled. This creates a thicker, fuller braid that is less bulky than traditional braids. The braid is then secured into a ponytail, giving the appearance of a braided ponytail. This technique is often used for protective hairstyles and is popular among African American hairstyles.
Benefits of feed in ponytail braids
There are several benefits of feed-in ponytail braids, including:
Protection: Feed-in ponytail braids are a great protective hairstyle. They help to protect your hair from damage caused by styling tools, harsh weather, and daily wear and tear. This can lead to healthier, stronger hair in the long run.
Low maintenance: Once installed, feed-in ponytail braids require very little maintenance. You don't have to worry about styling your hair every day, and you can go longer between washes.
Versatility: Feed-in ponytail braids can be styled in a variety of ways, allowing you to switch up your look without having to take out your braids.
Convenience: Feed-in ponytail braids are perfect for those who don't want to spend a lot of time styling their hair in the morning.
Perfect for all hair types: Feed-in ponytail braids work well on all hair types, whether your hair is short, long, curly, or straight.
Low cost: When compared to other hair extensions, feed-in ponytail braids are a relatively low-cost option.
How to install feed in ponytail braids?
Here's a general guide on how to install feed-in ponytail braids:
Start by detangling and prepping your hair. Make sure it is clean and dry before you begin braiding.
Divide your hair into sections. You can do this by using a comb or your fingers to create a centre part and then separating the hair into two sections on either side of the part.
Take a small section of hair from the front of one of the sections and divide it into three even parts. Begin braiding this section in a traditional cornrow braid, adding in new hair as you braid.
Repeat this process, braiding the hair in a downward direction and adding small sections of hair as you go. The goal is to create a braid that gradually gets thicker as you move down.
Once you reach the end of the braid, secure it with an elastic band. Repeat the process on the other side. Gather both braids and secure them at the base of your head with an elastic band to create a ponytail. Style and accessorize as desired.
How long does it take to install feed in ponytail braids?
The time it takes to install feed-in ponytail braids can vary depending on several factors such as the length and thickness of your hair, the skill level of the braider, and the complexity of the style you choose. On average, it can take anywhere from 2-6 hours to install feed-in ponytail braids.
20 beautiful feed in ponytail braids 2023!
1. Medium size and Heart Galore
If you are not a fan of too big or too small, medium works great! And with the sprinkle of hearts, it is a dope look.
2. Zig Zag braids
This style features braids that are braided in a zigzag pattern and then pulled back into a ponytail.
3. One feed in braids at the sides
Time effective and offers a fabulous outcome!
4. Bohemian braided bun
This manner accentuates braids that are pleated down to the ends and then wrapped into a bun at the base of the head. The messy and slightly whimsical look is the distinguishing factor.
5. Braided ponytail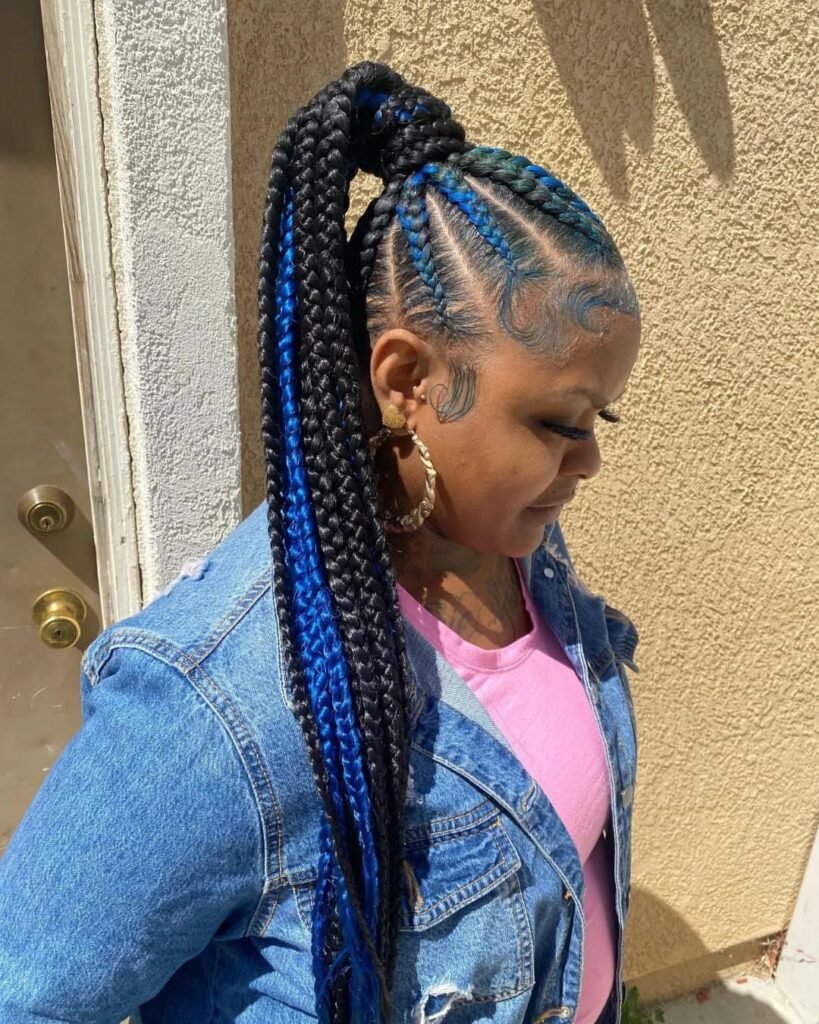 This look is suitable for occasions and features a ponytail that is made up of several feed in braids in an updo fashion.
6. Half n Half
Mention a trendy style if this isn't at the top of the list!
7. Dollar Braided Ponytail
This freestyle updo is creative, chic and a go-to baddie look!
8. Half Braided Pony
Sleek and simple, this style is great for those who want a low-maintenance look.
9. Lemonade braided pony
This style features side-swept braids that are then pulled back into a ponytail on the other side.
10. Braided pony with bangs
Braided bangs are a great switch up from ordinary to something more!
11. Stitch feed in pony
Gorgeous stitch braids pulled into a ponytail!
12. Small and large feed in pony
Small and large combo feed-in ponytails are a boogie look!
13. Designer feed in pony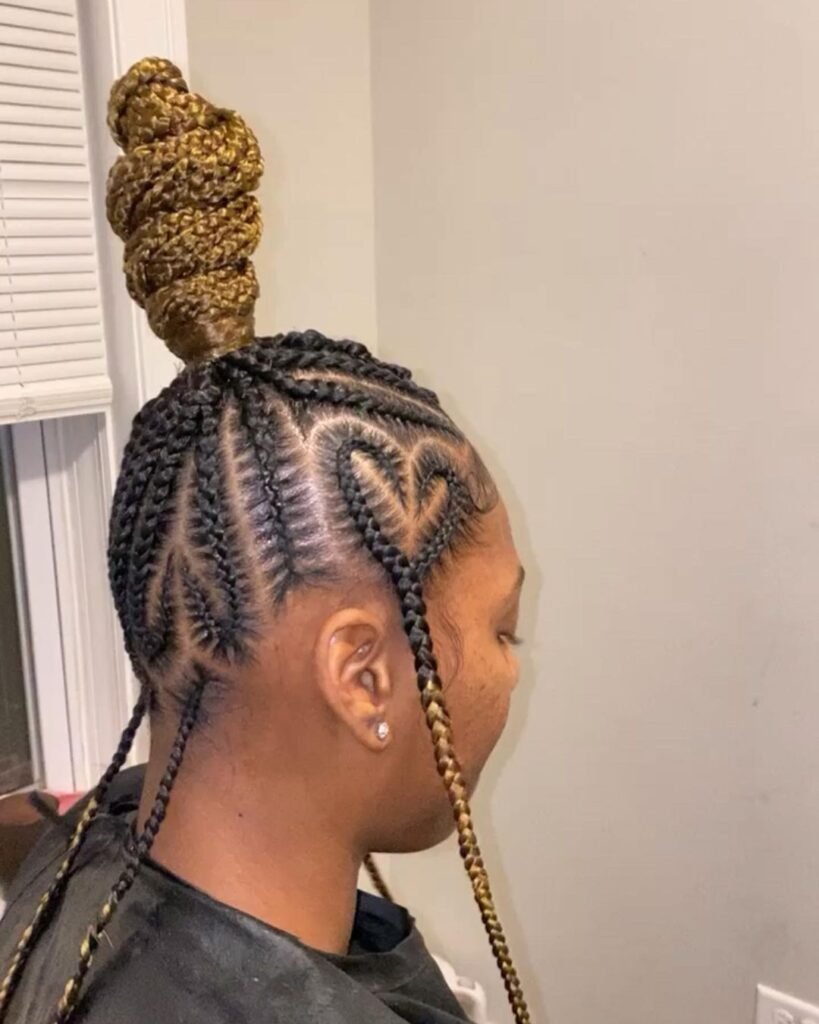 This ponytail feed in braids lives up to its name as the outcome is a glamorous look!
14. Small feed-in with curls
Curls are a great way to enhance braids and feed-ins are no exception!
15. Small feed in ponytails
Intricate weaves equal elegance!
16. The heart boho bun
Buns are a great way to style braids, but together with a boho-inspired vibe? The outcome is phenomenal!
17. Multi-colored braids
This style features braids that are weaved in different colours and then pulled back into a ponytail.
18. Feed in Ponytail with beads
Beads are a unique way of upscaling your braids, they add a certain spice to the look and can be easily installed with a beader, or crochet hook. Your hands can also do the trick!
19. Double design bun
Feed-in braids allow for a measure of creativity and here's one fine way to rock a braided ponytail!
20. Small design stitch bun
Buns accentuate the facial curves, giving the face its due attention.
How to care for feed in ponytail braids
Here is some advice on how to look after your feed-in ponytails:
Keep your hair moisturized: Use a water-based moisturizer and seal it in with a light oil to keep your hair hydrated.
Protect your hair while sleeping: To prevent your braids from unraveling or getting tangled, it's important to protect your hair while you sleep. You can do this by braiding your hair or covering it with a satin scarf or bonnet.
Avoid over-manipulation: Try to handle your braids as little as possible to prevent tangling and unravelling. This means avoiding things like playing with your hair, tugging on your braids, or scratching your scalp.
Be gentle when washing your hair: When it's time to wash your hair, be sure to be gentle. Use a sulfate-free shampoo and conditioner, and wash your hair in sections to prevent tangling.
Maintain your braids: It is recommended to keep your braids for about 4-6 weeks depending on the hair growth rate. Make sure to schedule regular appointments with your braider to maintain and retouch your braids.