Cornrow braids have been a popular hairstyle for centuries, and for good reason: they are stylish, versatile, and easy to maintain. Whether you have short or long hair, there are plenty of cornrow braid styles to choose from.
In this article, we'll show you 30 of the best cornrow braid styles that you can try out at home or the salon. From simple, understated braids to elaborate, eye-catching designs, there's something here for everyone!
What are Cornrows Braids?
Cornrows are a type of hairstyle in which the hair is braided close to the scalp in rows. The braids are often tightly woven and can extend horizontally, diagonally, or in other patterns. Cornrows can be styled in a variety of ways and are a popular choice for people with natural hair or textured hair.
Cornrow styles have been worn by people of African descent for centuries, and they have also been embraced by people of other ethnicities. Cornrows can be worn by both men and women and are suitable for all hair types and lengths. 
Benefits of Cornrows Braids
There are several advantages to wearing cornrow braids:
Cornrows are a low-maintenance hairstyle. Once they are styled, they can last for several weeks without the need for daily styling. This makes them a convenient choice for busy people who don't have a lot of time to spend on their hair.
Cornrows protect the hair. Protective hairstyle such as cornrows keeps the hair shielded against external factors and excessive physical manipulation.
Cornrows are versatile. They can be styled in a variety of ways, offering great room for creativity.
Cornrows are suitable for all hair types and lengths. Whether you have short or long hair, there is a cornrow style that will work for you.
Cornrows are a fashionable choice. They have been worn by people of African descent for centuries and have gained widespread popularity in recent years.
35 Best Cornrow Braided Styles
Welcome to the classic world of cornrows! All you need to do is read on!
1. Pop Smoke Braids on Shaved Sides
It is no surprise that this comes off at the top of our list. It is characteristically simple and unique!
2. Bold Cornrows
Cornrows fed in a red braiding hair color extension fall in one category "bold and beautiful"
3. Snake Cornrows
Cornrows trailing in a zig zaggy braid pattern and conforming to a snakey-like appearance exude loveliness. Always a great cornrow braid for men.
4. Simple Cornrow Braids
For the simple folks out there! These cornrow braids will fit right in.
5. Star-shaped cornrows
Cornrows create room for creativity and this braided style happens to be one.
6. Fishbone Cornrows
Looking at these braided cornrows you could easily get why they earned the name "fishbone" and more importantly, the visual aesthetics is a thing of beauty.
7. Bohemian Cornrow Braids
The boho-inspired look is surprisingly or not so surprisingly limited to box braids as it works with cornrows too! 
8. Cornrows on Shaved Sides
Cornrows do not have a definitive look and can be tweaked to suit your desired appearance.
9. Large 4 braids Cornrows
Beauty is most often found in big and bold and with braids that is no exception! Long, chunky cornrows like this one take very little time to make.
10. Cornrows in a Bun
If you are a lover of high buns and do not think that can work quite well with cornrows, you have your answer!
11. Eight Braids Cornrows
If you don't want to spend forever in the salon, request eight braided cornrows style and enjoy the outcome!
12. Half n Half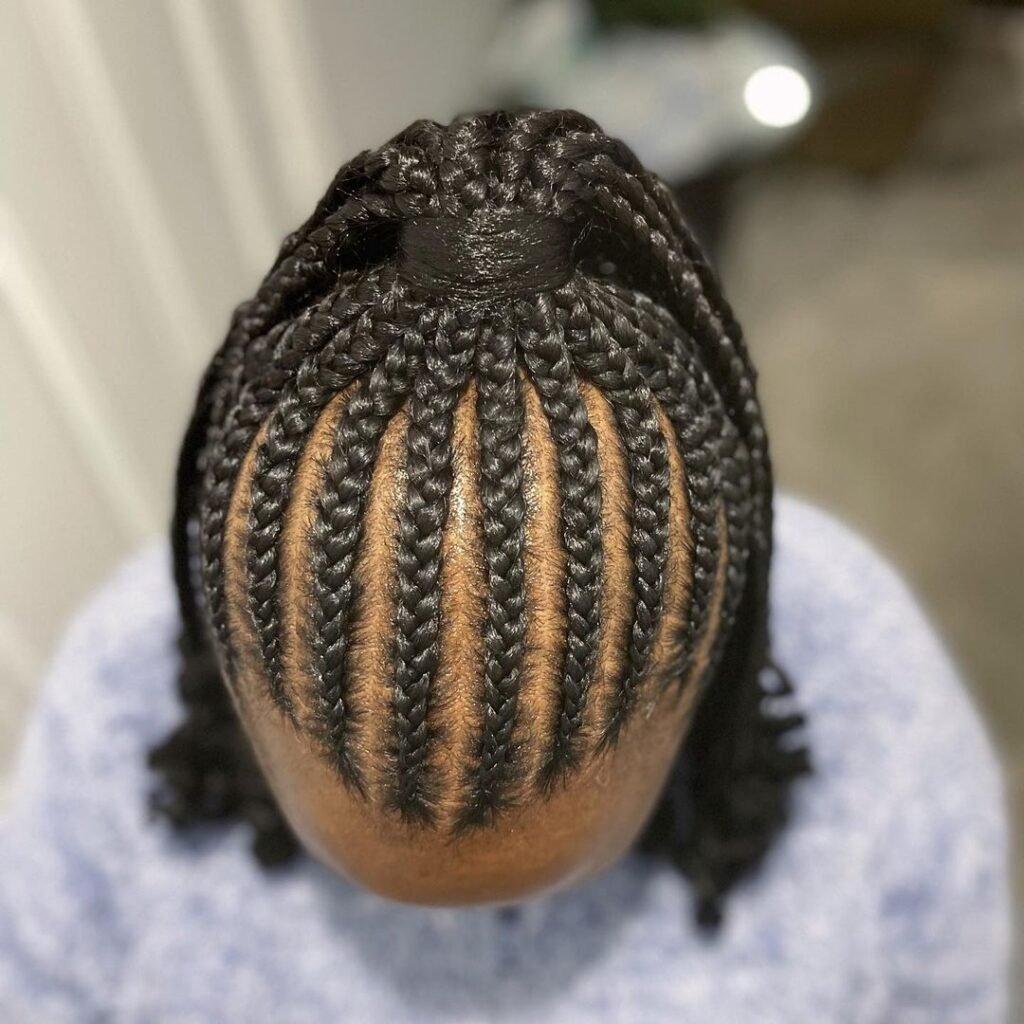 The half-up and half-down braided cornrows ponytail is a chic and interesting way to slay cornrows.
13. Low Braided Bun
The low braided bun and wispy curls dangling are the sides of the face equally stare-worthy.
14. Large Pop smoke braids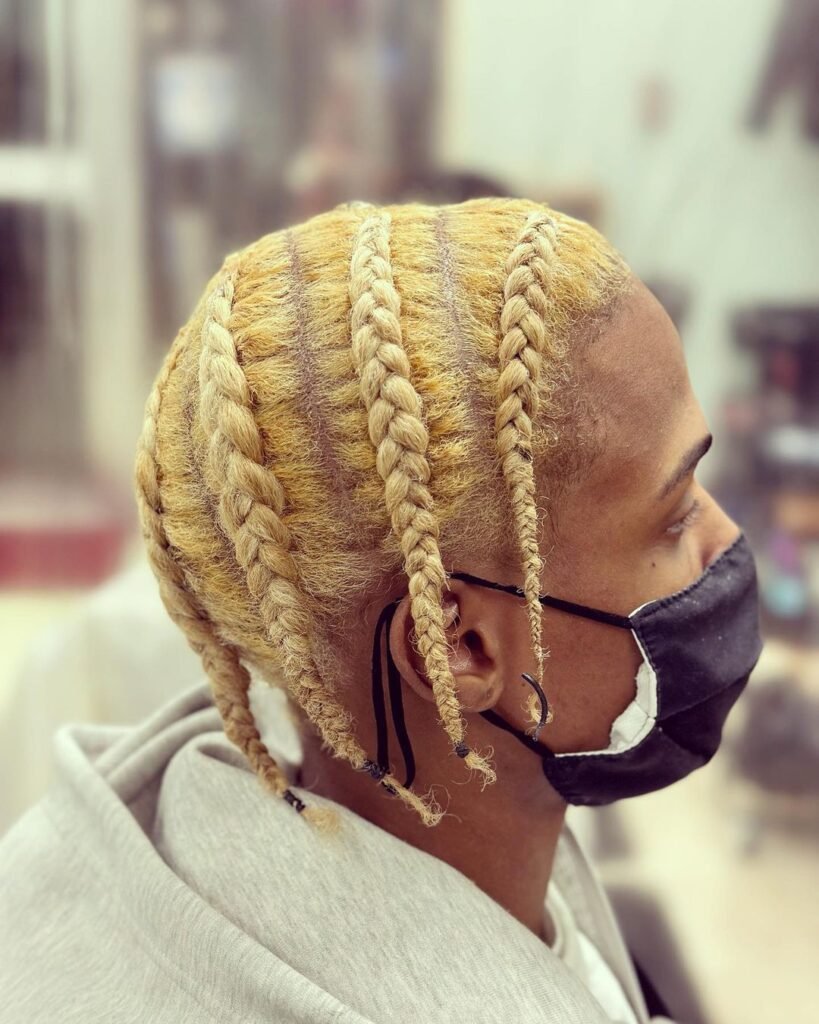 Pop smoke braids are known for one thing and one thing only, gorgeousness!
15. Pop smoke Braids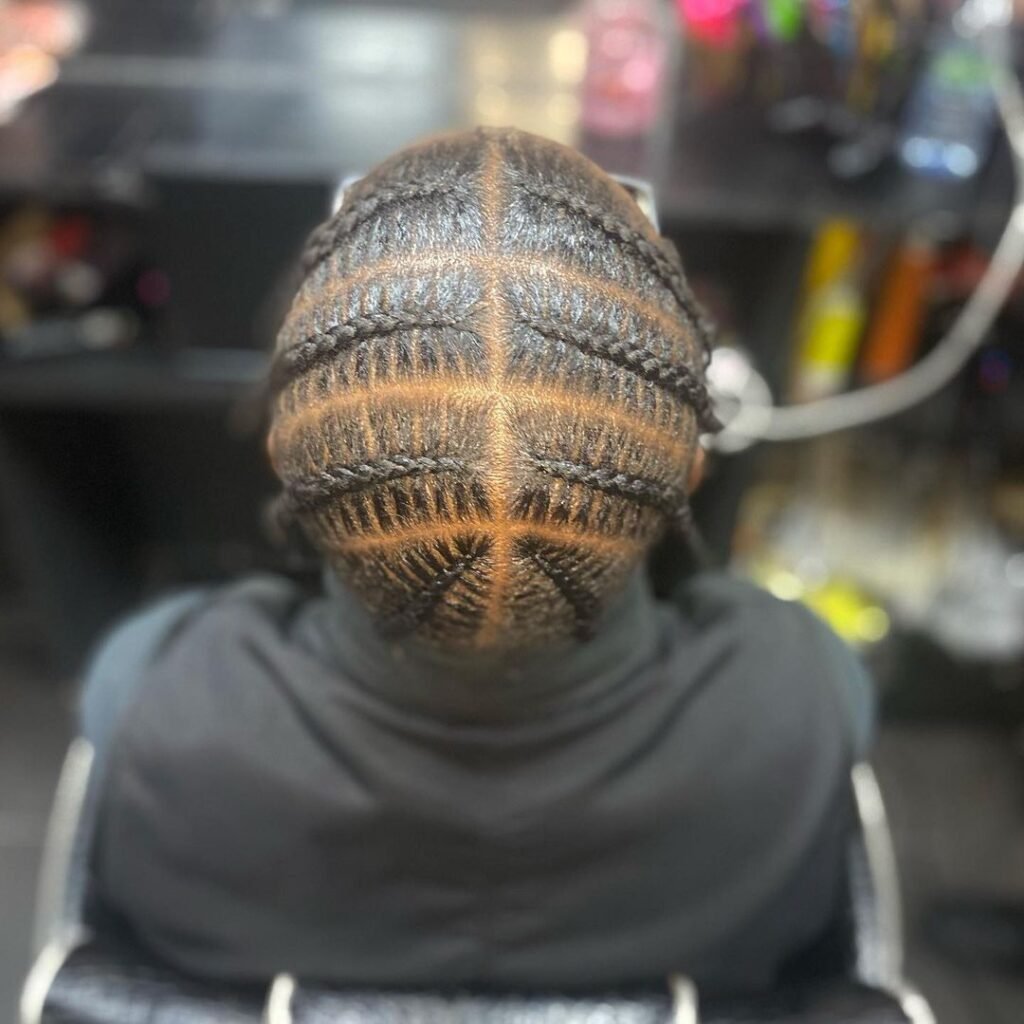 The installation process is far less time-consuming and can be done with or without braiding hair extension.
16. Small Cornrow Braids
These cornrows are typically time-consuming but are longer lasting.
17. Chrome Heart Bun
The fluidity of creativity lies in this art.
18. Layered Cornrows with Curls
Cornrows in layers always have a vibe!
19. Cornrows Feed in Braids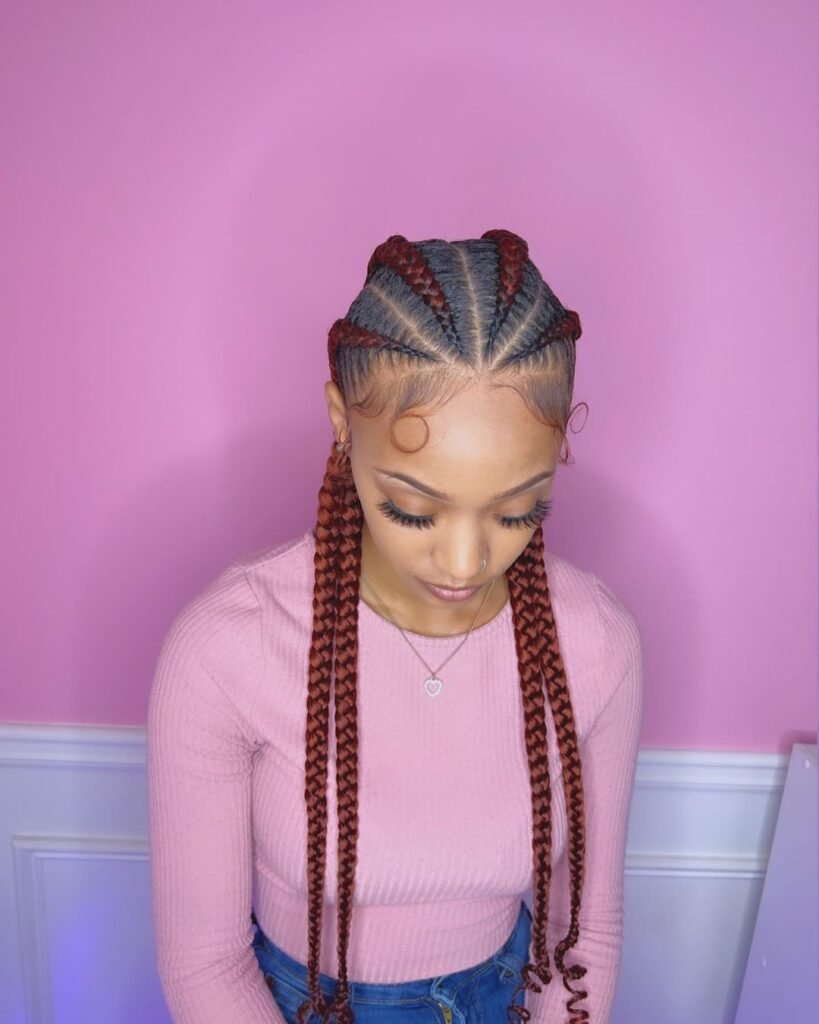 The look aside and its quick installation process and the gorgeous way it brings attention to the face. It oozes class as well.
20. Small and Large Cornrows Braids
The combination of both small and large cornrows makes for an interesting outcome.
21. The baddie bun
Being a baddie is all about making a statement and this right here does it!
22. Large stitch and tiny cornrows
The subtle combination of large and intricate weaves is stunning!
23. Zig zaggy cornrows
The zig zaggy design pattern creates a simple and playful look.
24. Four Fishbone Cornrows
The number four is a great way to style the fish bone cornrows and earn you a youthful glow.
25. Styled Cornrows
This styles cornrow with a swirly-like pattern touches upon the subject of " creativity"
26. Intricate Cornrows
The only downside to tiny intricate cornrows is the fact that it is typically longer lasting if you are not keen on spending forever in the salon.
27. Beaded Cornrows
This is probably a styling tip for cornrows, braids are a fantastic way of adding a unique difference to cornrows.
28. Intricate weaves on Four Cornrows
This cornrows braided style is perfect for lovers of bold and gorgeous and the unique blend of intricate weaves is stunning!
29. Blonde Cornrow Braids
They say blondes have the most fun, you might want to try out this look to know if that's true.
30. Cornrow Braided Twist
This braided hairstyle is rather peculiar and interesting and beautiful.
31. Cornrows with Box Braids
How stunning is this cornrow with box braids combo!
32. Cornrows with Natural Hair
Are you all natural? Try beautiful short cornrows with your natural hair. True African beauty!
33. Feed in Cornrows
Feed-in braids are all the hype right now and for good reason! Just stunning!
34. Side Cornrows
There's just something about side cornrows that makes me very happy to be an African woman.
35. Cornrows with Weave
If you're looking for something unique, try cornrows with weave.
How to Care for Cornrows
Here are some tips for caring for cornrows:
Avoid washing your hair too frequently. Cornrows can become loose or unravel if they get wet too often, so try to wash your hair no more than once a week or every other week. When you do wash your hair, use a gentle, sulfate-free shampoo and avoid scrubbing the braids too vigorously.
Use a light oil or leave-in conditioner to moisturize your hair. Cornrows can sometimes cause the hair and scalp to become dry, so it is important to keep your hair moisturized.
Protect your cornrows at night. To prevent your cornrows from getting tangled or coming undone while you sleep, tie a silk bonnet or satin scarf over your head or use a satin pillowcase. This will help to keep the braids smooth and prevent breakage.
Avoid heavy products and tight hairstyles. Heavy products, such as gels and hair sprays, can weigh down the braids and cause them to become greasy or dirty more quickly.
Get your cornrows redone every 4-6 weeks. Cornrows can last for several weeks, but eventually, they will start to loosen and unravel. To maintain the neat appearance of your cornrows, it is best to get them redone every 4-6 weeks. This will keep your braids looking fresh and prevent any breakage to your natural hair.