You probably picture a blazing smokey look when you hear the term "pop smoke braids." Pop smoke braids are stunning, fiery braid styles that draw attention, so you are not too far off the mark. When worn, it is that particular hairdo that can turn heads, especially if it is skillfully woven.
Pop Smoke's hair was well-known for being the highlight of his appearance just before his passing. He rocked this hairstyle until the very end of his days because it is a very easy hairdo that is also cosy to wear no matter what style it is.
What are pop smoke braids?
Pop Smoke, whose real name is Bashar Barakah Jackson, was a rapper from Brooklyn, New York who gained popularity in the early 2020s. He was known for his distinctive braided hairstyle, which he often wore in a half-up, half-down style. Pop Smoke was shot and killed in a home invasion in February 2020, at the age of 20. His death was widely mourned by fans and fellow musicians in the hip-hop community.
Except for a central part that is consistently used, the braided hair in this protective hairstyle is made to fall to the sides and is woven extremely close to the scalp. The musician Pop smoke, was credited with popularizing this style, as the name suggests.
The majority of people who utilize this braid style are men, however, it may be worn by either gender. With the aid of extensions, this exceptional style can be produced regardless of the type, length, volume, and texture of your hair, so there is no need for concern.
What are the advantages of installing pop smoke braids?
If you are not completely convinced of the benefits of installing this hairstyle, doing so will not make sense. To further pique your interest, I compiled a succinct set of intelligent justifications for why you ought to select and wear pop smoke braids.
Its unique cornrows keep your kinky or straight hair looking neat, classy and attractive, even from a distance.
It is incredibly stylish and is easily customizable to your style, length, and colour.
It offers a wide variety of styles that are appropriate for all hair types and may also be applied to dreadlocks. It is that adaptable.
It may be installed with or without the usage of extensions and is very simple to maintain.
Stylists from all over the world can express their creativity with this distinctive hairdo.
20 Stunning Pop Smoke Braids!
Listed below are twenty amazing pop smoke styles you can choose from today!
1. Stitched Pop Smoke Braid
The pop smoke braids can be woven using any style of your choice, however, the stitch pattern, like this, gives it a complex but beautiful look.
2. Simple Pop Smoke Braid
Although pop smoke braids are already simple braids, some can be simpler than others, this is where this simple pop smoke braid falls in. it is easy and cool.
3. Stylish Pop Smoke Braid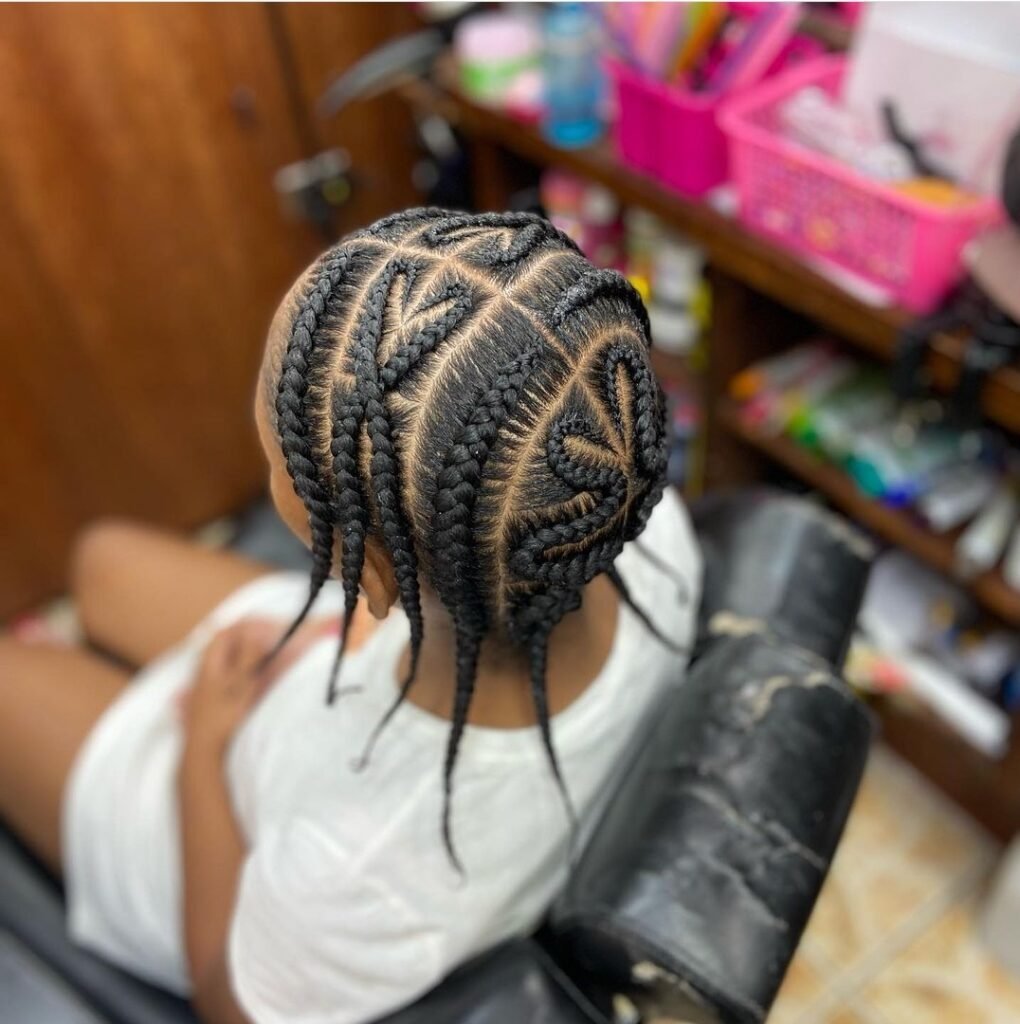 Knowing how to style is essential for braided hairstyles, it's whether you want something simple, or something stylish and complex. For a stylish pop smoke braid, give this a try!
4. Intricate Pop Smoke Braid
An intricate pop smoke braid leaves people wondering and guessing. If you want to awe crowds, choose this!
5. Banana Pop Smoke Braid
This style, as the name implies is styled and braided in large banana braids, also called jumbo braids. The style is gorgeous, simple and beautiful.
6. Large Pop Smoke Braid
Pop Smoke braids can never go off the trend circle, and they can be rocked in beautiful large braids, for those who wouldn't to stress themselves much.
7. Zig Zag Pop Smoke Braid
Zig zag patterns always has a way of making braids look exceptional!
8. Curved Pop Smoke Braid
Do new different styles fascinate you? Then try this out and enjoy the beautiful outcome.
9. Feed-In Pop Smoke Braid
You can give this lovely feed-in braid a try, if you are a fan of stylish cool braids.
10. Short Jumbo Pop Smoke Braid
Are you a fan of short jumbo braids? Check this out!
11. Long Pop Smoke Braid
Exploring hair length when deciding to install pop smoke braids is cool and necessary. The long pop smoke braid is perfect for all those who would not mind extended their braid length.
12. Love Pop Smoke Braid
This is even better! Why not cave the love shape into your pop smoke braid and see how cute you would look!
13. Jazzy Pop Smoke Braid
Do you want a unique jazzy style? Something different and swift? Have at this
14. Layer Pop Smoke Braid
Layers are beautiful, especially when adopted in braids. This is one layered braided hairstyle you should definitely take a second look at.
15. Colorful Pop Smoke Braid
Here is a colorful pop smoke braid just for you! It is cool, mild and easy to flaunt.
16. Sleek Zig Zag Pop Smoke Braid
Yes! Pop smoke braids can be this neat, sleek and beautiful. If you want a replica of this, holla your stylist immediately!
17. Mid Back Pop Smoke Braid

With pop smoke braids, you can never run out of classy looks to rock and explore!
18. Polished Pop Smoke Braid
Aren't stylists amazing! Creativity is not just limited to a certain part of life, because it can be seen here, on this style!
19. Round Pop Smoke Braid

Just like the name, this pop smoke hairstyle is braided in a round style, supported by different braid sizes.
20. Chic Pop Smoke Braid

Simple and large chic pop smoke braids like this, should be proudly, and elegantly rocked!
How much does pop smoke cost for installation?
Installing pop smoke braids cost around $100-200 depending on the hairstyle, length, and your stylist. Also, your location might determine how much the installation of this braid will be. Moreover, the number of extensions you will need would be determined by observing your desired hairstyle and its length. It is preferable to consult your hairstylist for better assertion.
How long do pop smoke braids last?
Pop smoke braids are just like normal cornrows, and can last for at most 4-6 weeks if properly maintained and cared for, especially if you accurately follow the maintenance instructions and the exact duration required to carry the hair, then you'd have nothing to worry about. Meanwhile, I advise you install the hairstyle using the knotless technique, making sure your stylist starts each braid with your hair first.
How to maintain pop smoke braids?
The three basic maintenance procedures for this kind of braid are using moisturizing products, washing only when necessary, and wearing a satin bonnet at night. This will stop your hair from losing moisture to your pillowcase.
Conclusion
The main takeaway from this is that, in addition to being quite adorable, pop smoke braids are currently one of the most popular hairstyle trends. Its simple adaptability to various hair kinds, distinctive outlooks, and wide variety of styles are quite amazing. If you give it a try, I can guarantee you won't be sorry you did!