Are you curious enough to check out one of the popular new hairstyles on the block? Braids may seem rampant, but various braid styles haven't been tried enough, and layer braids are one of them!
What are Layer Braids?
Layer braids are stylishly woven braids plaited separately, and guided by a thin neat line.They are cool hairstyles that can be worn and flaunted anywhere.
This style has different styling patterns, it can either be woven as two, three, or four layers, depending on your preference and stylist. Layer braids can have at least two layers; which means that the braid would be divided in two sections, and braided separately to give a fuller hair.
Three layers mean three sections, and four layers mean four sections. This braid style can easily be installed with the use of natural hair or by the addition of hair extensions such as Kenakalon hair.

Benefits of Layer Braids
Installing a layer braid comes with a whole lot of benefits, ranging from styling, installing, and maintenance. Below are a few benefits of layer braids.
Less installation. Asides from being easy to install, the layer braids require less time of installation compared to box braids.
Cost effective. Layer braids are assumed to be cost-effective because of its advantages and potency to be worn for long, due to easy maintenance.
Convenience. As much as people love braids, not everyone wants braids in their faces, and with layer braids, you can enjoy the benefits of a full braided hair that isn't in your face!
20 Best Layer Braid Ideas
Below are twenty pretty Layer braid styles you should try out!
1. Half–Up Braids
When installing layer braids, the half-up style is fun and trendy. The small braid here serves as a demarcation and stylish variation of the medium to large size braid. This style can be worn to very simple occasions, so, why not give it a try!
2. Centre Part Layered Braid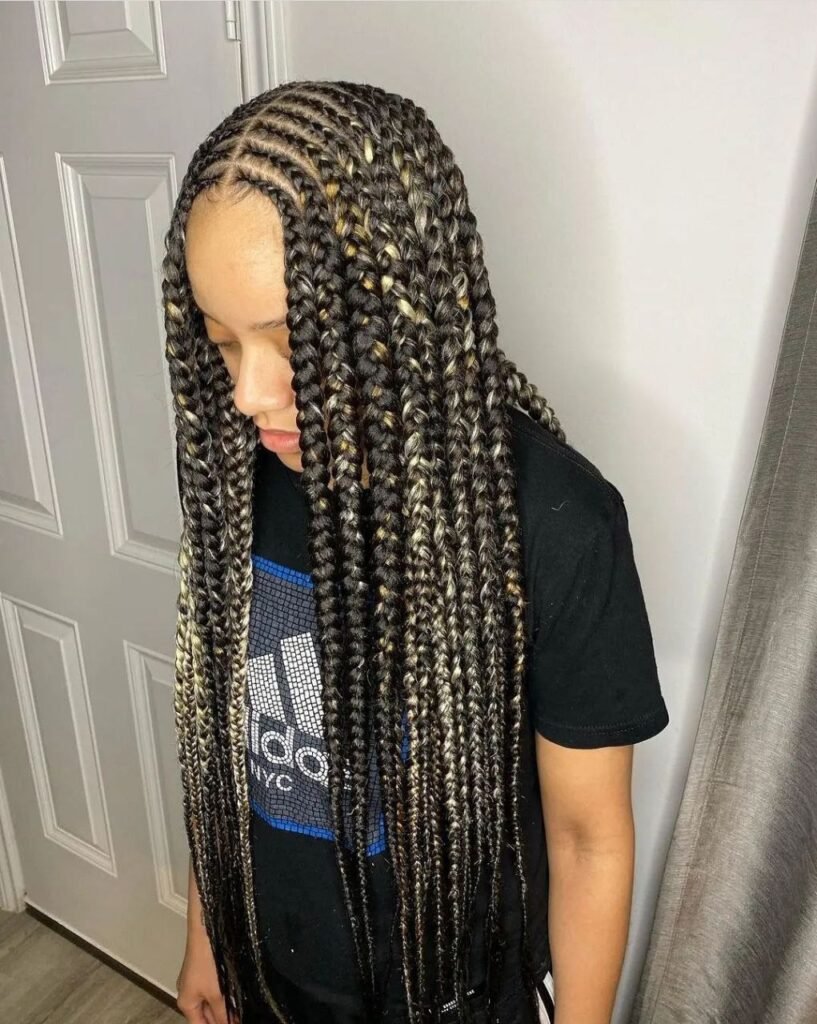 Something amazing about layer braids is that you can style them as much as you want. Here is a center part layered braids, beautiful!
3. Fulani Braid
Don't you just love how stitched and beautiful this hair looks? This style can be worn to events and any occasion of your choice. It is simple and different.
4. Layered braids with Curly Hair Extension
The slanted weaves here give the hair a peculiar look, smooth, slick and elegant.
5. Braided Ponytail n Half Knotless Braids
Layer braids can also be rocked using the all-back braid style. However, here there are woven intricate styles attached to the front which also contributes to the elegance of this hair.
6. Double Side Layer Braid
This style lets you rock the layer hairstyle with beads! Emphasis is made to both sides of the hair using a neat cut. This hairstyle can be worn to simple events.
7. Flowery Styled Layer Braid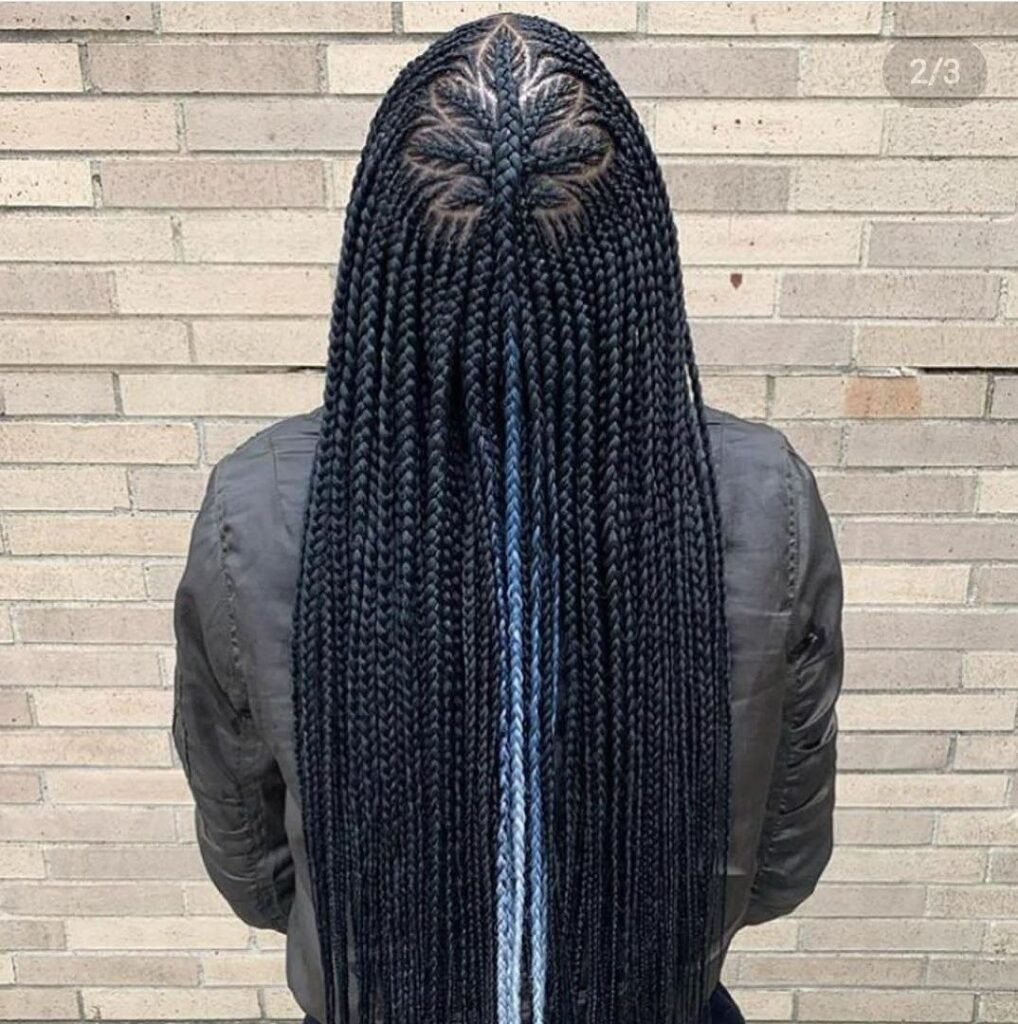 Are you a girly girl? Here is one for you! The flowery styled two step layer braid is simple and can be rocked anywhere.
8. Three Step Side Layer Braids
Three steps! Exactly what a lady who would like to stand out should rock!
9. Heart Part layered Braid
Such a vibe! Plaited-up braids like this, can be rocked by adults and kids! It gives off a cool and cute look.
10. Side Layer Braid
The side layer braid is plaited in a way that lets the hair fall on one side, fully. And trust me, this color combination is a perfect fit.
11. Layer Braid with Bangs
Would you like to rock layer braids on normal straight cornrow braids? Then check this out! The layer braid here is on one side of the hair, while the rest of the hair is covered in straight cornrows. Amazing right? Try it if you want to look just as cute.
12. Double Braided Bun
This simple style is famous among kids but can be rocked by adults too!
13. Banana Layer Braid
I'm sure your guess is correct! As the name implies, this style is woven in jumbo banana braids. It is simple, elegant and beautiful.
14. Zig Zag Layer Braid
It is not enough that this style bears mixed color braids, it also has zig zag patterns too! It is stylish, unique, and easy to install. Do you want to flaunt something out of the box? Try this!
15. Intricate Layer Braid
Who is in for a ride? Because this braid's complexity would keep people on their toes, admiring, wondering, and wishing. Why not give it a try!
16. Three Step Straight Layer Braid
I doubt I alone thought this was a mirage of box braids! Notice how simple and well-stepped this is? It has been braided in three different steps, on separate lines that lets it flow straight down. Rock this if you are a lover of simplicity and creativity!
17. Layer Braid with Beads
This is a two-step jumbo layer braid, sectioned in the middle to add to style and beauty.
18. Curly Layer Braid
Just as easy and flawless this style looks, so is its installation, easy!
19. Intricate Layer Braid
This one-step layer braid is styled in a way that gives it a patterned look. It's colorful, eye-catching and beautiful.
20. Medium Layer Braid
Here the braids are medium size, neat, and stylish. Notice that two sides of the hair are demarcated by a slim cornrow braid that makes this look effortlessly beautiful.
How to Care for Layer Braids

Below are a few guidelines on how to maintain and protect your layer braids, in order to wear them as much as you want.
Moisturize. An essential care tip would be to frequently moisturize the braids with lighter-weight oils and a leave in conditioner. In this sense, your natural hair is kept hydrated and the braids shiny!
Wash your braids: To get this done, you would have to disregard the myth that says one should not wash their hair while carrying braids. Your scalp should be clean and washing your hair with a proper shampoo, would keep your scalp clean.
Redo edges: learn to redo your edges, especially if you would like to wear your braids for long! Redoing your edges gives your braids a fresh new look, this makes it easier for you to carry them for long without worry.
Do not overly extend the duration in which you carry braids. Extending the duration, simply tangles your hair and causes it to become brittle, which may eventually lead to breakage.
Conclusion
Layer braids can be worn for a duration of three weeks, and to ensure that you get the exact style you want, it is necessary for a professional stylist to install the hair.
Also, it is important you purchase the appropriate hair extensions if you would like to use one, although layer braids can be woven using your natural hair but using extensions increases the duration in which you can carry it and also adds shine and beauty to the style. So, what are you waiting for? Begin to layer braids starting today!