Have you ever been curious as to what feed in braid is? Like if they are different from cornrows and why they are called feed in braids. You are, in fact, in the proper place! This article will cover every aspect of the protective hairdo known as feed-in braids.
What is Feed in Braid?
The sole difference between feed-in braids and regular cornrows is the braiding method, which, as the name suggests, involves feeding hair into the braids little by little to create cornrows of varying sizes. Because of their elaborate and fashionable braid styles, they are protective hairstyles that are frequently used. The feed-in braids make the hairdo knotless because they don't need to be tied in a knot at the start.
When wearing a feed-in hairstyle, the braid or cornrow is made using the extension from the ground up rather than just by attaching it immediately. The braiding process involves adding a few tiny strands of the extension to increase the hair's size and style.
How to install Feed in Braids
If you are accustomed to making cornrows, installing the feed in braids won't be difficult. While they are straightforward to install, refer to the following guidelines for adequate guidance:
It is essential and extremely simple to prepare your hair for braiding before beginning to put braids. Simply wash your hair, style it as usual, condition it, and blow dry.
Then, section your hair according to the type or size of the braid you desire, thoroughly combing each piece. Prepare your extensions and divide them into smaller sections before lightly braiding your hair in sections without tying a knot. Add the extensions as you move from the beginning to the middle and finally the end.
Keep in mind that you should add your extension gradually while braiding, giving yourself seconds between additions to achieve the feed-in pattern and appearance. Until you have a full head of hair, you should continue this braiding technique on each segment of hair.
While it is possible to install the feed in braid style yourself, it is recommended that you hire a professional to do so in order to get your desired look and spare yourself the stress.
20 Beautiful Feed in Braids Styles
Are you eager to find out more? This section contains a thorough and lovely collection of twenty feed-in braids that you should absolutely attempt.
1. Stylish Feed in Braid

This is a cool feed in style where you can try out and input styles at will. It even has a bun attached to it end!
2. Jumbo Feed in Braid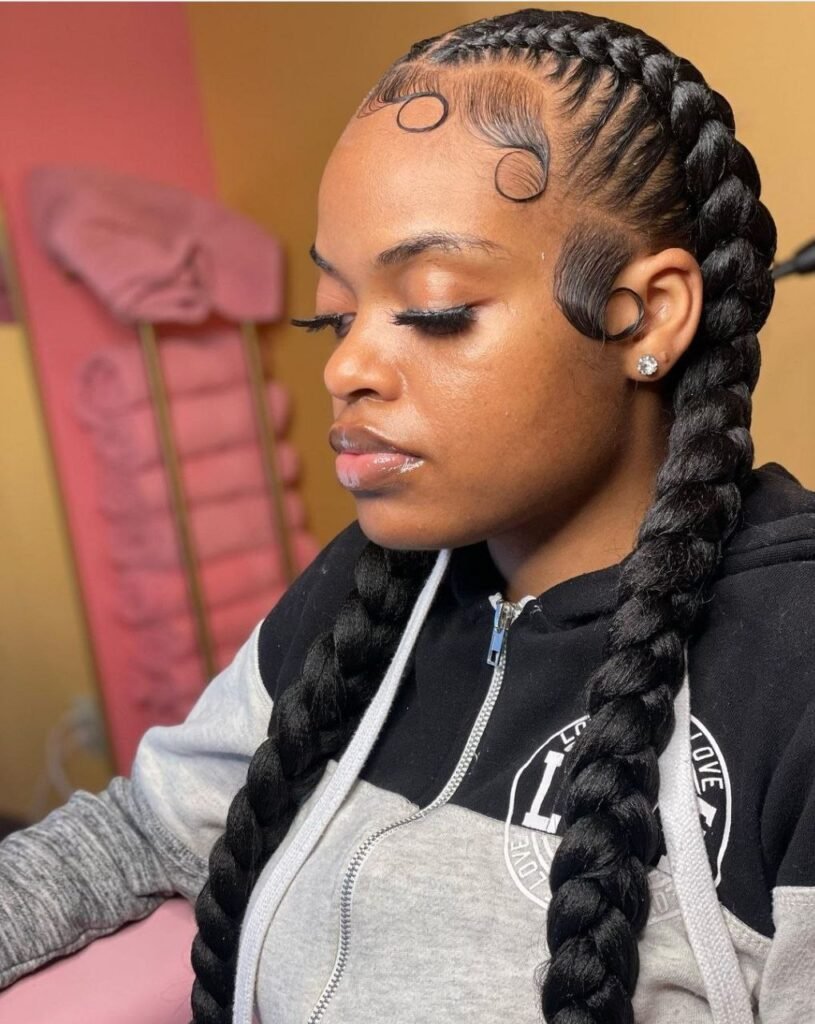 Fulani braids are known for their jumbo sizes and amazing braid pattern, incorporating the feed in style into an ancient braid as this, is totally worth it!
3. Simple Feed in Braid

Simple hairstyles are very popular, especially when it comes to braids because it takes an enormous amount of time to stay patient in order to achieve beautiful braid styles, but simple braids like this, makes it easy to save time and also flaunt the hairstyle perfectly.
4. Feed in Braid with Curly Strands

Most braids look incomplete without curls, and as curls are slowly being added to most braids styles, they've gotten rampant and actually has a way of adding beauty and style to the hairstyle. Therefore, feel free to try this out.

5. Slanted Feed in braid

Not all braids or cornrows are plaited in a straight back manner. This is one beautiful feed back braid woven stylishly with the support of micro cornrows in between the medium braids.
6. Medium Feed in Braid

This look can be achieved by sectioning the hair into slanted lines with medium portions. Then you weave the hair in bits, adding the hair little by little until a full neat cornrow is achieved.
7. Jumbo Feed in Braid with Cross Section

If you like slanted braids but would like them in jumbo size, consider installing this.
8. Low Bun Feed in Braid
When you've installed your feed in braids, pull them back and pack them together to achieve this look!
9. Curly Feed in Braid with Bun

Here is a bun that is supported and styled with curly style. This is a gorgeous look, beautiful and easy to flaunt.
10. Heart Part Lemonade Braid
The heart part lemonade braids are beginning to attain popularity by being rampant these days. They are significantly beautiful and a very thoughtful hairstyle to install.
11. Feed in Braid with Intricate Style

Intricate styles are super gorgeous. They are freestyle braids that gives room for creativity, adventure and exploration. And this is a good example of one.
12. Simple Straight Back Feed in Braid

Not everyone likes complexity. Some simply want to install simple braid styles they can rock and flaunt. The simple straight back feed in braid is a perfect example of such stye.
13. Layer Feed in Braid with Curls

The layers are amazing! They define braids and styles by letting you try out the amazing ideas you have. This layer braid is cutely braided with the addition of curls.

14. Feed in Braid with Beads

Beads are like a must now! Especially with the cute look they give braids and hairstyles. They should be installed alongside hairstyles and feed in braids, won't be left out.
15. Cornrow Feed in Braids
Does simple and boogie describe you? Then, this feed in cornrows would settle in alright.
16. Fulani Feed in Braid with curly ends

Fulani braids are the easy 'go to' when the need to install simple and stress-free braids comes knocking.
17. Feed in Braid with Half Cornrow

Is rocking two different styles your style? Then, what are you waiting for? Jump on this and begin to rock your feed in braid with half cornrow.
18. Fishtail Feed in Braid
Being unique, is golden. Yes, fishtails are popular but installing them with the feed in pattern, screams peculiarity!
19. Feed in French Braid

Let loose, try new stuff, and enjoy these French braids. Cute, splendid, and cool!
20. Tribal Feed in Braid with Beads
lovely, no? You can probably notice by now that braid styles have no feed limits. Install this if you don't mind wearing beaded jewellery and something more traditional.
Conclusion
A basic, faultless hairstyle can be achieved using a feed-in braid. If taken care of properly, they can last for at least four weeks. This includes washing the hair as needed, nourishing it with oils and creams, and wearing a satin bonnet at night to keep the moisture in.
Hair extensions or natural hair can be used to create the feed in hairstyle. Depending on the hairstyle, hair length, and speed of your hairstylist, they can cost up to $100 and take up to 4-6 hours to install. Amazingly, you can rock them with ease and effortlessness and combine them into any braid style you choose. You should not hesitate to give them a try because they are a must!