Fulani braids are a traditional and popular braided hairstyle that originated from the Fulani people of West Africa. These braids are characterized by their intricate and intricate patterns, and they can be worn in a variety of styles and lengths.
In this article, we'll take a closer look at Fulani braids and showcase some of the most trendy styles coupled with tips on how to care for and maintain Fulani braids, so you can rock this beautiful and timeless hairstyle with confidence.
What are Fulani Braids?
Fulani braids, also known as cornrow braids, are a traditional African braiding style that originated with the Fulani people of West Africa. They are typically braided close to the scalp in a straight or slightly curved line, using a variety of patterns and designs.
The braids are often adorned with beads, shells, or other decorative accessories, and may be worn by both men and women. They are a popular choice for people with natural or curly hair, as they can help to keep the hair manageable and prevent tangles.
How Long Does it Take to Install Fulani Braids?
The amount of time it takes to install Fulani braids can vary depending on several factors, including the size and complexity of the desired style, the skill level of the person braiding the hair, and the length and thickness of the hair braided.
In general, it can take anywhere from a few hours to several days to complete a full head of Fulani braids. It's important to remember that getting Fulani braids installed can be a time-consuming process, so it's best to plan and allow enough time for the braids to be properly installed.
How many packs of hair extensions are needed for Fulani Braids?
The number of packs of hair extensions needed for Fulani braids will depend on several factors, including the length and thickness of the hair being braided, the desired fullness and length of the finished braids, and the skill level of the person installing the braids.
As a general rule of thumb, it's a good idea to plan on using at least two to three packs of hair extensions for a full head of Fulani braids. However, in some cases, more or fewer packs may be needed depending on the specific factors mentioned above. It's best to consult with a stylist who has experience with Fulani braids to determine the exact number of packs of hair extensions needed for your desired style.
20 Hottest Fulani Braid Hairstyles to Pick from for 2023!
1. Half Fulani Braids and Half Knotless Braids
Fulani braids are typically gorgeous if you're keen on shortening the time spent in the salon. Consider making the back section of hair medium-sized or large knotless and the front section into Fulani braids. The outcome is nothing short of lovely!
2. Freestyle Half Fulani Braids
The wonderful thing about Fulani braids is that it offers a large room for creativity and hairstylists do not waste any time in utilizing the opportunity.
3. Half Fulani Braids with Curly Extension
Curls do make a whole lot of difference with this look and still offer versatility with styling.
4. Fulani braids with a half-up
This style involves braiding the top half of your hair into Fulani braids and leaving the rest down for a chic and effortless look.
5. Bohemian Fulani Braids
Curls at the ends and on the braids gives off an eccentric and glamorous vibe. If you want to take your Fulani braids from casual to chic, this is it!
6. Double Bun Fulani Braids with Curls
For a baddie look, braid the hair into Fulani braids and then secure them into a high bun, this would draw attention to the face.
7. Layered Gypsy Fulani Braids
Fulani braids in layers are typically smaller, time-consuming, and longer lasting. However, the results are stunning! And, the light curly look all adds up.
8. Medium-sized Hall up and down Fulani Braids
Medium-size Fulani braids are a great way to rock the Fulani look and are far less time-consuming!
9. Half up Half down Bohemian Fulani Braids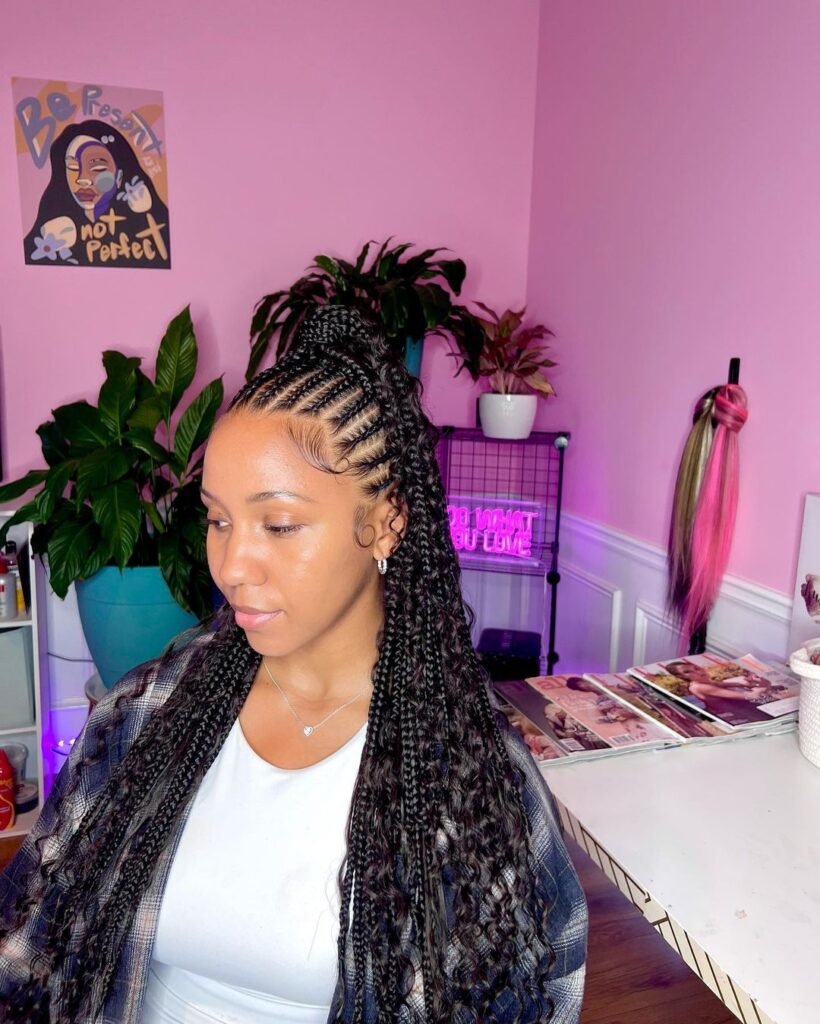 Fulani braids in a boho-inspired appearance have a different appeal to them and it is suitable for all occasions and not to forget the attention it gets.
10. Fulani Braids with Curls at the end
Not-too-large Fulani braids are a beautiful way to go! They are installed quickly and curling the ends of the braids is a great way to spice things up.
11. Heart Styled Fulani Braids
The heart-styled inspiration in the Fulani braids gets all the attention as it's at the center of focus. Looking for a hairstyle that gets heads turning? You might want to try this out!
12. Simple Straight Back Fulani Braids
If simple yet gorgeous is your vibe, then this Fulani braid hairstyle should speak to you.
13. Shoulder length Bob Fulani Braids
Fulani braids can be made into a bob look and are especially suited for medium to large-size braids.
14. Large Fulani Braids
Going for a look that says bold and daring? That's what the large Fulani braids are about.
15. Natural Fulani Twists
Fulani braids or twists in this case can be done with or without hair extensions and still achieve a beautiful result.
16. Fulani Braids with Beads
Beads are a surefire way to stir things up and take the braids from ordinary to something more!
17. Accessorized with Ornaments
Fulani braids can be accessorized with a vast majority of hair accessories not limited to beads only. Explore the variety of options available to you and enjoy the outcome.
18. Freestyle Intricate Long Fulani Braids
Fulani braids as earlier said allow for versatility with hairstyling and creativity. The intricate Fulani braids overlapping one another is one such creativity.
19. Center Fulani Braids
The horseshoe region of the hair is separated and made into Fulani braids with the rest section of your hair made into box braids.
20. Layered Fulani Braids
Layered Fulani braids are typically time-consuming but the results are nothing short of beautiful.
How to Care for Fulani Braids
To care for Fulani braids, it's important to follow a few simple steps to keep your braids looking fresh and healthy. Here are some tips for caring for Fulani braids:
Avoid washing your hair too often. Because Fulani braids are a type of cornrow braid, they should not be washed frequently. Overwashing can cause the braids to loosen and unravel. Instead, try to wash your hair only once every two to three weeks, or as needed.
Use a gentle, sulfate-free shampoo. When you do wash your hair, be sure to use a gentle, sulfate-free shampoo to avoid stripping your hair of its natural oils. This will help to keep your braids looking healthy and shiny.
Avoid pulling on the braids. It's important to be gentle with your Fulani braids to avoid damaging the hair or causing the braids to loosen. Avoid pulling on the braids or using excessive force when brushing or styling your hair.
Protect your braids at night. To prevent your Fulani braids from unraveling or getting tangled while you sleep, it's a good idea to protect them with a silk or satin scarf or bonnet. This will help to keep your braids looking smooth and polished.
Keep your braids moisturized. To keep your braids looking soft and healthy, it's important to moisturize your hair regularly. Use a light, water-based leave-in conditioner
or hair oil to keep your braids moisturized and free of tangles.