Do you know that guys tend to be underrepresented when it comes to braids? This might be because males were not typically known for braids in the past, but now that most guys braid as frequently as women do, they still feel excluded. This is why pieces like this are necessary!
Braids are hairstyles that have been in existence for centuries now. They are woven very closely to the hair, and are known to hold the hair together in place for as long as one chooses. The hair is mostly woven into cornrows or box braids, and both of them are beautiful hairstyles men can rock!
Men's braids can be worn with or without a beard and can be paired with other hairstyles, such as a fade or undercut.
Braids are a versatile hairstyle that can be worn for a casual or formal occasion. They are also a practical choice for men who have very thick or unruly hair, as braids help to keep the hair in place and prevent tangles.
20 Braid Styles for Men
Even now most men braid their hair, they face a common dilemma which is what style or hairstyle to make. Here's a lovely provides list of braid hairstyles to choose from targeted at solving that problem.
1. Zig Zag Banana Braid
This is generated from the famous Banana braids but in a more luscious way. It is called the zig-zag braid because it's parted in a zig-zag manner, to give it a more attractive look.
2. Crossed Stitch Braids
The cross straight braid is plaited in a unique way that eventually makes the hair simple and stylish.
3. Twist locs
This hairstyle is perfect for those who wouldn't mind flaunting dread and twist at the same time.
Looking closely, you'll observe that the knot of this style is rolled up to look like dread, while the twist flows down with the rest of the hair. This hairstyle should be rocked by those who love both!
4. Intricate Straight-Back Braid
Are normal straight back braids too simple for you? Would you like to spice it up a bit? If yes, then this is for you. An intricate straight back braid that is simple and classy, plus, it is touched up with a love braid on one side!
5. Pop Smoke Braids
As much as some would like to flaunt intricate styles, there are others whose main concern is to look simple, yet handsome. For those in this category, this hairstyle fits perfectly.
6. Crossed Braids
The crossed braids, as simple as it looks, gives off the 'big boy' vibe! It can be said that rocking this hairstyle will make you look in charge. Especially it is uniquely woven in that makes this braid style stand out.
7. Stitched Braids
This is the top hairstyle on our list that gives men a calm and gentle look when installed. To go with this style, his hair was carefully carved, following the braid pattern, and was further stitched into beauty.
8. Short Box Braids
Oh! You thought box braids are only for the ladies? No, not true. Box braids are unisex hairstyles that looks good on both men and women. It can be installed with beads, like it was here.
9. Zig zag part Cornrows
Do you often find yourself in situations where you are in a hurry with no idea of how to style your hair? It is a common dilemma between both genders, but not to worry, this hairstyle can come in handy. It is simple, easy and beautiful!
10. Opposite Crossed Braids
This braid is perfect for maintaining shorter hair length, and can be installed in quite a considerably short time span.
11. Semi-Ring Style
This style is easy to install, and would fit any hair type, either short or long. This braid is plaited in a semi-ring style that allows room for carving below the hair.
12. Big and Small Cornrows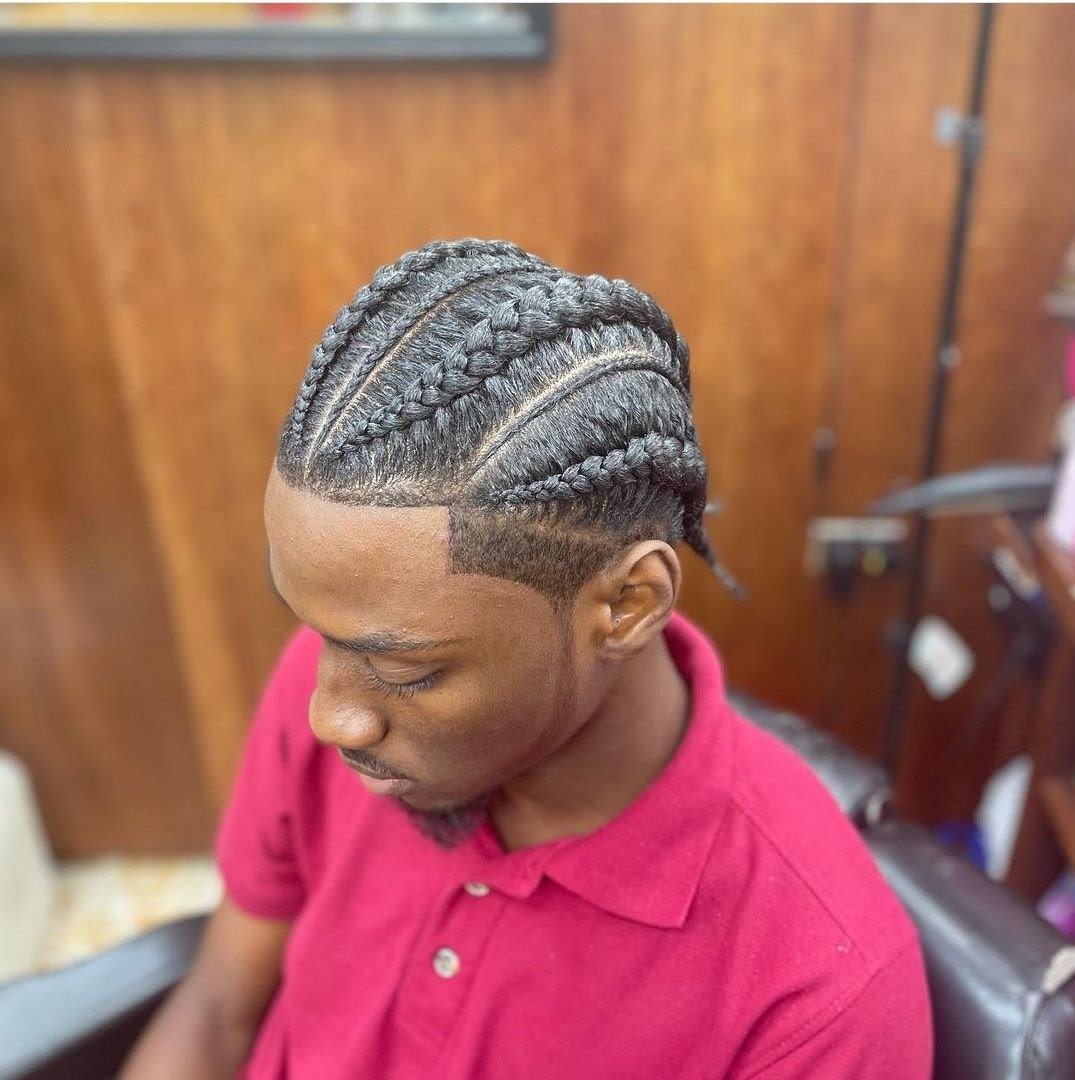 Here two braids are woven side by side, but differ in size. This simple and intricate style can be worn anywhere.
13. Butterfly Braids
This is called the butterfly braid because of how it's woven creatively in a butterfly shape. This can be considered as a style fit for romantic men!
14. Dollar Braid
Let's flaunt the money, shall we! The pattern in which this style is woven, gives off the rich boy vibe.
15. Star Straight Braids
It's certain you'd noticed how unusual this style is from every other straight braids. This hairstyle is woven beautifully from the love shape stitch below to the wide star pattern. It can be comfortably worn to any occasion.
16. Big Box Braids
Have you ever wondered why the box braid is so rampant and often installed by men and women? Well, that's because this hairstyle is exceptionally simple and beautiful.
17. Snake Braids
Here is another on the list of intricate styles to install, especially if you're tired of the norm.
18. Small Ring Banana Braids
This is a ring-styled banana braids, plaited in small size and stitched evenly to demonstrate its beauty. This should be on your list when you think of installing banana braids.
19. Twin Styled Fish Braids
This hair has a combination of box braids and fishtail styles. For a start, the box braids were weaved in same size and cuts, then the fishtail was installed afterwards, on the box braids. If you don't mind rocking the two, this is for you.
20. Divided Side Braids
Creative right? This is a touched-up intricate hairstyle, creatively plaited into beauty. The braids on both sides are divided evenly into a double medium size banana braid. This lovely hairstyle can be rocked anywhere.
Installation of Braids
Braids are bold, beautiful and easy to install. They are achieved by weaving strands of hair continually into each other rhythmically and in the same guided pattern. To get your braids installed, it's necessary to visit a stylist for perfection. It takes at least 1-3 hours to get braids don
How to maintain Braids

Braids can be worn for weeks depending on how it's braided, either with just the natural hair or with extensions. Braids with extensions last at least three weeks, while the latter last only a week, but then when braids are properly maintained, they can be worn for a longer period of time.
Here are a few tips on maintaining braids:
Wash braids often: Washing your braids often get rid of dirt, and dust, and prevents dandruff. To do this, you are required to use a mild shampoo, and only wash the hair once a week, making sure to properly dry the hair after.
Moisturize often: Using natural moisturizers like olive oil would help give your hair a shiny look, and prevent breakage that is a result of lack of moisture.
Wear a bonnet: Bonnets can be worn during bedtime, and in the mornings to keep your hair in place and out of your face. Moreover, the essential reason why bonnets are worn is to prevent the loss of moisture to materials.
Don't tie up your braids: You can tie up your braids but not often. This is because tying your braids often puts strain on your hair strands and may lead to breakage.