Jumbo knotless braids are a type of braided hairstyle that is achieved by braiding the hair without using any knots at the base of the braid. The key distinction however lies in its size!
Jumbo is synonymous with big, huge, and whatever adjective within the said context and that is apparent in the outcome of the braids. It gives off a bold and fierce look! If that defines you, keep reading! Additionally, care tips, the hottest styles, and all you need to know about Jumbo braids would be included in this article.
What are Jumbo knotless braids?
Knotless braids are a type of braiding hairstyle that is created without the use of traditional knots. Instead of using a knot to secure the hair in place, the hair is braided using a technique that involves attaching the braids directly to the scalp.
This results in a more natural, seamless look that is less bulky and easier to style. Knotless braids are a popular choice for those who want a more natural-looking braid style that is less visible and easier to maintain. They are also a good option for those with thin or damaged hair, as the knotless technique is less damaging to the hair.
Jumbo knotless braids are larger compared to traditional braids. They are typically thicker and wider in diameter, with a more defined and pronounced texture. The exact size of jumbo knotless braids may vary depending on the type of hair used and the desired look. Some jumbo knotless braids may be as thick as 1-2 inches in diameter, while others may be slightly smaller in size.
To create jumbo knotless braids, you will need to start by preparing your hair. This may include washing, conditioning, and detangling your hair, as well as applying any products or styling aids that you may need. Once your hair is prepared, you can begin braiding.
Jumbo knotless braids are versatile hairstyles that can be worn in a variety of ways. They can be worn down, pulled back into a ponytail or bun, or even braided into a crown or halo style. They are also easy to accessorize with beads, ribbons, or other decorative elements.
Overall, jumbo knotless braids are a stylish and practical choice for those looking for a comfortable, low-maintenance braided hairstyle.
How many packs of hair are needed for jumbo knotless braids?
It is difficult to accurately determine how many packs of hair will be needed for jumbo knotless braids as it depends on a variety of factors, including the length and thickness of your natural hair, the desired length of the braids, and the size of the braids.
Generally, it is recommended to purchase at least four packs of hair for jumbo knotless braids, but you may need more or fewer packs depending on the factors mentioned above. And, It can take anywhere from 3-8 hours to install jumbo knotless braids, depending on the length and thickness of the hair, the skill level of the stylist, and the desired style.
Factors such as hair texture, density, and the number of braids being installed can also impact the length of time it takes to complete the installation. It is best to consult with a stylist and discuss your desired look to get a more accurate estimate of how long the installation process may take.
20 Hottest and Trendy Jumbo Knotless Braids for 2023!
Jumbo braids are ideal for occasions and importantly, less time-consuming. Here is a lovely list of jumbo hair inspo to choose from!
1. Bohemian Jumbo Knotless Braids
The boho-inspired look does well with jumbo-sized braids and it gives off a slightly eccentric yet beautiful appearance.
2. A Pop of Green
The color mix is a dope way to take braids from ordinary to something more! However, the green braiding hair color mix is something special, isn't it? This look right here is a no-brainer baddie hair move!
3. Jumbo Braids with Curls
Curls have a way of garnering attention. If you want your braids to do the talking? Here's a way to do that!
4. Puzzle Parts Jumbo Braids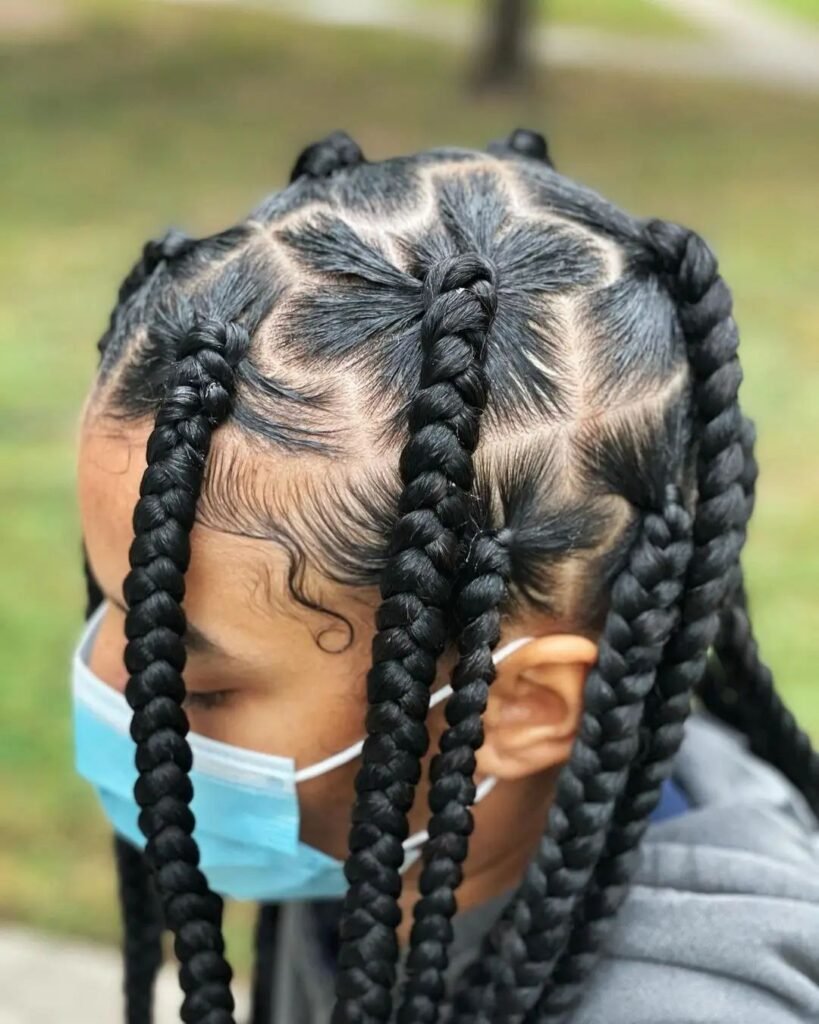 The parting style has always been to ensure the uniqueness of braided hairstyles and with the puzzle parts, it leaves you wondering how the parts connect, bringing it to the top of the list of stare-worthy styles.
5. Jumbo Braids in a Bun
Putting your braids in a bun is a great way to bring attention to the face and highlight cheekbones.
6. Jumbo Braids with Beads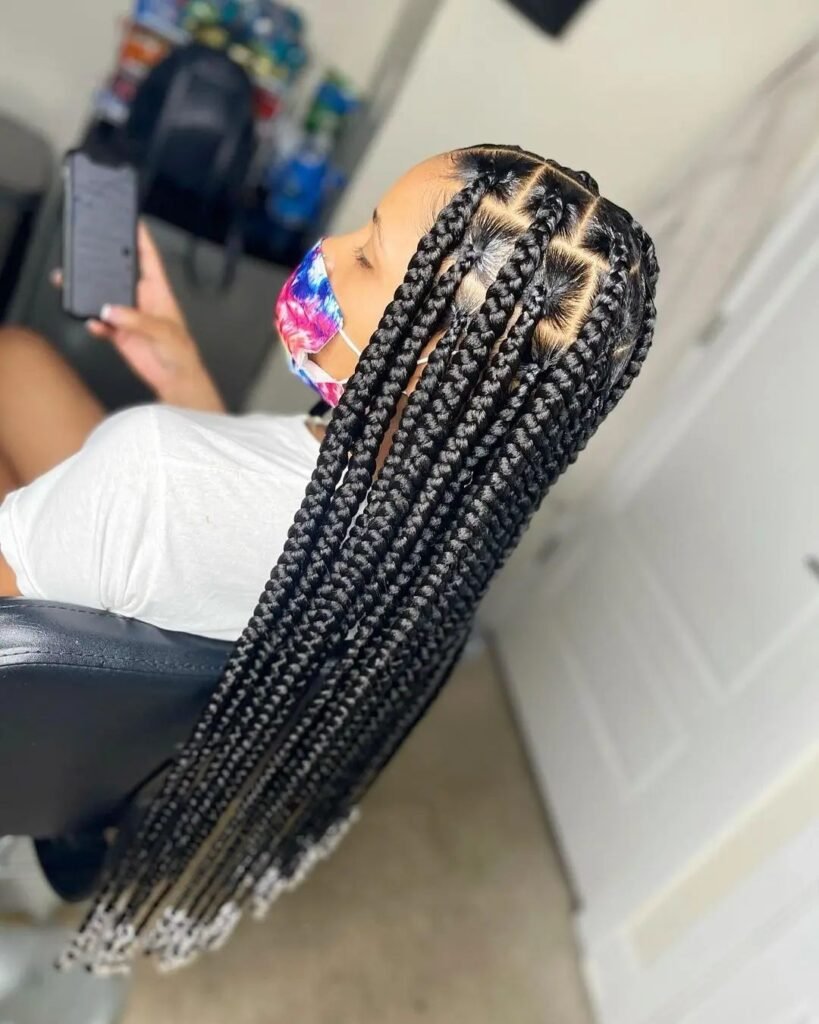 Beads are it at the moment! And make a ton of difference to the braids.
7. Jumbo braids with Highlights
Get your braids prepped and gorgeous with highlights or lowlights. Or, you could quite easily use a braiding color of choice.
8. Six Jumbo Braids
Jumbo couldn't get better than this! It is chic and baddie!
9. Waist Length Jumbo Braids
Waist length is a typical go-to when it comes to box braids in general, the reason being it's long enough to get noticed and allows for more flexibility with hairstyling.
10. Jumbo Knotless Xmas Special
Need to make Christmas just a tad bit special? You might want to give this a shot!
11. Heart Style Jumbo Knotless Braids
The category is hearts' rock, these gorgeous braids capture all the hearts.
12. Half Stitch and Half Jumbo Knotless Braids
Jumbo braids offer versatility with hairstyling and this is one of those.
13. Intricate Weaves
The tiny weaves do so much to this look accentuating its gorgeousness. This is certainly a great way to slay Jumbo braids.
14. Half Feed in Half Jumbo Knotless Braids
Half feed-in and half jumbo braids blend are a must-try braided hairstyle combo. It is classy and suitable for different occasions.
15. Heart Part Jumbo Braids
The intricate heart part weaves are a beautiful way of spicing the Jumbo braids game flawlessly and uniquely.
16. Extended Length Jumbo Knotless Braids
The longer the better! The saying works particularly true with Jumbo braids. The curls make for a perfect finishing touch.
17. Blonde Design Jumbo Braids
The saying once you go blonde you never go back is equally true with braids. This gorgeous blonde jumbo braid does know how to get your head rolling.
18. Bob Jumbo Braids
Bob's look should be on the list of your to-do especially if you haven't explored this path and in jumbo sizes, you are in for a good ride!
19. Jumbo Distressed Passion Braids
Distressed passion braids have a similar appearance to distressed locs as they tend to have a slightly distressed yet gorgeous look.
20. Shoulder Length Jumbo Braids
If you are not a fan of longer lengths, the shorter length works just fine and is especially suited for large to jumbo-sized braids.
How to Care for Jumbo Knotless Braids
Here are a few helpful tips on caring for jumbo-sized knotless braids:
Avoid tight hairstyles: Avoid styles that put too much tension on your braids, as this can cause breakage and damage.
Avoid using too much product: Using too much product can weigh down your braids and cause them to become greasy or dirty. Use minimal products to keep your braids looking fresh.
Don't wash your braids too often: Washing your braids too often can strip them of their natural oils and cause dryness. Aim to wash your braids every 2-3 weeks, or as needed.
Avoid pulling or tugging on your braids: Be gentle when styling or handling your braids to prevent breakage.