Fishtail braids, also known as fish braids, have become increasingly popular in recent years for their unique and intricate appearance.
This hairstyle, which is created by braiding a section of hair and pulling small strands from one side to add to the other, is a versatile option that can be dressed up or down. In this article, we will take a closer look at the fish braid hairstyle, variations, and tips for achieving the perfect look.
What are Fishtail braids?
A fishtail braid is a type of braid that is created by braiding a section of hair and pulling small strands from one side to add to the other, creating a braided pattern that resembles the tail of a fish.
The fishtail braid is a versatile hairstyle that can be dressed up or down and it is often used as a variation to traditional braids. The fishtail braid is created by dividing the hair into two equal sections, then taking a small piece of hair from the outside of one section and adding it to the opposite section. This process is repeated on the opposite side, creating a braided pattern that is tight and elegant.
How to create Fishtail braids?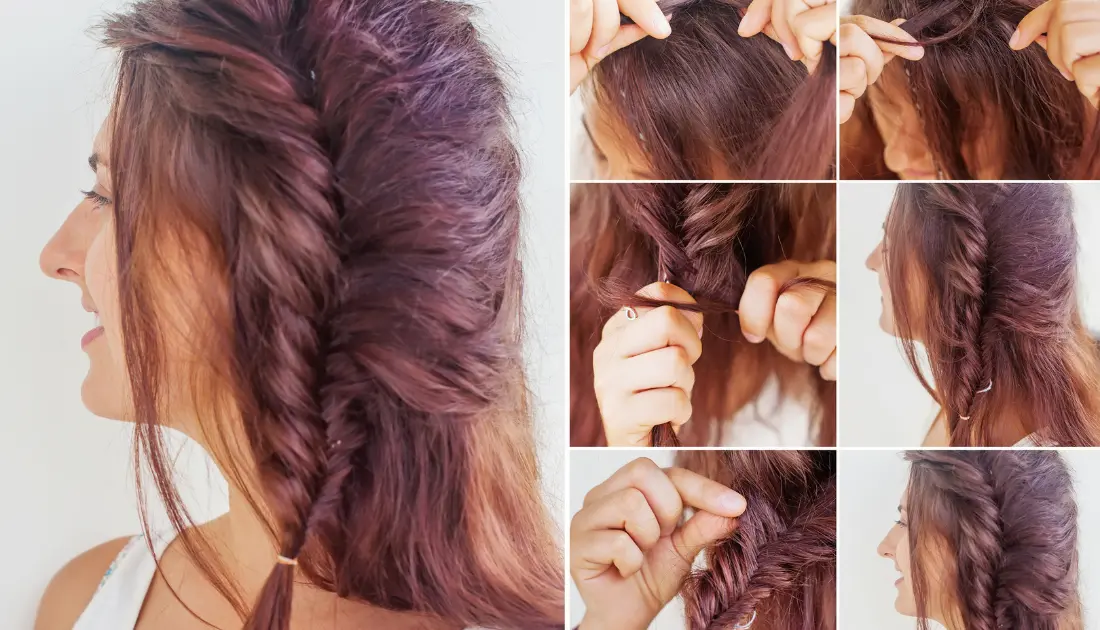 Start by brushing your hair to remove any tangles. Divide your hair into two equal sections. Take a small piece of hair from the outside of one section, and bring it over to the other section.
Take a small piece of hair from the outside of the other section, and bring it over to the first section. Repeat steps 3 and 4 until you reach the end of your hair.
Secure the end of the braid with an elastic band. To make the braid appear thicker, gently pull on the edges of the braid to loosen it.
You can also add some hair extensions before starting the braiding process to add more volume. Also, you can add some accessories to give more style and look. Additionally, you can use some styling products like hair spray, hair wax, or hair gel to make the braid neat and durable.
Here's a great video to check out:
20 Fishtail Braid Hairstyle Inspo
Here are 20 classy fishtail braid designs you should think about installing!
1. Intra-Twist Fishtail Style
This hairstyle is ideal for simple occasions. It's twisted into each other at the top, and flowing down is the fishtail in two strands.
2. Bun Fishtail Braid
Here we see the fishtail braid go around the hair and curl into a slight bun at the end. This is a beautiful style that can be worn to events.
3. Stylish Fishtail Braid
The evident three different-sized fishtail braid here makes the hair look fuller and better. Asides from the flower-shaped tail that beautifies this hair from the side, the intricate twist of these braids into each other highlights the Jumbo braid in the middle, giving this hair a unique, yet simple look.
4. Double Bold Fishtail
A beautiful hairstyle as this can be worn to weddings and occasions. This double-braid style is suitable for any event because it brings attention to whoever chooses to flaunt it.
5. Single Intricate Style
Magnificent right? This single intricate style would keep everyone guessing as they wonder about the braid. It's made up of a mixture of a small fishtail braid coming together to become one. Whole and beautiful.
6. Half-Crown Fishtail Braid
Do you always wonder how to style your hair as a bridesmaid? Not to worry, this got you covered. A perfect style as this one can be worn to various occasions, especially weddings.
7. Side Fishtail Braid
If you're only interested in flaunting your hair with just a little fishtail here or there, don't hesitate to try this. Here the hair is held down prettily by a single bold fishtail. This style can be perfectly worn on dates.
8. Fishtail with Loose Waves
Here's the perfect style for the snow season. These braids are bold, messy, and easier to wear, giving you a calm and relaxed look.
9. Fishtail Low Bun
If you're looking for tighter fishtail braids, look no further! This intricate braid is tighter, thicker, and unique.
10. Fairy Fishtail
Simple, elegant, and easy to braid. Go out looking like a fairy princess.
11. Romantic Fishtail
If you are a fan of bold and beautiful, this style is for you!
12. Dutch Fishtail
This look which bears a semblance to Dutch braids is the perfect style for a wedding or engagement party, and even a date!
13. Freaky Fishtail
Let's admit that it's not everyone that wants to lay low when styling their hair, especially when it's a fishtail! This style is unusual, and it announces itself in a simple yet classy way.
14. Curly Fishtail
The curly strands of this style hide the fishtail, but also makes the hairstyle interesting by giving it a look of mystery.
15. Tightly Woven Fairy tale Fishtail
This is a neat stylish fairy tale Fishtail tightly woven together to showcase beauty and elegance. It can be worn to formal occasions, especially to avoid interference from strands of hair.
16. Messy Fishtail
This hair curly gives it a cute look. It is covered in strands that make the fishtail braid unnoticeable yet bold!
17. Full-Crown Fishtail
Out on the look with a princess touch? Here is one for you. The full-crown style is just perfect and simple enough for any occasion.
18. Multiple-Step Stitched Fishtail
A step-by-step inter-stitched fishtail like this one makes all the difference! Do you want a peculiar look? Then waste no time installing this.
19. Twin Intricate Fishtail
Who says ocean blue should not be tried? The fishtail here is intricately woven into each other boldly, to form a single fishtail strand. It is a hairstyle that pulls your hair together and leaves no room for the interference of hair strands. It is neatly plaited, and should be tried!
20. Cross-Rolled Fishtail
This is a beautiful style! It is a wild combination of three separate fishtails woven exceptionally together to showcase beauty and elegance. This can be worn to dates!
How to care for Fishtail braids
Keep your braids clean: Fishtail braids can trap dirt and oils more easily than other hairstyles, so it's important to keep them clean.
Keep your braids moisturized: Fishtail braids can dry out quickly, so it's important to keep them moisturized. Use a leave-in conditioner or hair oil to keep your hair hydrated.
Protect your braids while sleeping: To protect your braids while you sleep, tie your hair up in a loose ponytail or braid and wrap it up in a silk or satin bonnet. This will prevent your braids from getting tangled or damaged.
Avoid tight hair elastics: Use hair ties or scrunchies that don't have a tight grip on your hair, to avoid damaging your hair.
Don't pull on your braids: Fishtail braids can be delicate, so be careful not to pull or tug on them. This can cause damage to your hair and weaken the braid.
Regularly check the health of your hair and scalp, and make sure to remove the braids if you notice any signs of hair breakage, scalp irritation, or infection.