Looking to debut a brand-new, fashionable protective hairstyle? Still looking for a quick, distinctive, and reasonably priced hairstyle? Coi Leray braids are just the look you've been yearning for all this time, so your quest is finally over!
What are Coi Leray braids?
As the name suggests, Coi Leray, an American rapper, and songwriter popularized the style with his short, gigantic braids with curled ends. In terms of social media platforms and the majority of black braided styles, this hairstyle is now popular.
The braids are typically sectioned on the hair much bigger than the normal braids, giving them a scanty appearance. They are created by combining short jumbo braids on top with curls at the end of the braided hair.
Why choose Coi Leray braids?
They are very fashionable protective hairstyles that work well with kinky locks alongside other hair types.
They do not strain your natural hair or put so much tension on the scalp due to their scanty nature.
They are easily adopted into any unique hairstyle of your choice and color.
The braiding process is very relaxing, less time-consuming, and does not require a lot of extensions to install which makes it affordable.
Coi Leray braids are so much easy to maintain and can last for an estimated period of 4 to 8 weeks when properly cared for.
They present a variety of styles that would make you remarkably stand out in the crowd.
20 Beautiful Coi Leray Braids 2023!

Check out our list of 20 gorgeous Coi Leray braids you should try!
1.Orange Coi Leray Braid
2. Long Coi Leray Braid

It's not enough that Coi Leray braids are usually scanty, but the length also matters, and each length brings out the different beautiful shades of this hairstyle, just like this length.
3. Large Coi Leray Braid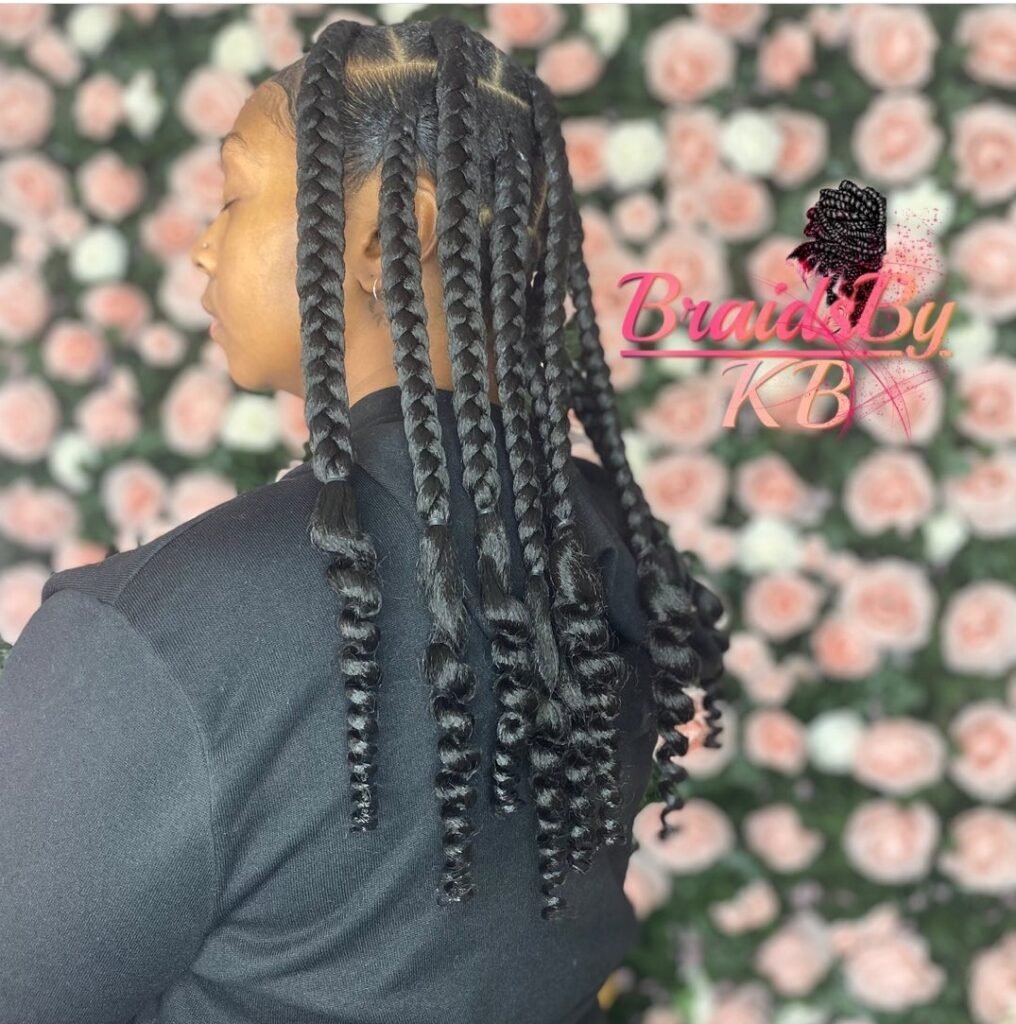 Not every lady fancy long braid, and that's alright! Besides we've got you covered. Feel free to take a closer look at this!
4. Jumbo Coi Leray Braid
Jumbo braids are always in style and one such as this is perfect for any occasion, especially simple ones.
5. Stylish Coi Leray Braid

Are you on the lookout for something easy, simple, and stylish? Then this style is perfect for you.
6. Knotless Coi Leray Braid

This jumbo knotless Coi Leray braid can be achieved by simply braiding the hair with large strands of black extensions and then later using hot water to achieve curls.
7. Coi Leray Braid with Side Part

The side parts are lovely and stylish. This look can be achieved when you pull a part of your hair to the side and guess what, you can try other styles too!
8. Back Length Jumbo Coi Leray Braid
If you simply want to be in between in braid size and length, have a close look at this back-length Coi Leray braid, it might be what you've been searching for.
9. Mixed Color Coi Leray Braid

Experimenting a little doesn't hurt, especially when it comes to colors!
10. Medium Coi Leray Braid

Here is a perfect medium brown mix for you. This style reminds me of a hot chocolate drink and Im certain you will look as hot when you flaunt this!
11. Short Coi Leray Braid
Coi Leray braids can be installed using any length of your choice. Trying out a short Coi Leray style won't be bad either.
12. Mini Coi Leray Braid
If you don't want to be in a hurry to stop you from installing the Coi Leray braid, then this mini style is for you. It's simple and quick to install.
13. Coi Leray Braid for Kids

Although the Coi Leray braid is popular amongst adults, kids can also rock this style, most especially those coming of age.
14. Stylish Coi Leray Braid
There are inexhaustible styles to Coi Leray braids and this is one of them.
15. Coi Leray Braid with Loose Curls

The curls attached to your Coi Leray braids are solemnly based on preference, this is a beautiful loose-curled Coi Leray braid that you can try.
16. Jumbo Coi Leray Braid
Scanty didn't necessarily mean 'too scanty'. If you are the type that loves slightly full hair no matter the style, quickly hop on this full Coi Leray braid style.
17. Bun Coi Leray Braid

Buns are no doubt cute and beautiful. Then imagine flaunting a curly beautiful bun, that would be amazing!
18. Coi Leray Braid with Large Part

Parts are foundations laid out for every hairstyle. If you are a fan of jumbo braids on large parts, consider installing this.
19. Long Jumbo Coi Leray Braid

Large jumbo braids have a way of announcing themselves, especially when it's lengthy. That is why this long jumbo Coi Leray braid is simply gorgeous.
20. Medium Long Coi Leray Braid
Now if medium-size braids are where you feel most comfortable, feel free to take another look at this simple medium-long Coi Leray braid.
How to Install Coi Leray Braids

Depending on your hair's length and size, you'll need 4 packs of extensions to complete the Coi Leray braid. Black rubber bands to control hair. Edge control, perm rods, a shine 'n jam, and finally hot water.
Installing this hairstyle begins with a standard box braid, but one that is larger and thicker. Don't forget to leave the last few strands unbraided. Once all of the hair has been divided into sections, you can continue by tying knots or using rubber bands to keep the braided hair firm and separated from the unbraided area.
Use the perm rods subsequently to roll or twist the unbraided so that it can be curled. Once prepared, boil the water until it begins to bubble. Pour water into a bowl or bucket, then submerge the twisted portion of the hair that still has perming rods in it. Wait a few minutes before using a towel to dry the hair.
Repeat this process for each braid, then use shine n jam to keep the curls in place and edge control for baby hairs.
Care Tips for Coi Leray Braids
Massage your scalp with energizing, light hair oils to promote blood flow and promote hair development.
To maintain the look and stop it from messing up as you sleep, wear a silk or satin head scarf.
Have hair spray on hand to add shine and control frizz! The braids and edges would also look lovely if the edges were kept perfectly set and slick.
Conclusion
Coi Leray braids are stylish, distinctive, simple to make , and easy to maintain—mostly because they are cost-effective. They work well for all hair types and won't cause breaking or damage to hair when worn for four weeks.
This hairstyle is simple to keep up by routinely cleansing your scalp and using oil for moisture while wearing a scarf or bonnet over your hair before night. In the meanwhile, using flex rods and curling cream helps keep the curls in place.