Box braids are a timeless hairstyle that has been popular for decades, and with good reason! Medium box braids offer the perfect balance of volume and versatility. In this article, you'll be provided a comprehensive list of classic looks to try out and some helpful tips for maintaining your braids.
What are Medium Box Braids?
Medium box braids are a type of hairstyle in which the hair is divided into medium-sized sections, or "boxes," and braided into long, thin braids. The size of the boxes used to create the braids will vary depending on the thickness and length of the hair, but generally, medium box braids are larger than micro braids and smaller than jumbo braids.
This type of braid is a popular choice for those looking for a versatile, low-maintenance hairstyle that can be worn for an extended period. To create medium box braids, the hair is typically braided using a synthetic hair extension to add length and fullness to the braids. The braids can be styled in a variety of ways, including loose and flowing, or pulled back into a ponytail or bun.
How Long Does it Take to Install Medium Box Braids?
The amount of time it takes to install medium box braids can vary depending on several factors, including the length and thickness of the hair, the skill of the stylist, and the desired fullness of the braids.
As a general rule, however, it can take anywhere from 4 to 8 hours to install medium box braids. It's important to note that this is just an estimate, and the actual time it takes to install the braids may be shorter or longer depending on the factors mentioned above. It's always a good idea to discuss the installation time with your stylist before getting your braids done, so you can plan your day accordingly.
How Many Packs of Hair are needed for Medium Box Braids?
The number of packs of hair extensions needed for medium box braids will depend on the braids' length, thickness, and desired fullness. However, you will typically need 3 to 5 packs of hair extensions to create medium box braids.
It's important to note that this is just an estimate, and the actual number of packs needed may be more or less depending on your specific hair type and the desired look of the braids. It's often a favorable idea to discuss the number of packs needed with your stylist before getting your braids done, so you can make sure you have enough hair to create the desired look.
20 Trendy and Dope Medium Box Braids to Try out for 2023!
Here are a few major medium box braids hairstyle inspirits to try out today!
1. A Red Colour
The red braiding hair color gives a fiery and bold look and if that bold is your vibe, you should try this out!
2. Bohemian Knotless Medium Box Braids
The Bohemian look with the curls dropping in and between the braids are better suited for the medium-sized box braids and the blend of color takes this look to a higher level of beauty!
3. Braids with Curls
This is a look always! The curls at the tips take it from ordinary to something more!
4. Classy Bob
Medium box braids and bob go hand in hand, they do have a rather profound 'symbiotic relationship, and what comes out is classiness at its peak.
5. Criss Cross Medium Box Braids
The crisscross braids aren't as complicated as they might look and do not take forever to install. And, It is suitable for every occasion.
6. The Middle Part
The classic middle parting works every time! You can never go wrong with this.
7. The Triangle Part
The triangle parting style does draw attention to the braids and is a gorgeous way to pull up!
8. Blonde Knotless Medium Box Braids!
What's that saying that you "once you go blonde and you never go back. This is especially true for braids, want to test out this theory?
9. Add-On Beads
Beads are a great way to spice up the braids and up their style and they can be installed quite easily from the comfort of your home with tools like a beader, crochet hook, or your hands.
10. Blue and Black Mix ( Peekaboo)
Blue and black braiding hair color mix is a variant that works and gets the job done every time! Not to forget that it is stare-worthy.
11. Bohemian CrissCross Medium Braids
Crisscross braids on their own is a gorgeous upgrade from the ordinary braids and with a blend of the boho style. It becomes a force!
12. Half up Half down Style
This look is sassy and an ultimate baddie move. Medium knotless braids offer versatility with hairstyling and this right here proves that it is a valid point!
13. Goddess Bob
Bob's look is an absolute fav! And, hairstyling isn't as limited as you may think. The curls hanging and dangling brings attention to the face, just right where it is needed.
14. Shoulder Length Boho Medium Box Braids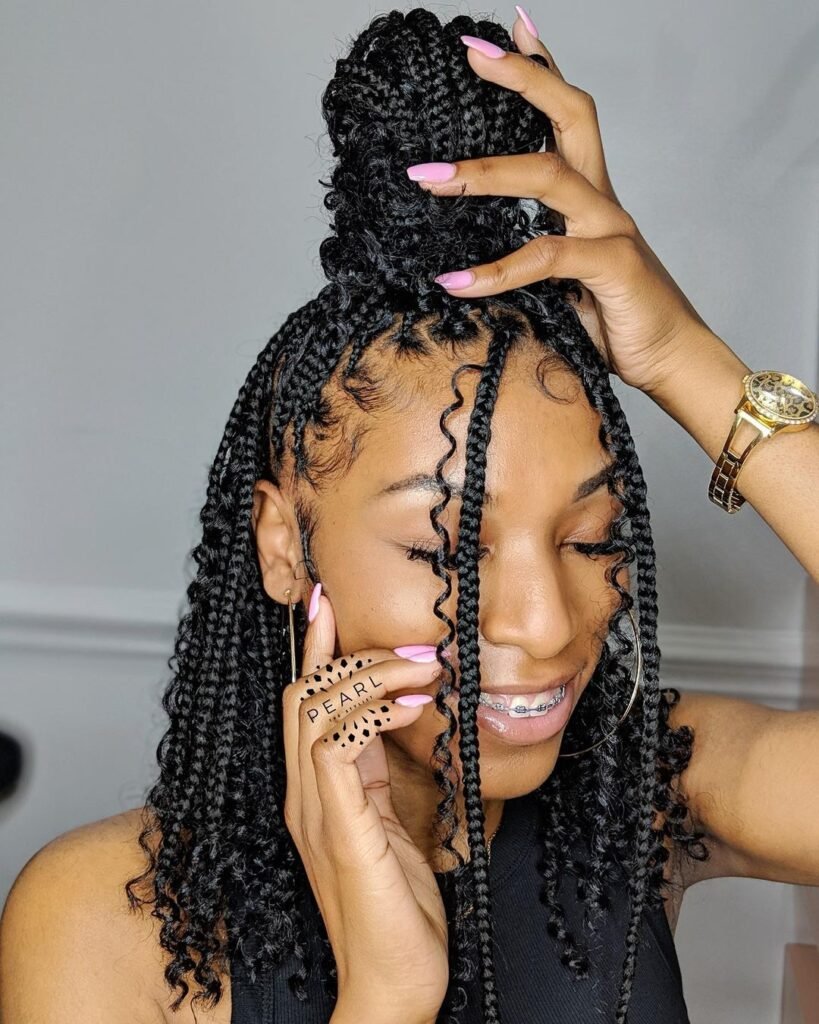 Medium box braids in short lengths have a certain lure to them and exude a vibrant yet elegant appearance.
15. Heart Shape Medium Box Braids
The heart shape weave attracts attention as it is the center of focus and doesn't have any trouble keeping it.
16. Long Medium Box Braids
The longer the better! And, the double knots draw attention to the face and the cheekbones, and not to forget the subtleness of the color mix doesn't go unnoticed.
17. Star Shaped Intricate Weave
You would agree that the presence of intricate small weaves adds a certain kind of creativity to the braids and this is no exception.
18. Blue and Purple Combo
Who thought this color mix would work? But, it rocks! This is a great way to slay in those braids.
19. Pink and Bold!
The men are on this train, medium box braids are suitable for all and the pink right here is a fav for good reasons, one of which is the attention it gets.
20. Mid-Back Medium Box Braids
The mid-back length is a typical go-to, it isn't overly long nor is it too short. It sits comfortably in the middle and offers versatility with hairstyling.
How to Care for Box Braids
To care for box braids, it's important to keep them clean and moisturized. This will help prevent dryness and breakage. Here are some tips for caring for box braids:
Wash your hair every 1-2 weeks, or more frequently if necessary. Use a gentle shampoo and conditioner, and avoid rubbing your hair too vigorously.
After washing your hair, gently squeeze out any excess water and apply a leave-in conditioner or moisturizing cream.
Avoid heat-styling styling tools, such as curling irons or straighteners, on your box braids. This can cause damage and breakage.
Avoid using any harsh chemicals, such as hair dyes or relaxers, on your box braids. These can damage your hair and cause the braids to loosen or fall out.
Avoid tight hairstyles, such as ponytails or buns, which can put too much tension on your braids and cause breakage.
Overall, the key to caring for box braids is to keep them clean, moisturized, and protected from damage. With proper care, your box braids can last for several weeks or even months.