In addition to being passed off for normal box braids and requiring much less time to braid, crochet also gives flexibility and variety. Want to put it in a crochet box braid? Go on reading!
How Do Crochet Braids Work?
A crochet hook or latch hook is used to braid, weave, or crochet synthetic extensions into your natural hair to create attractive, natural-looking crochet braids as a protective hairstyle. Due to the braiding method utilized, these low-maintenance braids are frequently called latch hook braids. Box braids and crochet braids are frequently mistaken for one another.
African American hair culture is linked to crochet hairstyles, which have long been favored by the black hair community.
The name relates to the technique used to add hair extensions to your hair and not to the type of hair used to make the braids. When using the crochet technique, your hair must first be cornrowed before any extensions are put in, similar to how it is when having some types of weaves. The hair is loose in this case as opposed to a weave, which is a sizable portion of hair that is sewn in.
The cornrow braid is punctured with a crochet needle. To attach it to the hair, a little bit of hair is threaded onto the needle, drawn through the cornrow braid, and then secured in a knot.
A protective hairstyle that may be worn in a variety of ways is crochet braids. As long as you take proper care of your locs by shampooing, deep conditioning, and doing routine maintenance, they often don't harm your natural hair. Every six to eight weeks, crochet braids need to be removed to maintain healthy, damage-free hair.
Do crochet braids harm hair in any way? Your hair must be healthy before you use crochet braids. You shouldn't use the crochet method if your hair is already fragile and breaking since it will make it heavier and, depending on how you put it in, could produce friction between your hair and the crochet hair, which would cause damage.
How much time does installation take?
Crochet installation can take anything from 45 minutes to a few hours, depending on the style. It takes an average of 2.5 hours. Cornrows will undoubtedly take longer to complete. A lot, however, depends on your desired style, natural hair volume, and length.
Crochet Braids: A Step-by-Step Process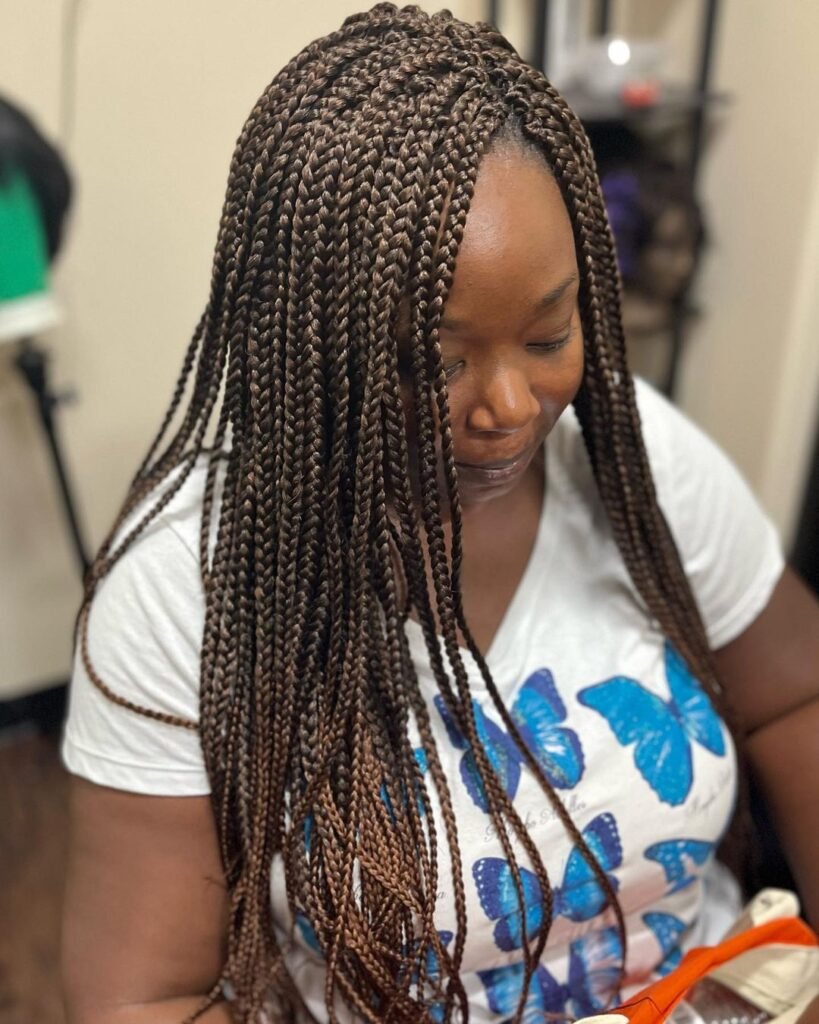 Here's how to do crochet braids and get your hair ready for it!
1. Wash and condition your hair
Give your hair a thorough wash; since it will be covered for a few weeks, it would be improper to neglect giving it the care and attention while it is being tucked in.
As usual, wash and condition your hair, and if necessary, give it a deep conditioning treatment. Your hair would remain healthy and nourished if you did this. If your hair is particularly prone to dryness, a pre-poo treatment may be necessary before washing it.
2. Cornrow your natural hair
Working from the front to the nape of your neck, divide your natural hair into parts using a rat tail comb. leave a little bit of hair at the edge loosely plaited or braided so it can be undone later.
After each section has been braided, press the cornrow tips to your head and sew them thereby threading the needle through the ends of the cornrows and pinning them to your scalp. Continue this process until the braid is completely fixed.
3. Crocheting Through the Cornrows
To attach the loop end of the crochet braid extension, open the crochet hook, slide it through the cornrows, and pull it into the opposite side. Then, fasten the tail end of the through the crochet braid and drag it into the scalp with your hands to secure it.
As you progress to the back section, feel free to reduce the spaces at the back for a less bulky feel. Starting from the front, make sure it is tightly packed together for a more natural look without the cornrows peeking out.
To create the appearance of a box braid, untie the plait or braid at the edge section, go through it with a comb to eliminate any knots, and segment it piece by piece. A crochet braid should first be undone, then a small section should be braided all the way to the end. You may need to smooth it out by dipping it into hot water at the very end. These methods allow for flexible hairstyling.
To avoid unraveling the hair extension, make sure to fully insert it into the crochet hook. If you must unravel it, make sure to braid or twist it back together. Additionally, have in mind that there can be some resistance if you are crocheting thick, curly, or wavy hair extensions, so you should use caution.
Use a pair of hair-cutting shears to trim the hair extensions if they are longer than you would want them to be or if you want to balance them out. To get the required length, only trim a little section of hair at a time.
How To Maintain Crochet Braids
Depending on the person's hair texture, crochet braids can last anywhere from four to six weeks. Finer hair textures may not last as long. When natural hair is left in a style for longer than 8 weeks, breakage may rise.
To keep your hair looking great at night, put on a satin scarf or bonnet. Silk or satin head wrap offers a smooth and silky glide minimizing frizz and keeping the style in place.
You can clean your crochet braids by mixing water, shampoo, and conditioner in a spray bottle. In between the cornrows on your hair, mist the scalp mixture. To get rid of product buildup and grime on the scalp, gently massage it. Spray the leave-in conditioner mixture over your scalp after rinsing your hair. For additional scalp cleaning, use a dry shampoo.
Spend some time getting ready for your natural hair. These actions are necessary to guarantee those protective hairstyles genuinely shield your hair from damage.
Make sure your cornrows are not too big because this could add extra bulk after the look is finished.
Do not comb or brush crochet braids; instead, use your fingers to detangle hair if it is matted or tangled. You can also use scissors to cut the knots or tangles if the hair's ends are very tangled.
When cornrowing, avoid pulling your hair too firmly. Your braids are likely overly tight if you experience headaches, which could harm your natural hair.
Especially towards the back of your head, avoid installing crochet hair strands too closely together. This will put an uncomfortable amount of pressure and heat on the back of your neck.
Crochet braids offer flexibility with styling and allow for a range of activities.
Crochet Braid Removal Procedure
Do not cut too near to the braids' base while cutting crochet braids in half. The crochet braids could be taken out using a comb or by pulling on the knot.
To remove all product buildup from the scalp, be sure to shampoo with a clarifying shampoo first. Then, use a moisturizing shampoo, deep condition your hair, and get a trim.