Box braid styling is a surefire technique to change up the look and transform it from plain to elegant! However, there are occasions when we run out of styling advice. But this article is here to help; included below is a variety of box braid styles that you should give a shot at!
What are Box Braids?
More than any other hairstyle, box braids are popular among Africans and persons of African origin. This particular hairdo is "boxy," features square-shaped hair divisions, and is a "protective style"—a style that may be worn for a long period of time to encourage the growth of natural hair and protect the ends of the hair from overly vigorous physical manipulation and adverse climatic circumstances.
Box braids are typically made with synthetic hair to provide thickness and support the natural hair already in the braid. Since box braids are not attached to the scalp, they have more styling choices than similar hairstyles like cornrows. Although installing box braids might be challenging, once done, they can persist for six to eight weeks.
Which hair works best for box braids?
When purchasing box braid hair extensions, it can be difficult to choose from the many hair types that are offered. Nevertheless, using the best hair is crucial because it affects the style's attractiveness and longevity. I suggest Xpressions and Kenakelon hair because they're well-liked, reasonably priced, and available on Amazon and other online beauty stores.
How long does it take to do Box Braids?
It typically takes 4 to 8 hours on average, depending on your hair's thickness and texture, style, length, and other factors. This is why I advise against scheduling any other appointments on the same day and that you carry a book instead. If you do it yourself, it will take the same amount of time and possibly even longer depending on your level of experience and the style you prefer.
20 Ways to Style Box Braid for Any Occasion
The compilation of various style tricks for box braids is all you need to slay them!
1. A Top Bun
Every time, this remains at the top of the styling list! The most well-known reasons for this are the magic and focus it adds to the face, emphasizing the cheekbones and the eyes. Flip your braids so they are bending forward, and then put them up in a high bun.
2. A Back Knot
This styling trick is an efficient way to get those braids from your face and still look good! Suitable for any occasion and a practicable styling method. Grab a couple of braided pieces at the sides, and secure with a hair tie firmly at the back, not tieing too tightly to avoid damage to the hair.
3. Goddess High Bun
With its distinctive style of leaving curls at the end and in the braids, the goddess braid styling quickly became popular, giving off a stunning yet unusual image. The front braided parts can also be styled in a high bun, which is a great way to wear this look!
4. A Centre Half up Half down
The current stylistic trend is the half-up, half-down look, and why not? provides a distinctive appearance that may be slayed to a variety of events. When compared to a top or side appearance, doing a center-half up and down makes such a difference!
5. Medium Size Bob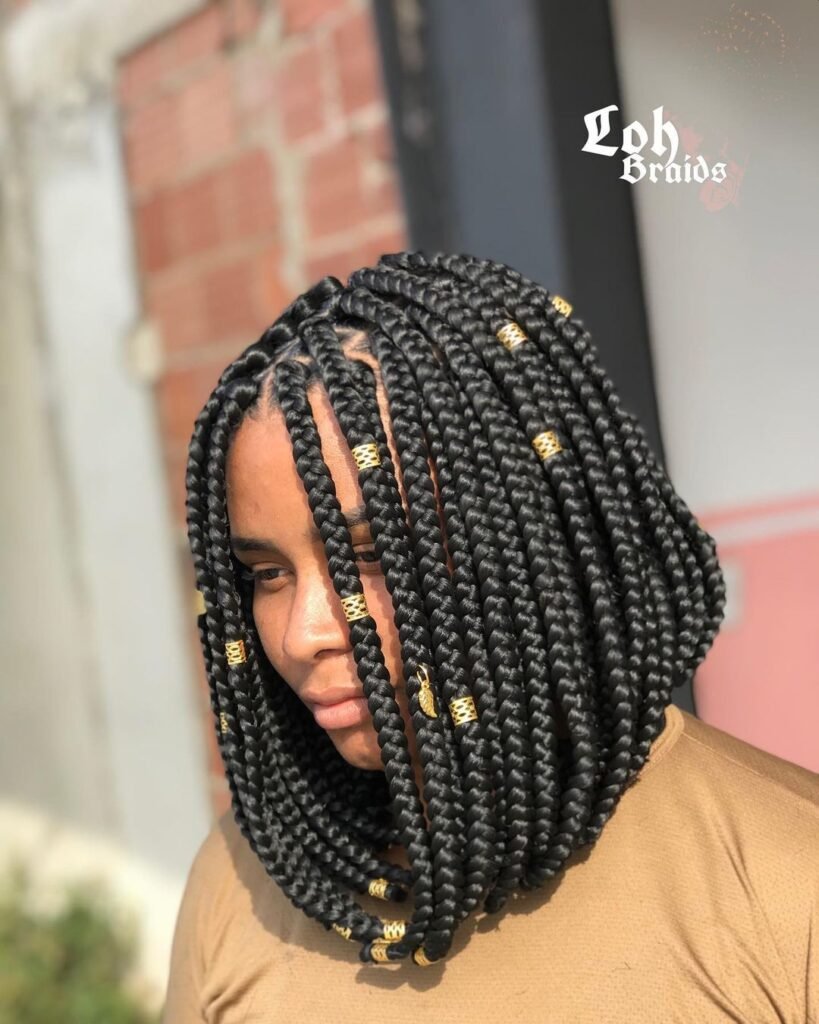 This proves that medium sizes usually look fantastic on shorter braid styles! Shorter braids can be styled and worn with confidence.
6. Small Box Braids
The main drawback is that it takes a lot of time to install. Smaller, more detailed box braid types are seen to be more aesthetically beautiful and tend to stay the longest.
7. The Classic Middle Part
The classic middle part works every time! And, it is quite easy to pull off.
8. Jumbo Box Braids
The larger it is, the more they stare! This is exactly what it feels like to rock jumbo-size box braids, you get the most attention.
9. Top Knot!
What better way to style your braids than to knot them up in the highest way possible?
10. Half up Half down
This look is a favorite! And trendy at the moment, and super easy to create, you'll get this done in minutes!
11. Accessorized with Beads
Beads, especially those in striking and brilliant hues, are a certain way to change up the braided style and transform it into something extraordinary. Using a beader, a crochet hook, or even just your hands, you can simplify the installation of the beads! When the installation is complete, secure the beads by securely wrapping a rubber band around the final bead a few times.
12. Spider Web Parting Style
Take your braids from mundane to stare-worthy! By incorporating a chain or small intricate weaving design.
13. Medium Ombre Color
The ombre braided look slays every time! It's an interesting switch up in the box braids hair category.
14. Shoulder-length bob
Shorter braids work every time and compensate for the limited hairstyling options and the addition of vibrant colors makes a whole lot of difference.
15. Double Knots
A gorgeous way to style box braids and is quite easy to install. Start by putting your hair in a double half up half down style and knot with an elastic hair band.
16. Double Half up Half down
Half up half down style method is a no-fail and a sure baddie move!
17. Braids with Curls!
Leaving curls at the tips of the braids is a beautiful way of styling, and does so much to the braids aesthetics.
18. Double Knots with a Twist!
If this look doesn't scream badass and say lit! I don't know what else!
19. Double Wunky Puff
The braids dangling in front draw so much attention to the face when they are styled in a messy puffy manner, which is a dope styling technique.
20. Heart-shaped Style
The heart shape's intricate parting style takes the braids to a higher level!
Box Braids Care and Maintenance
Box braids require maintenance if you want to get the greatest results and safeguard your hair at the same time. As with many protective hairstyles, box braids can have the opposite effect if they are not properly maintained. Box braids require less care because they are low maintenance, but attention is still needed.
The Box Braids may be washed is one that newcomers frequently ponder. You can, without a doubt. In particular, if you lead an active lifestyle. The cleaning process is rather simple, all you need to do is focus solely on the scalp, and a healthy scalp equals healthy hair.
Verify that your braids are completely dry after washing to avoid smells. If you have to choose between a wash and frizz, go with the frizz! Prioritize the well-being of your hair. Below are some additional care recommendations
For a clean scalp, use a clarifying shampoo to get rid of the product and mineral buildup, excess oils, and dirt.
Hair oils are a complete necessity! Massaging lightweight oils on your scalp helps encourage blood flow to the hair follicle stimulating hair growth.
Wear a silk or satin head scarf to keep the style in place as you sleep and prevent it from messing up.
Maintain regular scalp moisturization and cleanliness of your braids.
Consider getting your braids removed if they are seriously irritating your scalp and your hair is growing out.
Braids should ideally not be worn for more than six weeks to prevent hair damage.