At the moment, knotless hairstyles are extremely fashionable, making choosing the right one for you as a beginner particularly difficult and styling a much harder job. I've compiled a comprehensive list of sick knotless braid looks for you to rock!
What are Knotless Braids?
As the name suggests, knotless braids lack knots. They use a feed-in braid technique, which is softer on your scalp, as opposed to an anchor knot.
The braiding hair extensions are progressively woven into your natural strands to give a smooth finish, preventing damage to your edges and stress on your scalp that could cause traction alopecia, a condition that causes hair loss as a result of increased stress. Since they are easier to style and less harmful to your hair than conventional box braids, they are also more attractive.
How Long Does it Take to Install?
Depending on the thickness, texture, style, and length of your hair, it can take anywhere from 4 to 8 hours on average. I suggest making yourself comfortable–go to the salon with books. You'll be reading and rereading those books and some snacks.
Anything else that would be most comfortable for you, such as headphones. And, if you are a DIY braider, It will take the same amount of time or longer if you do it yourself, depending on your level of ability and preferred style. With the right upkeep and care, knotless braids can last up to four to eight weeks, but it's recommended to take them out no more than six weeks after applying them to prevent long-term hair damage.
What type of hair works best for knotless box braids?
Along with the method, the hair extension itself is important in achieving that seamless effect. The variety of hair types available can make it difficult to decide, but there are still some excellent choices. Xpression and Kanekalon hair is at the top of the list and is conveniently available on Amazon and other websites that sell beauty products.
15 Dope Knotless Braids Style!
Having trouble styling your knotless braids? No longer! Here is a beautiful collection of numerous styles that you should try!
1. Blonde Knotless Braid Style
The saying when you go blonde you never go back is particularly true for this knotless style! This blonde-colored braid pops looks good and is equally stare-worthy, and if you are worried about your natural hair color is an area of focus, you can either dye it or rock the look!
2. Heart Shape Knotless Style
We all have to agree that this is a baddie look! The heart shape design and the color combo, scream lit!
3. Double Bun Curly Knotless Style
High buns are a trend and for good reasons, they bring so much attention to the face and highlight the cheekbones. The double bun style is not limited to a particular length or size and can be rocked effortlessly.
4. Half up Half down Knotless Braid Style
This trendy style has attracted the most attention and why wouldn't it? The half-up half-down look does it every time! It is a favorite!
5. Middle Part Knotless Style
The classic middle part style works every time for a casual, chic yet elegant vibe suitable for any occasion.
6. High Bun Knotless Style
High buns are a trend! What better way of styling your knotless braids than by bunning those beauties up? Putting the front hair section in a high bun, and the braids left dangling at the side does so much for this look.
7. Side High Bun
We can't get enough of the high bun braided style! But when the side section of braids is in a high bun, it is a no-brainer baddie move.
8. Two Half up Half down
Half-up half down styles are a fav! Gorgeous and brings so much attention to the face, and who doesn't want that? This style is super easy to create and set in place.
9. A No-Part Style
The almost natural no-part look is one beautiful way to style your knotless braids. It offers a unique and natural appeal.
10. Heart Shaped Beaded Style
As complicated as this might seem, it isn't! And, it can be done in seconds! All you need are hair ties and your braids, vila, there you have it! Rock this classy yet intriguing style to various occasions and slay!
11. Accessorised with Beads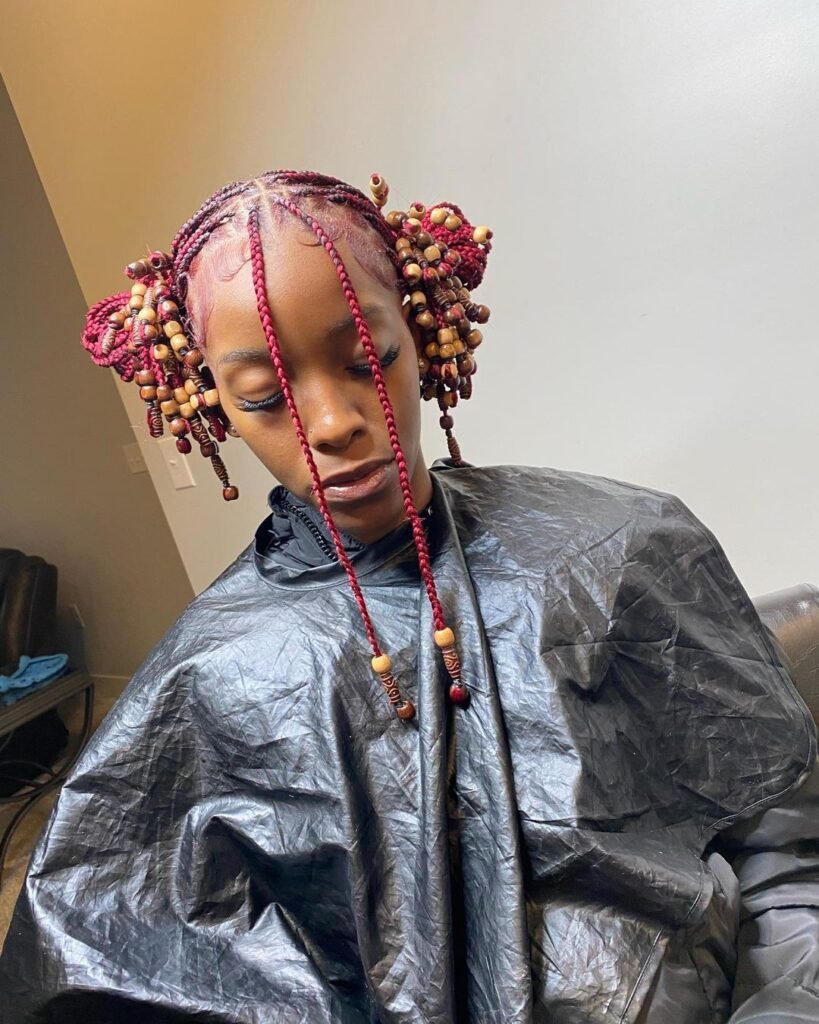 Beads are a sure way of switching up the braided style, going from ordinary to extraordinary especially beads of bold and vibrant colors. The beads installation process can be made easier using a beader, and a crochet hook and even your hands can do the trick! At the end of the installation, secure the beads by wrapping a rubber band tightly a couple of times over the last bead.
12. A Half-up Bun
This is a combo of half up half down style and a bun look. The mix occurs firstly by creating a half up half down style and then bunning it up in a high manner! It doesn't require much to the style and it is a chic and baddie slay move.
13. Boho Knotless Style
Leaving the curls in between and the ends at the braids gives an eccentric yet intriguing look, it takes the knotless braids to a whole new level!
14. Side Swept Bun
Sweeping your braids to the side and putting them up in a bun, is a casual, chic look, great for office meetings and outdoorsy occasions.
15. Side Swept Half Up Half Down
This hairstyle choice frames the face rather nicely and brings so much attention to the face, accentuating the eyes, and cheekbones. There isn't an occasion this isn't suitable for
How to Care for Knotless Braid Styles
To get the most out of knotless box braids and keep your style in check the hair protected, take good care of them. Knotless braids are a protective hairstyle, and like any protective hairstyle, if you don't take proper care of them, they could work against you.
Washing Knotless Braids is the first and foremost care tip. If you worry about the complexity of washing braids, think again! Washing braids isn't a difficult process, the most important thing being gentleness and a clean scalp. Also, acknowledge that washing the braids can give birth to more frizz, but you definitely should pick the health of your hair over a little frizz. 
It is typically advised to wash your braids after two weeks especially if you are keeping them longer than four weeks, if you frequently work out and generally, have a more active physical life, using dry shampoo in the interim would be great and beneficial to your scalp health as it can help tone down the excess oils without the hair needing to be washed.
Once you've washed your braids, ensure they are completely dry to avoid odors. Added care guidelines include the following:
To keep your scalp clean, use residue-free shampoo. This shampoo type is specially formulated for deep cleansing, adequately getting rid of product buildup, excess oils, dirt, and minerals.
Massage hair oils into your scalp to increase blood flow, which will accelerate hair growth.
To keep your hair in place and avoid tangling as you sleep, cover it with a silk or satin head scarf. This is made feasible by the simple glide and smoothness of their surface area.
The trick is to often hydrate your scalp and braids!
If your hair is matted and your scalp is exceedingly itchy, think about getting it removed.
When wearing knotless braids, no longer than six weeks should elapse.