Medium braids are sizeable braids that are always in-between hair sizes. They're not too small and definitely not too big, but simply exceptional and stylish in width and length. Usually, people refer to braids that are between shoulder length and back length as medium, and although this is true, medium braids can also be referred to as the width and size of a braid.
In this article, we will be discussing the different exceptional medium box braid hairstyles you should try out.
What are medium box braids?
Medium box braids are not so much different from the usual box braids, only in size. They are protective hairstyles that are achieved by sectioning and cutting the hair into square shapes, only to braid from the base to any length of your choice.
Notwithstanding the short, medium, and long versions of box braids, the medium box braids hairstyles are popularized over others to a large extent due to their simplicity, creativity, and beauty.
These braids are trendy and can be stylishly installed in a way that suits all kinds of fashion, and blends quickly with one's preference. Besides, it takes approximately 4 to 5 hours to install the medium box braid, especially by a professional hair stylist.
But then this is true for the short-medium box braids, a longer style of either waist or knee length, would require at least 8 hours to install. However, the outcome is always worth the wait!

How to create the medium box braid style

Listed below are steps you would need to take to achieve the medium size box braid.
Preparing the hair: You are required to prepare your hair for styling, either by yourself or by your stylist. You'd need to wash the hair, blow dry, and comb out. Also, do not forget the treatments, whatever you want to go in with during preparation is fine.
Parting the hair: After preparation, the next step is to part the hair. To achieve this, a rat-tailed comb and alligator clips are required. However, if you don't have an alligator clip, you can use any clip you have to hold the hair in place while your part. Parting requires you to section the hair into portions, medium and small portions in exact box shapes. You may decide to do the part row by row, or one step after the other while or before plaiting, and either is fine, as long as it works well for you.
Braiding the hair. Braiding simply requires you to split the parted hair into three sections, and repeat the same to the extension before adding it to the hair to weave it together. But before you dive into this step, you will have to ensure that the sectioned hair is in a box shape and that your extension is not too small, or too big. If you are certain, then proceed to braid the hair strands together all through to the last strand.
Repeat the procedure. Now, to achieve a uniform look, you'd have to repeat the procedure over and over again until you have completely full hair. If mistakes occur while braiding, don't hesitate to loosen the hair and repeat the steps.
20 Best Medium Box Braids Ideas for 2023

Here are 20 medium box braid hairstyles you should try out!
1. Waist Length Medium Box Braid
Rocking braids will be easier when you choose a color that is beautiful enough to go with the style and blend perfectly with your skin.
2. Color Combo Box Braid

While we are still on colors, this mix of burnt brown and caramel is beautiful and stylish. It goes with any braid style, which includes the medium box braid.
3. Traditional SMedium Box Braid

The knot braids are traditional braids that have knots used to secure one's hair with extensions, and what other better way to prepare this hairstyle if not through medium box braids?
4. Crisscross Knotless Medium Box Braids

Knotless braids are popular hairstyles known to be braided without knots, however, to properly achieve this look and rock this style further, it will be great to install the medium box braid pattern!

5. Red Medium Box Braid

Let's divert our attention from this braid style to its color, just for a second. This beautiful hairstyle can be worn to parties and events, proudly!
6. Side Part Medium Box Braid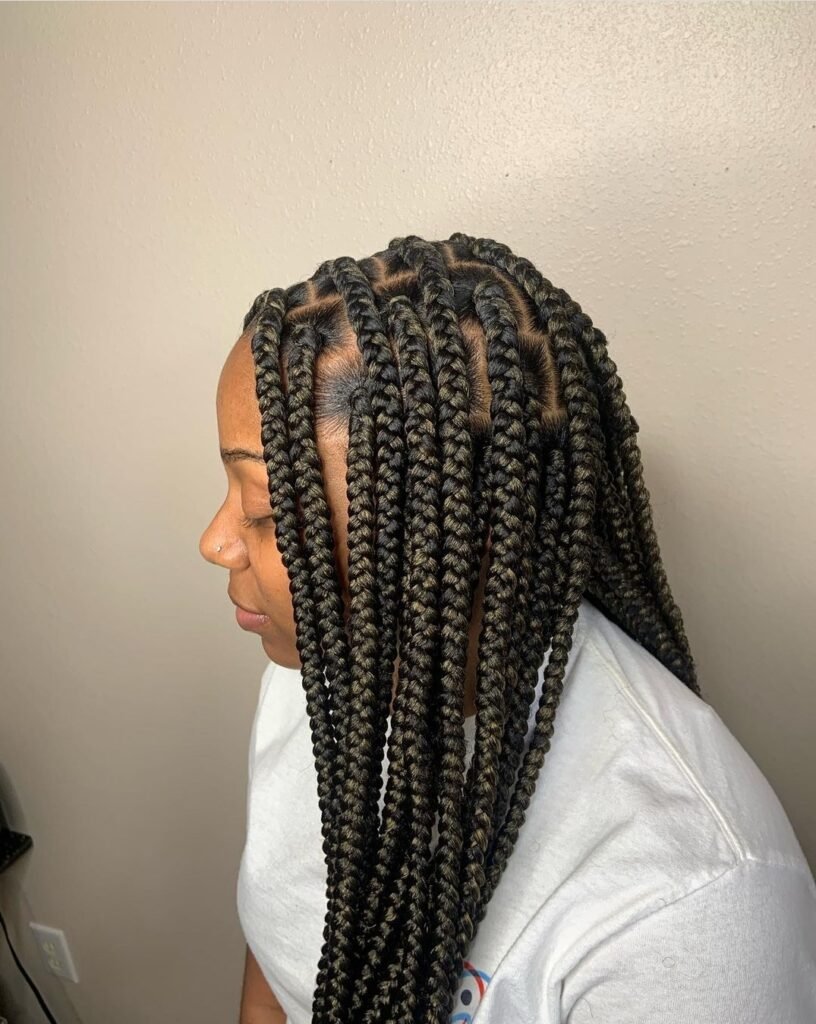 This beautiful braid hair do is stylishly braided in a simple, yet elegant size and pattern. It is simple enough to rock anywhere!
7. Smaller Medium Box Braid

As said earlier, medium braids are always in-between the braid size; large and small. This is a smaller medium box braid that is full, colorful, and simple to style and flaunts.
8. Back length Medium Box Braid

It is not enough that this style is a medium lengthy box braid, it is also colorful, and just look at the color blend! An exceptional twist indeed.

9. Twisted Medium Box Braid Loc'd

Like box braids, the invisible loc style where hair is twisted at the knots has joined the trend circle and this style goes perfectly well with the box braid pattern.
10. Medium Bob Box Braid

One exceptional thing about box braids is the ability to be replicated in any hairstyle of your choice! A look at this beautiful medium box braid must be leaving you wanting!

11. Bohemian Medium Box Braid

Adding curls to braids has been quickly adopted and medium box braids have been used largely enough to achieve this style.
12. Medium Beaded Box Braids

Adding a little creativity to the medium box braid hairstyle wouldn't hurt at all!

13. Medium Mixed Box Braid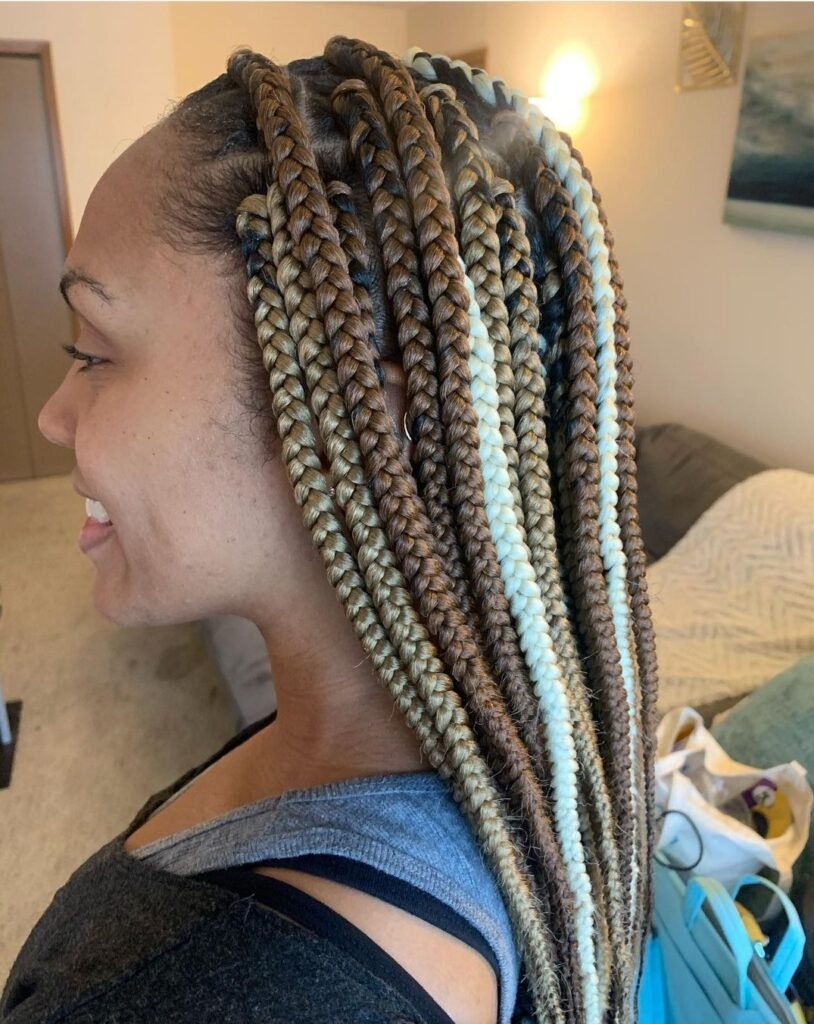 The color blends will always stand out in braids, here is a mixture of white, brown, and caramel.
14. Medium Box Braids with Curls

This lovely style can be worn to any occasion of your choice!

15. Simple Medium Box Braid

This is a big medium box braid that has been simply plaited and installed with crystal beads. It's simple enough to rock however you may choose.
16. Colorful Knot Medium Braids

Here is another beautiful and colorful medium knot box braid you can try!

17. Large Medium Box Braid

This is still safely under the medium box braids, therefore installing this style should leave you with no worry at all.
18. Medium Traditional Box Braid

It is normal to want something simple, classy, and scanty, if that's the case, this is for you!

19. Medium Box Braid with Curly Strands

This is a style you should install! It's simple, uniform, and beautiful!
20. Two Bun Medium Box Braid

Is cute what you want? Then go for this light blue medium box braid that is exceptional, unique, and cutely beautiful.
How to maintain your medium braids

To ensure that these braids last longer and are evergreen, avoid washing them often, it can result in rough and messy braids, mostly with curly hairs. Also, make sure however to apply a generous amount of natural hair oil, this will soothe your scalp and make your braids glow even more.
Lastly, it is advisable to cover your braids with a bonnet before going to bed, to retain their style while avoiding loss of moisture, tangling, and natural hair breakage.