Looking for a hairdo that will bring out your inner royalty? Are you sick of experimenting with a variety of looks that don't work out? Goddess braids is for you! They are amazingly distinctive and are simple to customize to fit any desired style!
What are Goddess Braids?
Goddess braids are protective styles of braids that feature curly hair strands running through them or at the ends of the braids. They can be box braids or knotless braids. They are also known as gypsy braids, boho braids, or granny braids. They are more prevalent and resemble boho braids.
This lovely hairstyle, which is quite popular among Africans, was inspired by an old-fashioned full braid that was symbolically creative. At the moment, goddess braids are fashionable and can be regarded to be slowly taking over the current African hair culture. I'd provide you a list of everything you'll need to get started with goddess braids and the various style they can come in.
How to Install Goddess Braids
Make sure your hair is clean and dry before you begin braiding. If necessary, you can use hair treatments to maintain a healthy scalp. hair later, comb it. After washing and drying the hair, the hair is detangled and split into the desired patterns using rat-tailed combs.
Take a piece of hair and divide into three sections, remove the extension, divide it into your preferred size, and then attach it to the hair to begin braiding. While you can assist keep your hair in place with rubber bands.
After braiding way past your natural hair length, grab a piece of free stress detwist hair and add to the left and middle strands of the braid and continue braiding as normal.
At the end of the braids secure by taking a tiny piece of hair, wrap-around, and make a knot. Use scissors to trim off flyaways on your braids carefully. Do not dip in hot water as it could relax the curly pieces and that would not be a good look.
20 Unique Goddess Braid Styles for 2023!

Goddess braids are suitable for occasions and can be glamorous or distinct at the same time! Perfect for events and girls' time out. In need of major hair inspiration? Behold a lovely compilation of twenty amazing goddess braids you can try!
1. Red Goddess Braid
Who else is a fan of the intoxicating color of red? If you are such a person who wouldn't mind exploring the ravishing beauty of red, why not give this a try?
2. Long Goddess Braid
If length isn't an issue, check this out! Length comes in handy when you want to show off a braid style like this one.
3. Silver Mix Goddess Braid
Are details important to you? Here is a silver mix, attached only in front to emphasize your front.
4. Boho Goddess Braid
The boho look is ever pristine! This braid style will accentuate your face and give you a cute goddess look!
5. Centre Part Goddess Braid
Feel free to take a close look at this braid style. Its simplicity and beauty are catchy and cool!
6. Tight Curly Goddess Braid
Do you want fewer braids and more curls? Have at this and enjoy the satisfying look of this hairstyle.
7. Layer Goddess Braid
With goddess braids, sometimes the curls can be overwhelming and that is why a style like this, is perfect for those who want less hair on their faces.
8. Bob Traditional Goddess Braid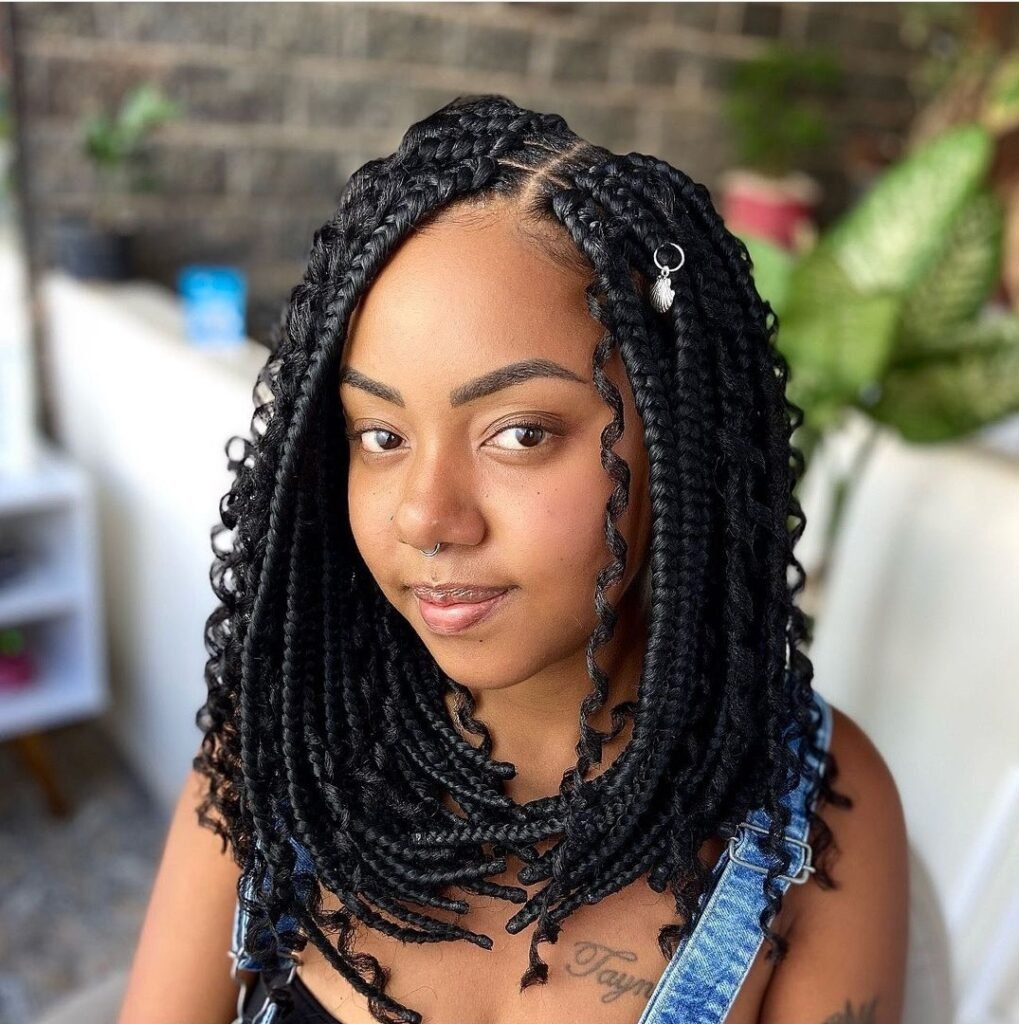 Bob braids are popular for their exceptionality and uniqueness, and the bob goddess braid illustrates this even more.
9. Goddess Traditional Box Braid
The goddess box braid mix is an elite match unmatched! The mixture is a style to rock and flaunt, however.
10. Large Goddess Braid
When installing this style, you don't have to worry about sitting for long or full braids because it is scanty, easy, and quick!
11. Jumbo Goddess Braid
Is large not large enough for you? What do you think of installing extra-large?
12. Bob Goddess Braid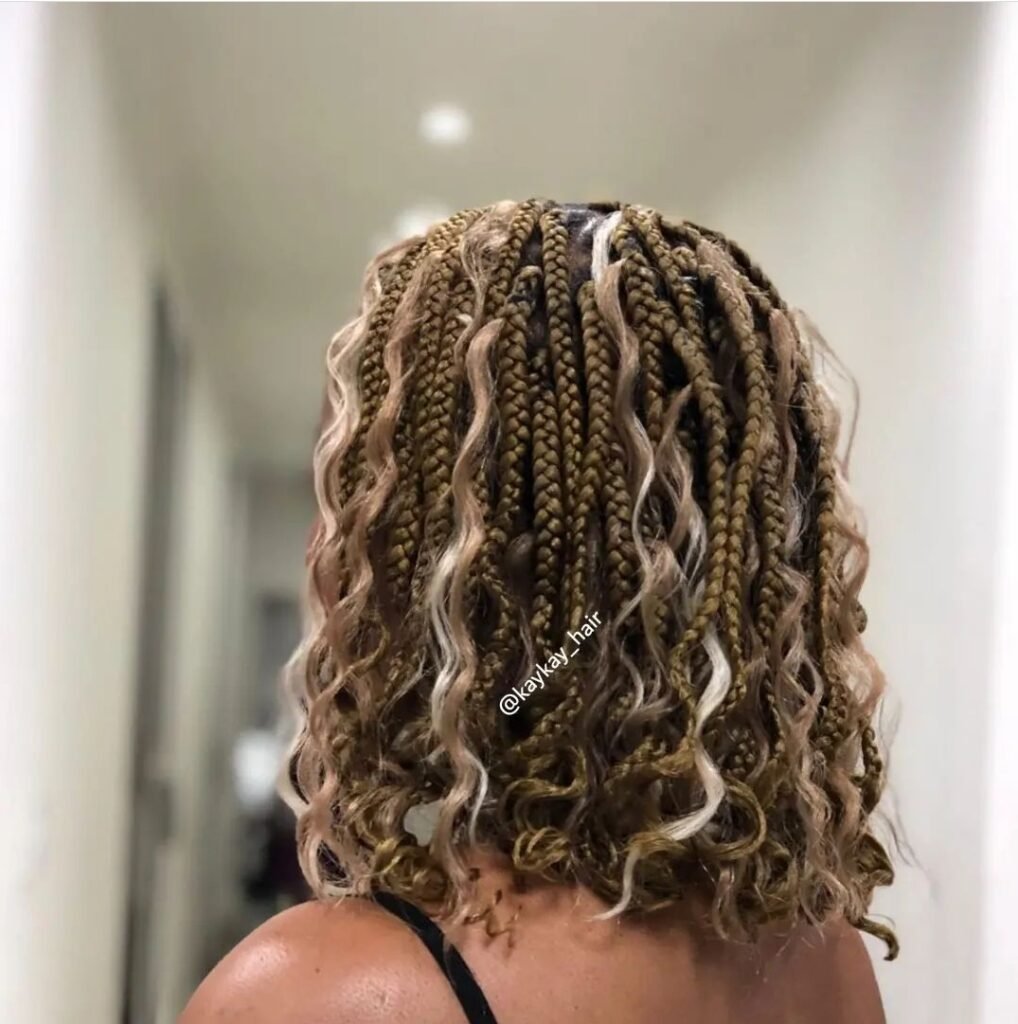 This beautifully mixed hair is crowned with the advantage of being short, stylish, and wavy enough to rock and flaunt.
13. Shoulder Length Goddess Braid
Adding styles to your goddess braid is not as difficult as you might have thought. A side-parted goddess braid like this is stylish enough to be worn anywhere.
14. Micro Goddess Braid
Are micro braids your style? Have a glimpse of a beautifully curated micro goddess braid! It's easy to emulate and recreate.
15. Bun Goddess Braid
Buns are like adding icing to a cake. Imagine yourself rocking a freestyle bun goddess braid like this!
16. Medium Goddess Braid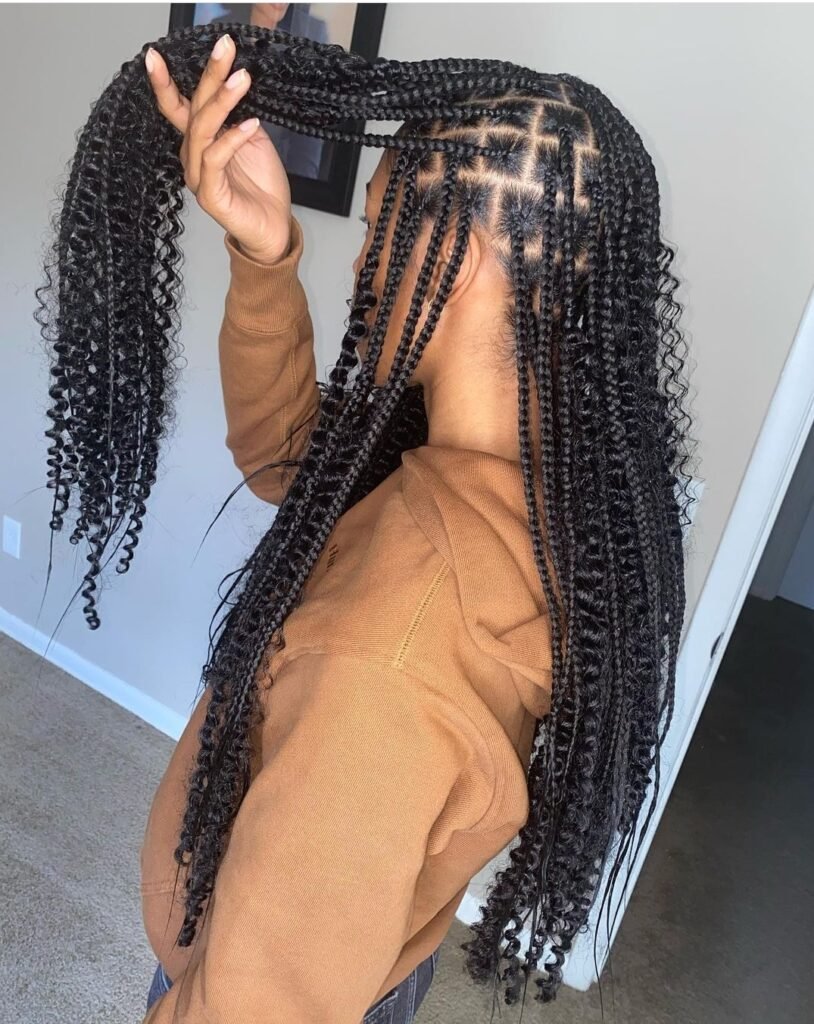 If you've been a consistent lover of medium braids and don't feel ready to move yet, not to worry, you can also rock goddess braids in medium size. Here is one you can try!
17. Parted Goddess Braid
Let's take our time to observe the creativity installed in this style, it is indeed a must-do!
18. Stylish Goddess Braid
What a beauty! The goddess braids here are wrapped up in the shape of a flower that lies firmly on the braids.
19. Tribal Goddess Braid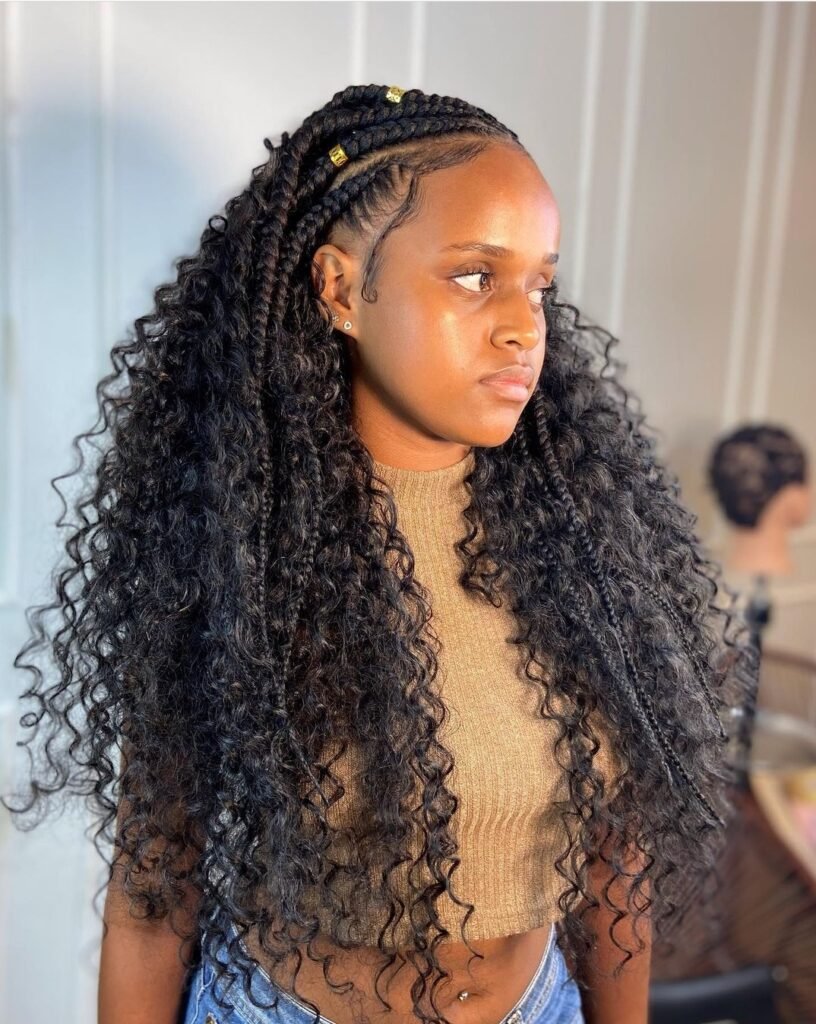 The use of accessories makes hairstyles look even better! Here accessories are used to enhance the beauty of the tribal goddess braid.
20. Half Goddess Braid
You are right to notice that the curls on this side are seen only on the tip of the braids. Goddess braids, like early said can have their curls and this is an example of such.
Installation of Goddess Braids
The time required for the installation of goddess braids is about 4 to 8 hours depending on the chosen style, texture, volume, and length of your hair as well as the speed of your hairstylist. However, the outcome is always worth the process and your patience.
Care Tips for Goddess Braids
This hairstyle is simple to maintain because it simply calls for the occasional application of oil and the wrapping of the hair in a scarf or hat before night to preserve its style and hydration.
Goddess braids are extremely versatile in styling; depending on your personal preferences, they can look more casual or elegant. This makes adopting this style in various forms effortless.
When creating your goddess braids, stay away from braiding that are too tight; doing so could lead to hair loss and breakage.
Due to its curls, any direct washing attempts will leave your hair looking unkempt.
Only three weeks at most should be spent wearing the look. If worn for a long time, goddess braids might become untidy.
Although utilizing human hair for the curls may lessen the likelihood of frizzing, goddess braids can become sloppy if worn for a prolonged period of time or done too frequently.