Braids are generally a clear depiction of the African culture, but with new trends and versions of the traditional braids slowly replacing them in the modern world, native hairstyles are improved and are continually evolving to fit into the current beauty standards. The Knotless braid is a popular hairstyle known for its gentle effect on scalps, and its remarkable smooth appearance after installation.
What are knotless braids?
Knotless braids are a unique version of box braids except that they do not require direct knots on the scalp when attaching extensions to the hair. It has a distinct feature from traditional braids and box braids and is often used with straight or kinky hair extensions due to its complexity while braiding.
They are very easy to maintain and can also last a duration of 4 to 8 weeks when properly cared for. This protective hairstyle gives you an immediate unique natural outlook after installation and does not weigh so much, this simply means that no strain to the scalp or bruises will surface over time.
Benefits of Knotless Braids
There are various reasons why knotless braids are unique, different, and always among trending braid styles. The advantages of knotless braids are inexhaustible, however, below are a few reasons why you should consider installing knotless braids.
They last longer with either smooth or coarse hair textures which makes them best suited for most natural hairs.
The hairstyle cuts down the possible risk of hair and scalp damage that may result from most tight traditional braiding styles.
The knotless braid offers a variety of attractive styles ranging from short braids to longer ones, and these styles can further be modified by your stylist based on your preference.
They can easily be adopted into any trendy braid style of your choice.
You can easily explore or combine different colors with knotless braids.
With knotless braids, you can easily wash your hair with no fear of damage to the hairstyle.
20 Knotless Braids Styles for 2023!
Welcome to the world of stunning knotless braids styles!
1. Blonde Knotless Braid
Knotless braids are to die for! They are cool, beautiful, and easy to install. But if you would want to tweak it a bit and have a little fun, try it with blonde!
2. SMedium Knotless Braid

If you are someone who likes simplicity, you should try this simple knotless braid.
3. Jumbo Knotless Braid

Large braids always have a style of their own! The bold and cool look that comes with rocking one, can never be overemphasized.
4. Double Half Up Knotless Braid
You can easily create this style by styling a few braids in a half-up manner on both sides of your hair.
5. Knotless Braid with Curly ends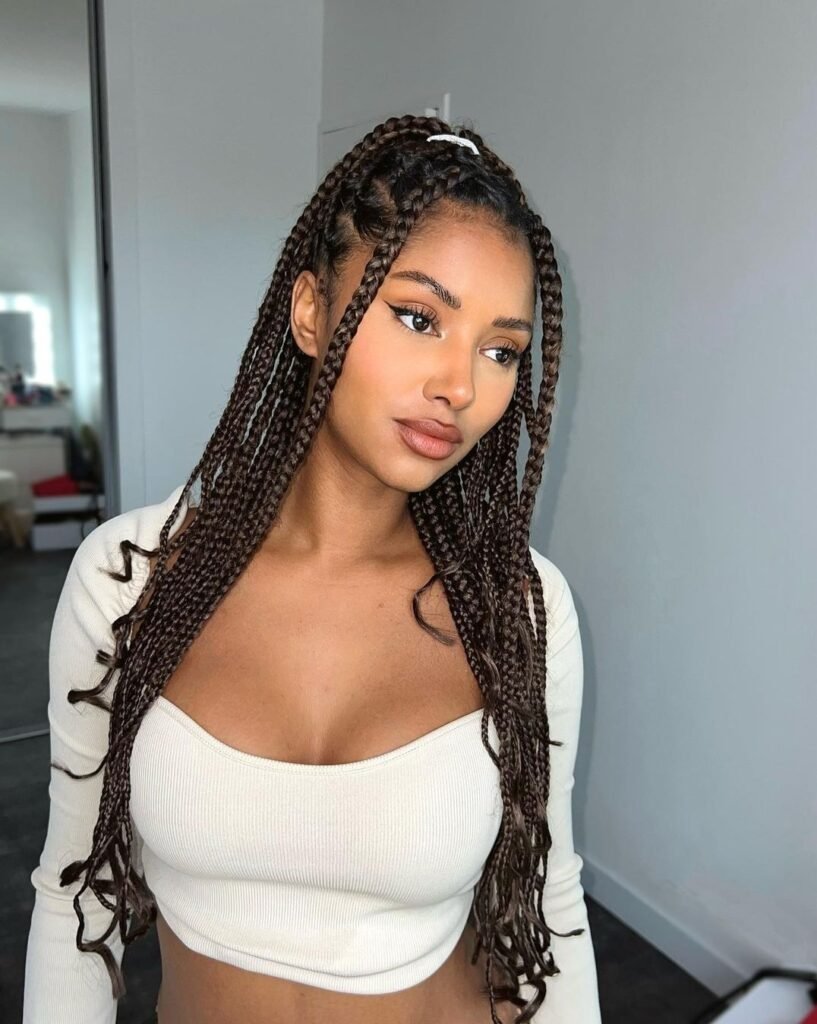 Achieving this look is easy and quick, and curls are easy to flaunt on any hairstyle regardless of its size or length.
6. Bohemian Knotless Braid

A boho look is always lovely and cute, especially if it is braided using the knotless braid style.
7. Small Knotless Braid
Exquisite, is it? Regardless of the beautiful color blend, this full lengthy knotless braid is top notch.
8. Medium Knotless Braid
It's no doubt that this look is perfect for anyone whose interest is in simple medium braids.
9. Sleek Knotless Braid

The smooth and sleek look of the knotless braids keeps it at the top of braid styles and a regular on the trend circle.
10. Knotless Braid with Curls
Some braids are never complete without curls! You should consider installing some with your knotless braids.
11. Middle Part Knotless Braid

When installing braids, you should consider which style is convenient for you, and the middle part technique has a way of keeping hair off your face.
12. Colorful Knotless Braid

A colorful knotless braid as this, is enough to lit the street and cause stares. This gorgeous braid is beautiful and simple.
13. Micro Knotless Braid

Micro braids are beautiful braids of a smaller size. They are neat cool braids that can leave one looking elegant and hot!
14. Black Mix Knotless Braid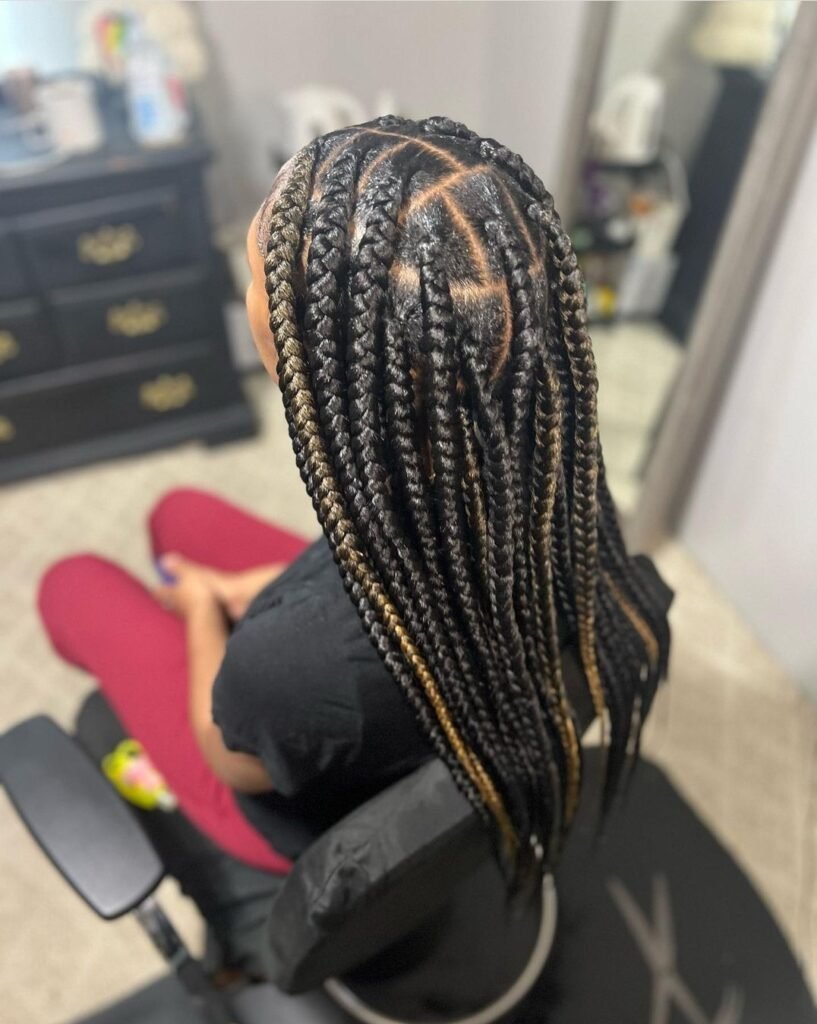 Black can mix with anything, and when mixed with gold, it gives an exceptional look!
15. Natural Twisted Knotless Braid

Yeah, knotless braids are common in twists too. Here is a knotless twist achieved using natural hair.
16. Knotless Braids with Beads

Beads and braids have recently become 5&6. They go together, and blend well enough to add beauty to the hairstyle.
17. Star-Shaped Knotless Braid

Star-shaped weaved patterns and knotless braids are a brilliant combination! And to top it off, the color mix makes it even cuter.
18. Goddess Braids

Stylish, full, and beautiful are the perfect adjectives that can quantify this look.
19. Knotless Braid in a Top Bun

Jade has always been a color with a mystical vibe. It's beautiful, different and ecstatic, and a combination with knotless braid is totally a must try!
20. Color Mix Knotless Braid

A color blend is normal and mostly advisable for those who are adventurous and willing to try new stuff.
How long does it take to install knotless braids?
Installing knotless braids aren't difficult, but largely dependent on the hairstyle, braid size, and braid length. Most times the speed of the stylist is considered too, but generally, the knotless braid can be installed in 6-7 hours.
Knotless Braids Care Tips
Prolonging the duration, you are able to rock your braids depends on how much and how often you care for them. When it comes to the knotless braids, caring for them isn't a hassle at all. That is why listed below are the essential tips you'd need to extend your braids and flaunt them more.
Keep your hair hydrated and moisturized to prevent dryness which leads to hair breakage.
Apply natural oils often on your hair and scalp to maintain shine and moisturize.
Wash your hair once in a while to remove dirt especially on your roots.
Redo hair frontal roots if they are too old and loose.
Make sure to wear a satin bonnet before going to bed, to prevent the lose of moisture by locking it in.
Do not carry your braids over 5 weeks to avoid the lose of hair due to frizz.
Avoid styling often, in order not to apply pressure on your scalp and roots.
Conclusion
Choosing to install the knotless braid is the best decision anyone who would like to rock their braids with no stress or worry of pain and hair breakage should make! It's easy, cool, beautiful, and very stylish. This hairstyle is a 'must try' for everyone.
Besides, achieving the hairstyles listed in this article is very easy, simply contact your hair stylist and that should be taken care of. However, when installing this braid style, extensions are more preferable especially if you would like to flaunt your hair for a longer period.