Are you tired of repeating colors with your braids? Do you find wearing the same colors exhausting? Then this is for you! Colors add beauty to hair and are a great way to flaunt your braids – taking them from ordinary to unique.
Love Your Braids and Colors
As a woman of color, braids have been a go-to hairstyle for me throughout my life. From box braids to cornrows to Senegalese twists, there's no limit to the amount of creativity and self-expression you can achieve through braids.
Braids are creative hairstyles formed by weaving two strands of hair or hair extensions into one another to achieve a fine smooth, interlaced, thick strand. These braids are also called plaits.
Braids are now known and used frequently by women across the globe. It is comfortable and requires one-three hours to make. The most popular type is the box braids and cornrows. However, it is exciting to know that when braids are well maintained, they can be worn for four to eight weeks intervals.
The great thing about braids and colors is that there are so many options. You can choose to add just a few subtle highlights or go all out with a rainbow of colors. The possibilities are endless. I've tried a variety of colors over the years, from bold and bright to more natural-looking shades. Each time, I felt like a new person, and it was always exciting to see the reactions from others.
Popular braiding hair colors
Here are some popular hair braiding colors and their numbers.
Color 30 braiding hair
The color 30 braiding hair color is brownish with a gold tint. It's suitable for most black skin tones.
Color 27 braiding hair
Color 27 braiding hair color is golden and most suitable for darker skin tones.
Color 4 braiding hair
If you're looking for a braiding hair color that is closer to a natural hair look, you might want to try the color 4 braiding hair color. Color 4 braiding hair is sometimes confused with color 2 but they're not the same! Color four is a light dark shade while two is black.
Color 2 braiding hair
Color 2 braiding hair is another hair color that is pretty modest and closer to most natural afro hair.
Color 350 braiding hair
I absolutely love the Color 350 braiding hair! It's the perfect balance of safe and trendy.
Color 33 braiding hair
Of all the dark braiding hair colors, I think I favor Color 33 braiding hair. I think it works best with most African hair colors.
Color 613 braiding hair
Looking for a hair color that says 'notice me"? The Color 613 braiding hair is just right for you!
Color 530 braiding hair
Looking for a rich wine braiding hair color? You should try the Color 530 braiding hair.
Color 900 Braiding Hair
This is one lovely red tone braiding hair color.
35 Dope Braiding Hair Colors to Try
Here's an outline of an exuberant braid color mix you can give a try!
1. Red Tone
The red tone color is bold, and it always incites courage and pride. It brings attention to the individual, as well as the hair.
2. The Yellow and Brown Mix
This mix uniquely starts with two strands of brown at the front, and yellow all through. It gives the feeling of warmth and excitement.
3. Grey Shade
You can never go wrong with grey, especially if you're a fan of mild yet sophisticated looks.
4. Caramel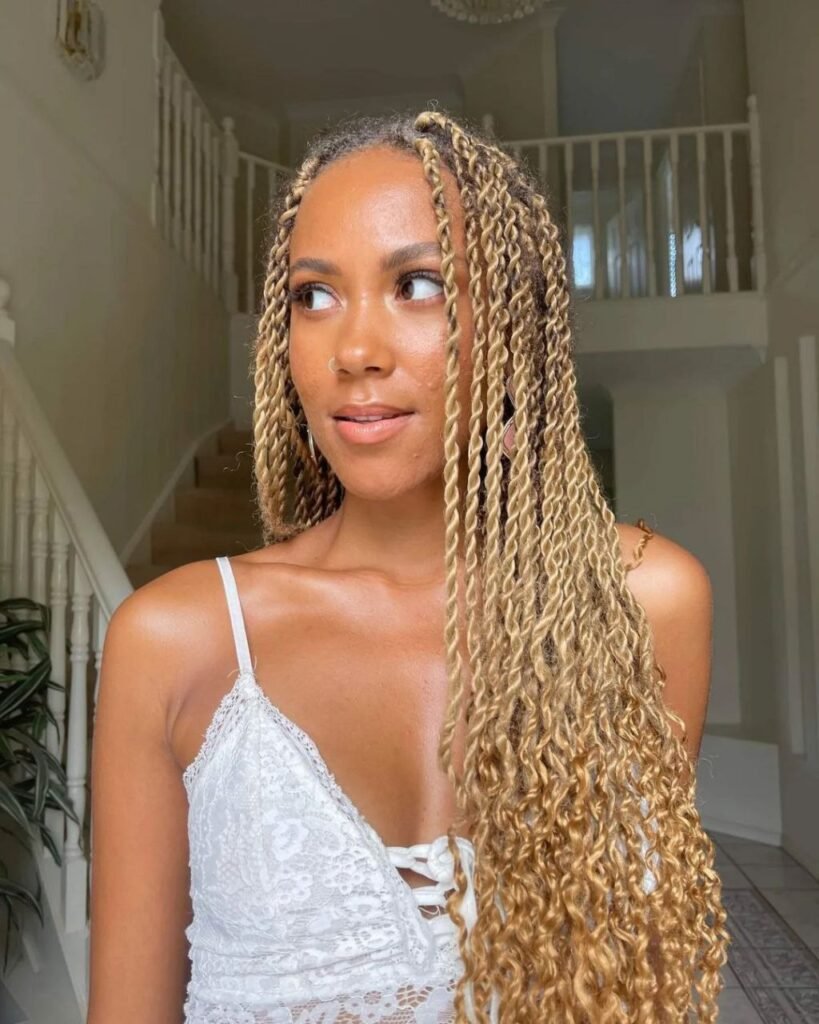 Caramel shade is a perfect in-between for blond and brown. It gives a summer vibe and a fresh look.
5. The Rainbow Mix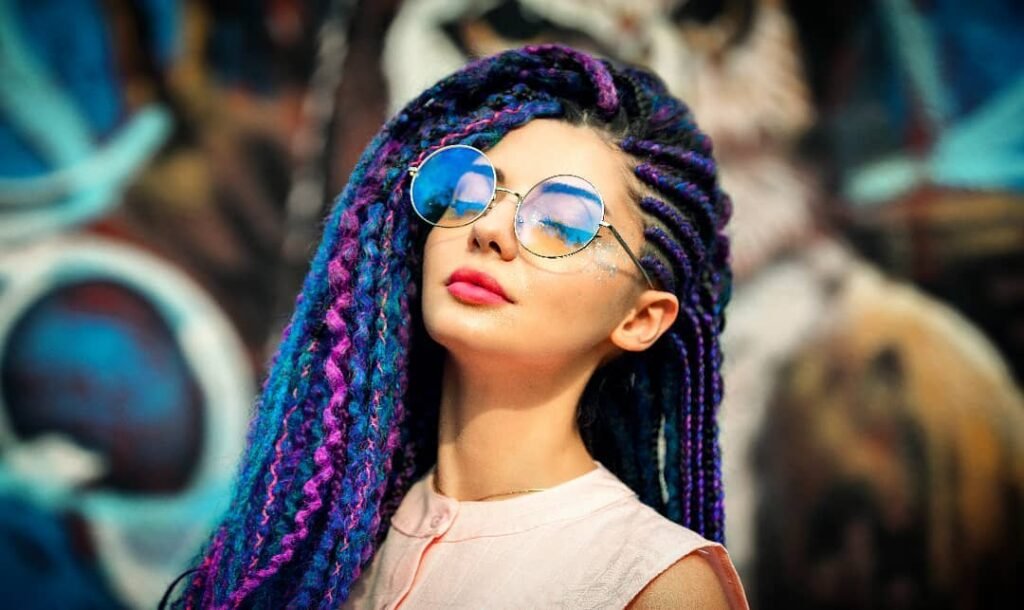 This is a perfect fit for lovers of bright braid colors. The color mix brings out the stylish edgy part of you and makes you look badass.
6. The Gold Coffee Blend
This blend of black, gold, and brown gives you the feeling of being sun-kissed. It accentuates the face and illuminates the eyes.
7. The Chocolate Shade
Chocolate is a satisfying treat and so is this hair blend. The black mixes perfectly with black to give you the same feeling of having a bar of luscious chocolate.
8. Lemon Green Blend
The light green tone gives a peculiar look, while the darker green blends perfectly giving a subtle yet sophisticated and bold look that says a daring queen!
9. Orange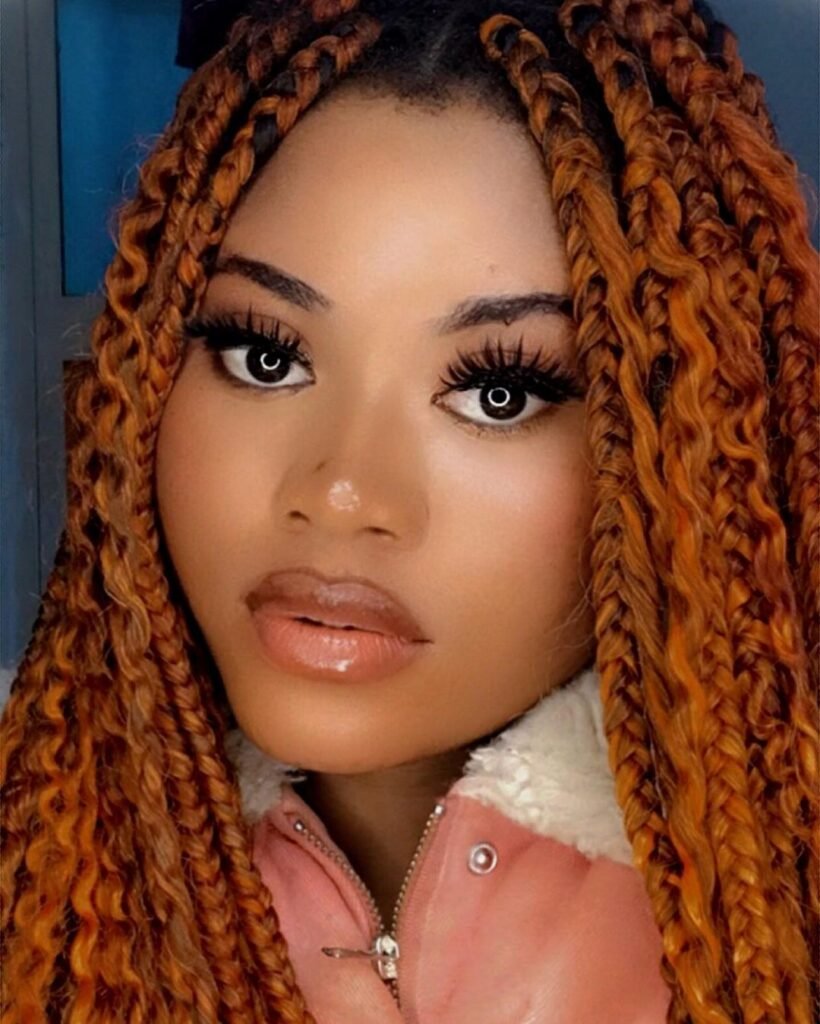 Do you like to keep people on their toes? Then this color is perfect! Orange braids give off a fiery vibe that makes it hard not to look twice.
10. Purple Tone
This shade of purple represents elegance and peace. It is a bit vibrant, yet mild and calm, letting you own the hair and flaunt it whichever way you, please.
11. Silver!
This is a beautiful inspirational braid color that gives women a strong look. One that depicts bravery and victory. There's no denying that women who wear silver hair ooze strength and beauty!
12. Black
Black is a majestic color that is popularly used by women. It has a calming strong look that sits well with everyone who wears it. This color isn't selective, its neutrality gives women of every skin type the confidence to flaunt it.
13. Gold
Gold in itself is exquisite; it is proud and treasurable. This shade of gold illuminates beauty and wealth.
14. Brown braiding hair color
This color is almost like chocolate but very different. It gives one a summer fresh look that indicates warmth. It is a beautiful and simple color to wear. Works great for all types of layered braids too.
15. The Bold Blonde braiding hair color
This look is rare yet gorgeous. When worn, it gives an appealing look, one that is sexy and daring.
16. The Light Green
If you've ever thought of leaving comfort for a dramatic look, this color is precisely for you. It's perfect for cornrows or layered braids. This shade brings the mystery in oneself and keeps people guessing. It is an exquisite look worn only by the adventurous.
17. Light Blue
Ever wondered why the sky is admirable? Yeah, right, it's the color blue. The light blue color has a peaceful and calming effect, and when worn, it puts one on display and forces smiles on people's faces.
18. Dark Green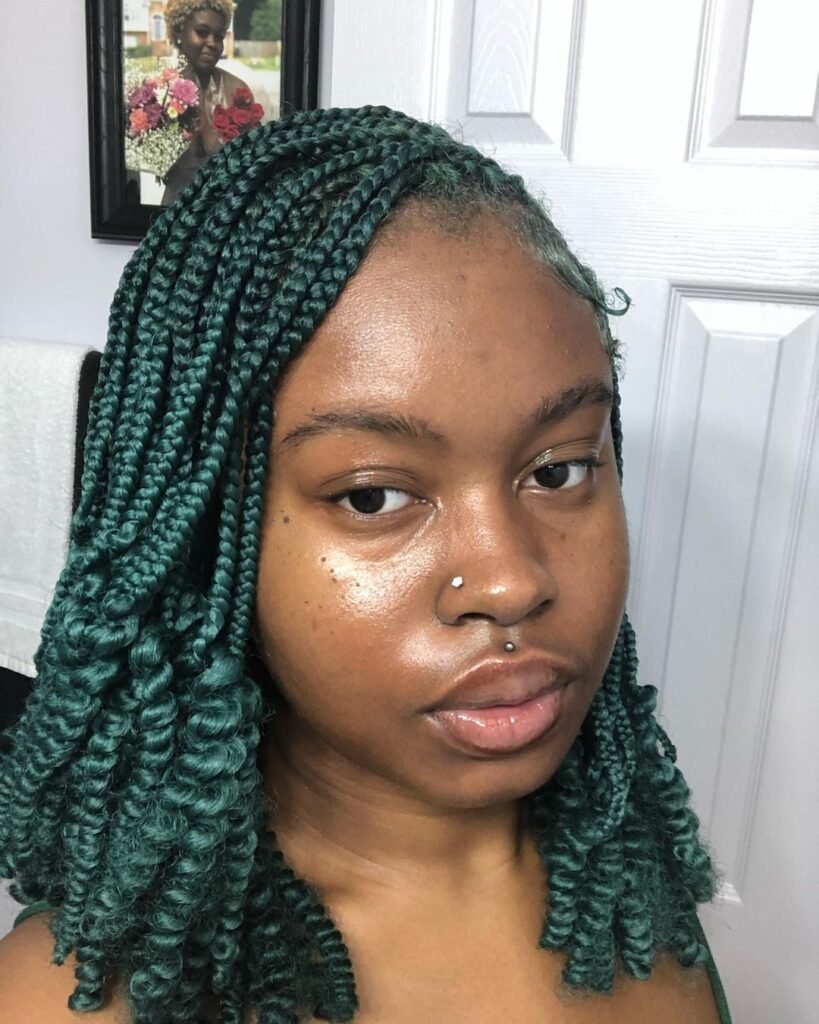 Most people love the color green but avoid wearing it because of its vibrancy and love for attention. However, this shade of green lets you wear your favorite color beautifully without worry. It's perfect for Feed in Braids and even varying lengths of Box Braids.
19. Golden Brown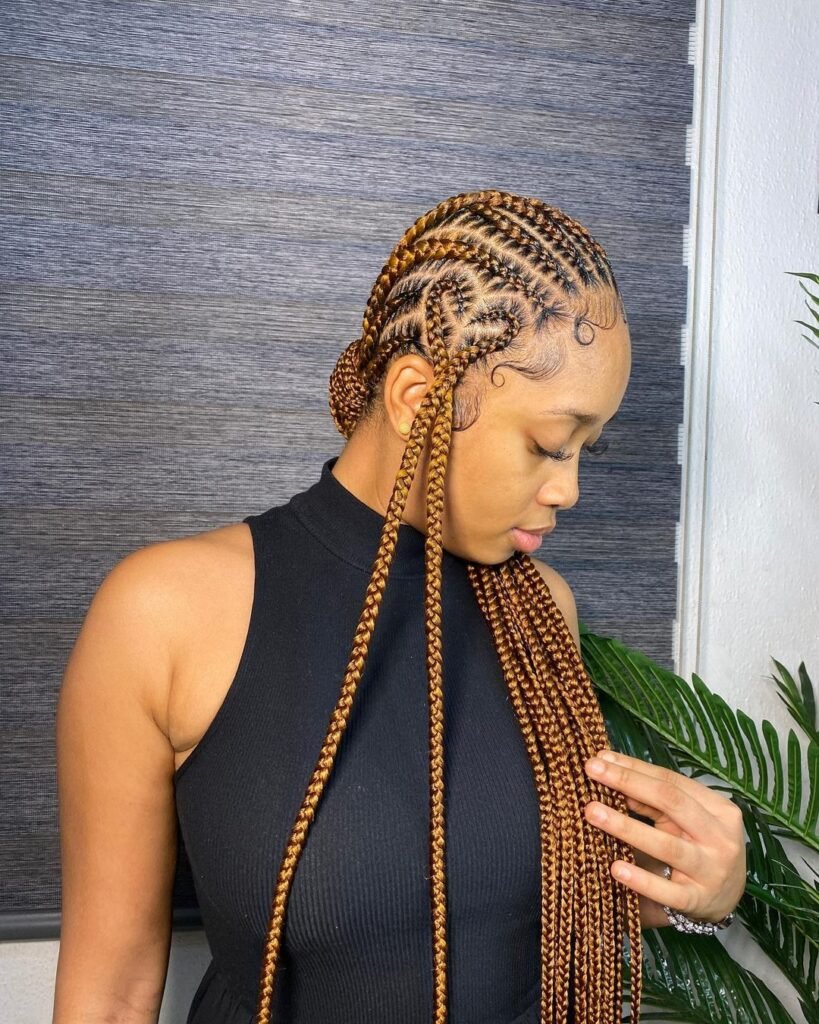 Do you often find yourself caught in-between brown and gold? Not to worry, the golden brown shade is a perfect mix of both! Which would give you a lovely polished look.
20. The Purple Pink Blend
This color is often used by those who would love to flaunt purple and pink together. This unique blend is an exciting look!
21. The Burgundy Black Mix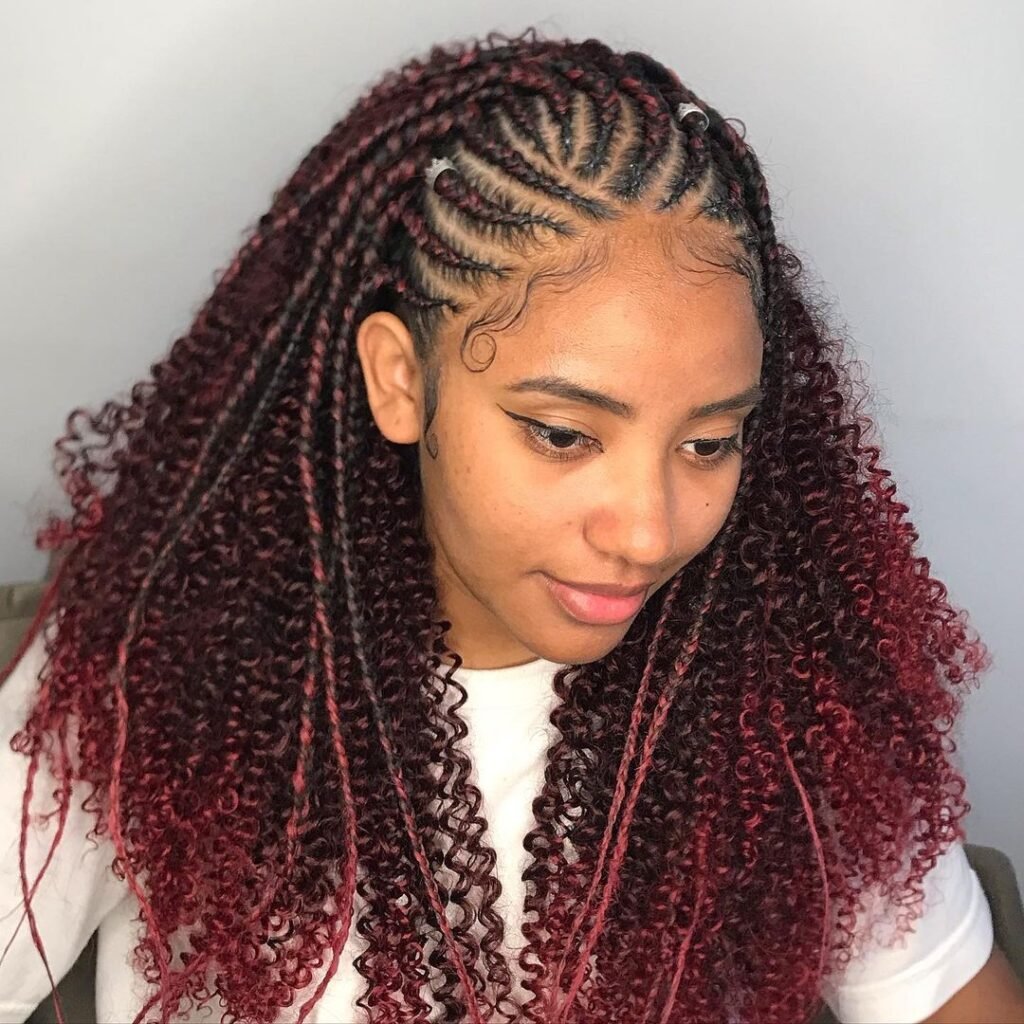 Everyone knows how much of a people lover burgundy is, not to mention its mix with black. This shade gives out a flawless look.
22. Light Pink
Bubblegum pink gives Barbie a vibe but in an elegant way. If pink is one of your favorites then you should rock this look!
23. Darker Blue Shade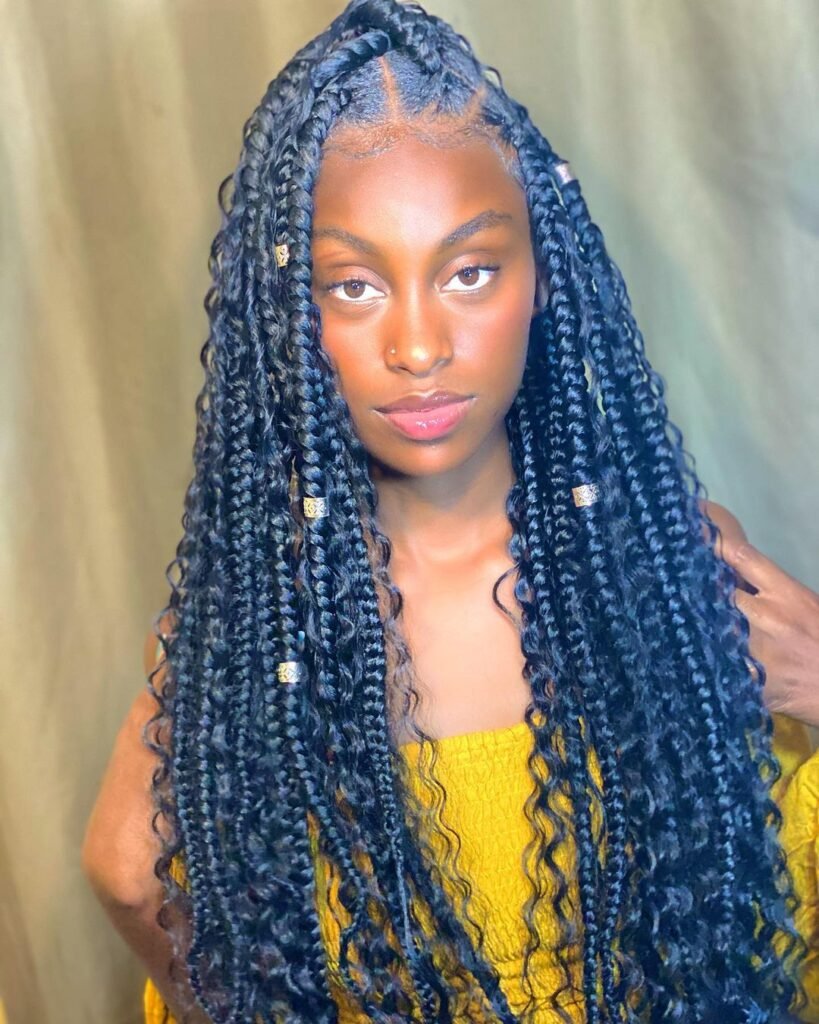 If you're looking for a pop of color but also want to play it safe, this right here is it!
24. Burgundy
If you want something fiery but subtle, you couldn't have picked a better color! Burgundy braids command attention, definitely a stare-worthy choice!
25. Maroon
Talk about a hot girl! The maroon shade is a delicate color that exerts heat in a chick way. It's a pop of color for those in search of a fierce look.
26. Ivory braiding hair color
This brings back fairytale memories. White braid shades are rarely used but when worn it gives a unique look.
27. Baby Pink braiding hair color
This is a more subtle alternative to bubblegum pink. It gives an innocent childlike look.
28. The Grey and Black Mix
Ombre never goes out of style and you can't go wrong with a black and grey mix. Have the best of both worlds with this dark and colorful blend.
29. The Purple Blend
Everything about purple screams class, and this mix makes it obvious. The contrast in shades compliments the look making it daring and bold.
30. Multi-Color Braids
Are you in for the crazy hot girl vibe? Then this beautiful mix-up of vibrant yet cool braids is for you. It's a blend of bright yellow, fiery red, and vivid orange. A perfect fit for all skin types.
31. Mixed Brown and Blonde Box Braids
Gosh! What's not to love about these mixed brown and blonde custom braids by Sasheamari. This is proof that mixing brown and blonde is always a good idea.
32. Black and Blonde Box Braids
If you thought mixing black and brown hair extensions for your box braids was a faux pas, think again!
33. Red and Black Box Braids
Think red and black braids don't go together? Think again!
34. Pink and Black Braids
What's not to love about this girly, cool mix? I think I'm going to get it for my next braid.
35. White and Black Braids
If there's one colored braid hairstyle you try at least once, it's black and white braids. They look great on most dark skin shades.
How to Get These Braiding Colours?
Usually, these colors don't come already mixed, so you'd have to buy them individually and have your stylist mix them up. You can shop for these extensions from your local store or online retailers like Amazon. However, there are certain exceptions, like the ombre braiding hair color, and the kanakelon four-colour mix braiding hair color.
Conclusion
Change, as they say, is a constant, so when it comes to your hair, you should constantly feel the urge to experiment with colors. Always add a little color here and there to spice up your hairstyle.