Braids rooted tribally don't need to be tacky and usual. With the continual changes in the hairstyle world, there's room for experimentation and that has brought about the splendid tribal braid styles we'll be talking about in this article!
What are Tribal Braids?
Tribal braids are protective hairstyles that originated in Africa, specifically from the Fulani tribe. They are a type of hairstyle where the braids are braided either in intricate styles or straight patterns, usually with demarcation in front. They are mostly braided in two layers and are usually beautified with beads. 
As hairstyles evolve, new styles and patterns have emerged, slightly modifying tribal braids to look more exquisite than usual. Now the tribal braids feature numerous techniques and hairstyles that you can explore! To start with, I will be giving you a list of cool tribal braids you should try, just sit still and enjoy the ride!
Types of tribal braids
Research has it that there are six types of tribal braids from which other popular braids emerge from. Braids have been known to be discovered in Africa, and since then, new styles and patterns have emerged. The tribal braids serve as the foundation of so many hairstyles, and they are:
Ghana Braids
Fulani Braids
Goddess Braids
Stitch Braids
Layer Braids
Box Braids
How to Install Tribal Braids
Here are five basic processes your stylist would go through to install your tribal braids. The installation time for your braids would depend on your chosen hairstyle, your hair length, and also, your stylist's speed.
Preparing the Hair. First, your stylist is required to wash and prepare your hair for styling. While on this, you are free to use your products and conditioner to ensure your hair is well-washed, blow-dried, and conditioned.
Sectioning and Parting. Sections can be made to gain easy access to part the hair into shapes. Your hair should be parted in a straight cornrow pattern, depending on what your preferred style is.
Braiding. Now, this is the time you start braiding hair into fine cornrows, either big or small. The popular tribal hairstyle is usually braided with a small straight cornrow division in the middle of the hair, if this is your chosen style, install the dividing braid first and ensure your braids are layered, so you can braid the first frontal part first, before the others.
Repetition. Repeat the braiding process on other hair sections to obtain full hair. Continue each previous step and complete the hair.
Finishing Touches. After braiding your hair, trim stubborn strands with scissors and prepare hot water and dip your braided hair into it, leave for a couple of minutes before taking it out to dry. This is to smoothen out stubborn hair strands even after trimming. Afterward, apply oils for moisturizing and gel or edge control to style and smoothen out the baby hairs.
20 Best Tribal Braid Hairstyles Ideas
Tribal braids are one of the most popular braid styles out there! Are you ready for something different? Check these out!
1. Styled Tribal Braid
Feel free to try this out if you are a lover of intricate pattern braids.
2. Half Bun Tribal Braid
Are accessories your thing? Hop on this braid style to get a beautiful tribal look. Accompanied with a bun!
3. Pink Mix Tribal Braid
This mixture of pink and silver gives a babyish cute look. Colors have a way of adding beauty to amazing hairstyles.
4. Cornrows Tribal Braid
Do plain and simple hairstyles interest you? Then do well to give this a try!
5. Twisted Tribal Braid
Twists can never go off the trend table, they are always different and known to add fullness to braids. These twisted tribal braids didn't fail in showing off the beauty of twists, on braids!
6. Bohemian Tribal Braid
Braids associated with curls have jumped into the trending circle of popular beautiful braid styles. Exploring your tribal braids with little curls here and there gives them a fancy look.
7. Feed-In Tribal Braids
It won't hurt to rock two braid styles! Here Is a simple two-layer feed-In braid, easy and beautiful enough to flaunt anywhere.
8. Crossed Tribal Braid
This is an intricate crossed tribal braid that can be worn to simple occasions and events.
9. Tribal Braid with Curly Extension
Curly braids have a way of giving one a boho-chic look, and they do not fail in highlighting one's face in a close, full way. It perfectly exhibits elegance and beauty.
10. Bob Tribal Braid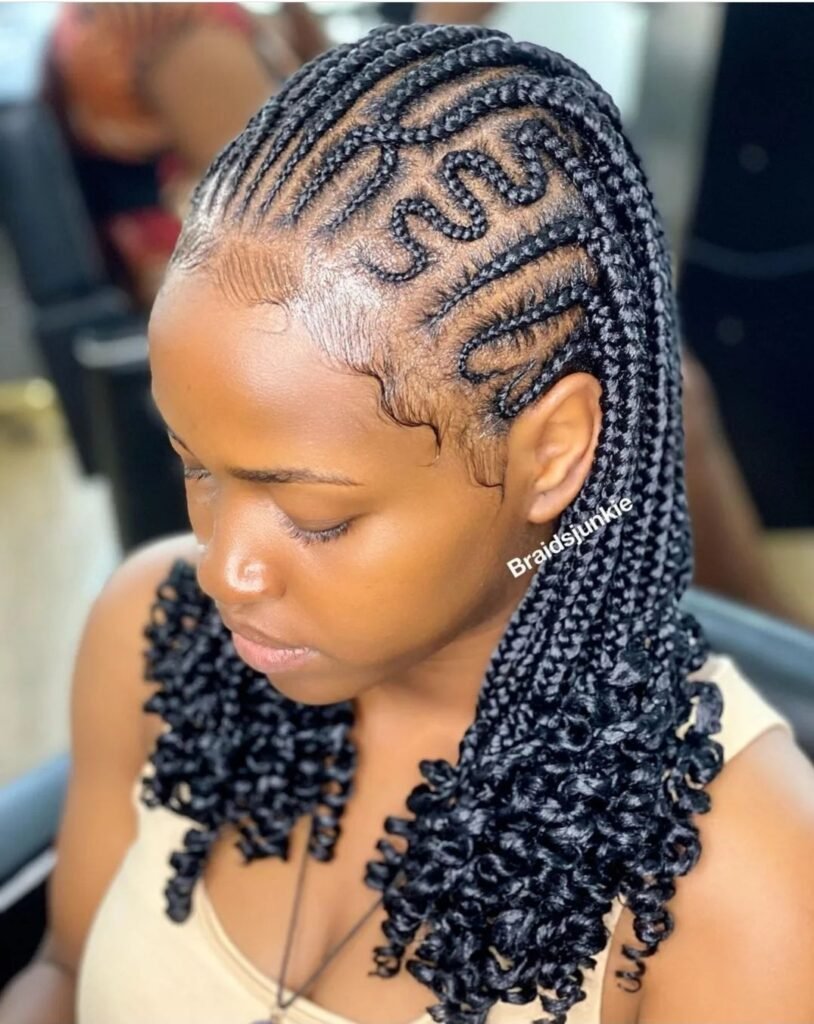 The plait style on this braid is matched with beautiful tight curls which gives this hairstyle a more wavy look, simple enough to rock.
11. Stylish Tribal Braid
This hairstyle and its intricate plaits represent; easy, beautiful, and simple!
12. Beaded Tribal Braid
Are you out for a more traditional look? Then this elaborate beaded hairstyle is for you! It is supported with accessories to give it a more tribal look.
13. Heart Part Tribal Braid
The caramel color is very unique, and incorporating that in a tribal braid, makes it hard to resist!
14. Stitched Tribal Braid
Stitched braids are not just neat and beautiful, they are also to die for! A stitched tribal braid should be rocked without hesitation.
15. Straight Back Tribal Braid
Straight-back tribals are popular and easy to rock! If you want something simple, yet cool, give this a try!
16. Simple Tribal Braid
Do you wish to add style to simple layer back braids? Check this out!
17. Twist Bun Tribal Braid
Buns are cool and beautiful, but twist buns are even better!
18. Pop Smoke Tribal Braid
Don't you just love how stylish this hairstyle looks? Especially the beads which give it a unique look.
19. Fulani Tribal Braids
The woody brown color here gives this hairstyle an extremely different look, separate from the others!
20. Caramel Layer Tribal Braid
Back to caramel, aren't we? I must say the darker shade here makes this tribal hairstyle look even better!
How much does it cost to install tribal braids?
The installation of tribal braids costs around $250 – $300. Moreover, factors that affect the price for the installation might include the type of hairstyle, braid length, braid pattern, and braid size.
Besides, tribal braids can last for 4-6 weeks, and this can be achieved through proper care and maintenance which includes moisturizing daily.
How do you maintain tribal braids?
It is no doubt that maintaining your tribal braids will buy you more time to wear and flaunt them without experiencing hair breakage or frizz.
You can maintain your tribal braid by washing only when necessary and applying hair oils, such as coconut oil, almond oil, jojoba, and olive to mention a few. Also, wearing a satin bonnet at bedtime will help you prevent loss of moisture.
Conclusion
Tribal braids should be proudly worn and rocked in all their beauty and elegance. Besides, this braid style is cool, trendy, and easy to install. Regarding the installation of tribal braids, it is advisable to install the braids with extensions, this is to ensure their durability and quality.
That being said, what's with the wait? Break free from the usual and rock these beautiful hairstyles today!