Cornrows have become a new trend due to their originality and neutrality. Cornrows are scalp braids that originated in Africa. They're plaited neatly by continually folding hair together in three sections on the scalp. The name cornrow originated from the actual braid which is plaited flatly on the scalp in a straight line like corn cobs.

Cornrows are versatile and can be styled rather differently. Cornrows can be braided with the addition of extension or natural hair only. It is a low-maintenance protective hairstyle but it does a great job of keeping you looking amazing!
30 African Cornrows Braids Ideas

Here is a lovely list of gorgeous and different cornrows styles to try out!
1. Intricate Styled Cornrows

This style is a mixture of Goddess braids and Ghana braids. The Goddess braids are rounded protectively around the Ghana braids, which are plaited in small sizes. This hairstyle can be worn by both males and.
2. Large and Small Cornrows

This is a banana braid stitched at the side. The stitches here refer to the intricate pattern in which the hair is braided, as though it was stitched. Also, the uniqueness of this hair comes from the slim banana braids in-between. It gives it a simple yet fulfilling look.
3. Dutch Braided Bun

Shuku is a popular hairstyle indicated by braiding hair in an updo. However, this braid is called the tucked-in shuku braid because of the plaiting style. Unlike the usual banana braids, these braids are tucked into the hair in a way that gives it a flattering look. It is a peculiar braiding style known to grow and elongate hair.
4. Bohemian Cornrow Braids

It shouldn't come as a surprise that cornrows can be styled in a rather beautiful yet eccentric way as it's typically associated with the boho look.
5. Stylish Shuku Goddess Braids

Goddess braids are easy to install and bolder than the Ghana braids. This hairstyle is suitable enough to wear out at events because of its neutral blend of two braid styles and its simplicity.
6. Fringed Tribal Shuku Braids

Let's go back to the older days, shall we? These beautifully installed tribal braids are for women who want to flaunt their hair in a more distinct natural way.
7. Cross Train Stitched Bun

This is a stress-free hair beautifully installed to showcase simplicity. If you want something classy and different, this is it right here!
8. Cornrows on Shaved Sides

This braid is stitched and plaited creatively. It's a unisex style that can be worn to any occasion.
9. Double Low Bun Braids

These simple twin bun braids are an easy hairstyle to wear, especially if you're looking to eradicate the usual, and try something different.
10. Styled Popsmoke Braids

Did you notice how creative this looks? This is the perfect hairstyle for anyone who's looking to make heads turn. Besides, it's a unisex style and a great fit for all skin tones.
11. Intricate Bob Ghana Braids

This braid brings to an end the search for perfect Ghana braids. Amidst others, this braid gives a gentle, yet sophisticated look, especially with its bob supported with beads.
12. Simple Stitched Braids

Have you always been looking for something to wear out on a simple day? Then try the stitched straight braids, which are perfect to wear out on simple occasions and work days.
13. Side Heart Stitched Braids

For those who are lovers of complexity, the side heart-stitched braid is an excellent installment for you. Its detailed style makes it hard to ignore.
14. Intricate Braided Pony with Curly Extension

A sophisticated look isn't complete without an intricate hairstyle. This braid's soft tiny weaves accentuate the side goddess braids, giving this look an amazing feel!
15. Frontal C Shaped Half Braids

This is for the women who can't get enough simple cornrows to wear and display.
16. Jumbo Braided Bun

You can never go wrong with an easy goddess twin bun, easy to install and simple enough to flaunt.
17. Zigzag Pop Smoke Braids
Pop smoke braids are known for a beautiful and fun look. This particular hairstyle is braided in Zigzags. It's a unisex style.
18. Crossed Double Bun Feed in Braids
This style can be rocked in two ways; either by letting the hair down or by rolling it up in a bun, like this.
19. Crossed Stitched Shuku Bun


Shuku is a beautiful hairstyle, but it becomes gorgeous when worn differently. This lower-back shuku braid is exactly for those who want to rock the shuku style differently. Its crossed-stitched braids make it badass.
20. Stitched Banana Braids
Asides from being exceptional hair the goddess braids make it easy for to look effortlessly beautiful. This style fits those who would want to put their hair down and rock big braids with tiny patterns in the middle.
21. Crossed Fulani Braids

This perfectly describes simplicity in style. It's easy to rock and doesn't require styling for you to look amazing.
22. Stitched Braided Bun
This hairdo translates to an art piece at its finest! The creative touches embedded with the triangle small braids call for attention.
23. Fish bone Braids

The exceptionality of this hairstyle starts from the simple plaited banana braids that later come together to make a twin goddess braid on each side of the hair. This style is easy to install and simple to rock.
24. Zigzag Intricate Braid

Here is another style that is perfectly unisex. The intricate plaits give it a complex look, while the stitches bring out its fine details.
25. Layered Braids

If you want to rock shuku and straight-back braids all at once, layered braids are a great fit for you. This style gives you a badass look and a party vibe.
26. Straight Back Half Braids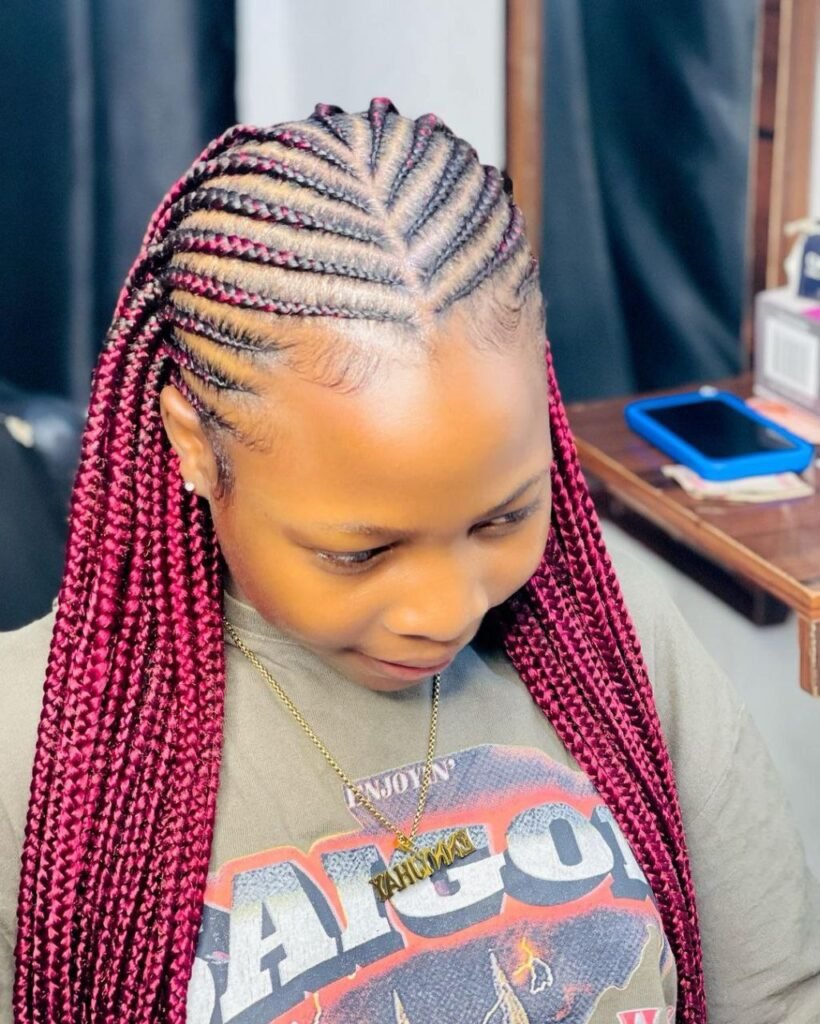 Do you dislike complexities? Pick this one. Its simplified pattern makes one look nice and innocent, giving you a 'no stress' vibe.
27. Half-Side-Cornrow Twists


This braid gets its name from its look. The fall indicates the back which is all let down in a twist braid. The side-straight braid is seen at the side, which is plaited neatly in an intricate way. It is simple, yet elegant.
28. Fulani Braids with Curly Ends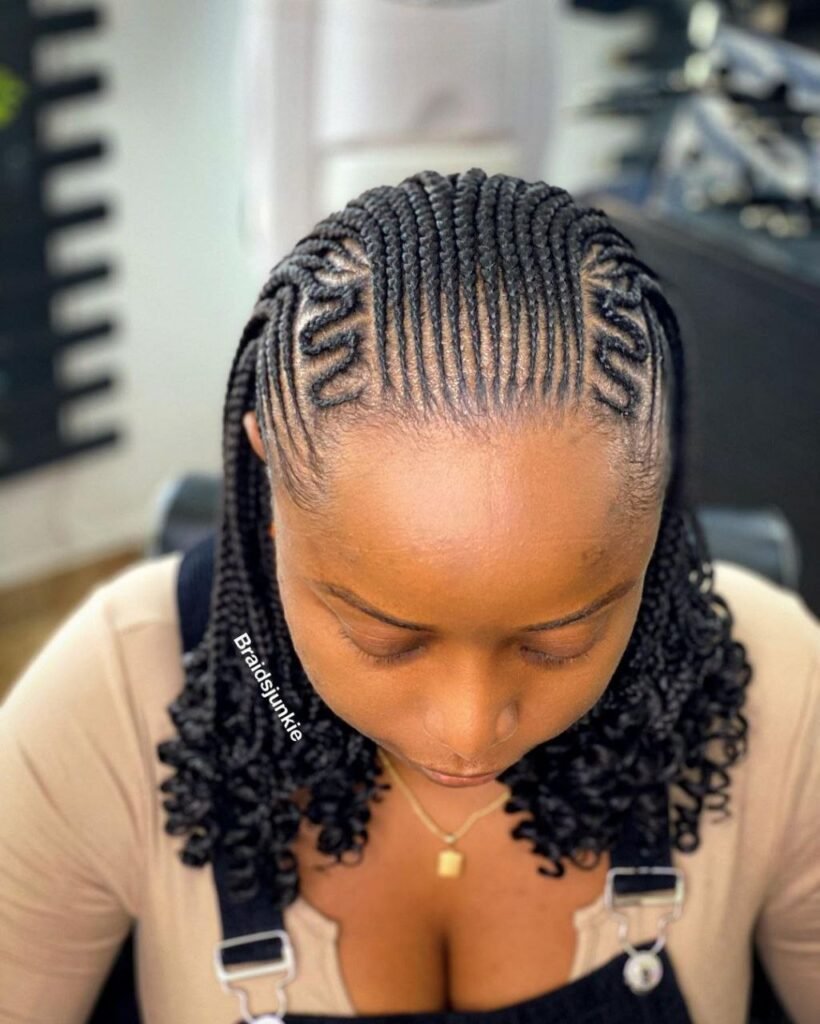 The first thing you see in this style is the twin zigzag braid and its curls. This hairstyle is beautiful enough to wear out to any occasion or event.
29. High Bun 'Shuku' Braid
High buns have a way of drawing attention to the face and keeping it there! The braided bun is most times referred to as "Shuku" for Africans, Nigeria specifically.
30. Jumbo Cornrow Braids

This beautiful hair is another creative unisex hairstyle. It can be plaited with either natural hair or with extension. It's simple and easy to install.
How to Care for Cornrows
Cornrow braids can be worn for four weeks, but while at it, it's necessary to take absolute care of the hair by properly maintaining it.

Here are a few tips to maintain your cornrows:
Wash only when necessary. Cornrows are scalp braids and they can get itchy when washed, especially if an extension was used to plait your hair.
It is advisable to thoroughly wash your hair before installing the braids, but if there's a need to wash your hair while the braids are on, use a good shampoo and make sure the hair is completely dry afterwards.
Apply hair oils often. While on these braids, your scalp would be literally open and that would cause your scalp to always be dry. Using hair oils to massage your scalp daily, would help return moisture and cause your hair to grow.
Use a satin scarf or bonnet frequently, especially during bedtime. During the day, this will protect your hair from dust and dirt, while at night it will prevent your hair from loosing moisture.
Consider loosening the braids if they're too tight. This is to prevent your hair from breaking and your scalp from hurting.