Kids' hairstyles with braids can be both fun and useful. Additionally, it's simple to run out of hairstyles to try, but not anymore! Here are a few stunning braids that your kids can do.
Children shouldn't pull or tug at their hair, therefore braids are a perfect method to keep hair out of their faces and prevent this from happening. It can be done with or without braided hair extensions and is necessary since it protects and enhances natural hair.
If a child is reluctant to have their hair braided or has trouble sitting still during the braiding process, it can be frustrating for both the child and the parent. How to navigate that? Here are a few tips to make the braiding process a little easier:
Make it fun: Try to make the braiding process a fun activity for your child. You can play music, tell stories, or let them choose the style of braid they want.
Take breaks: If your child is having trouble sitting still, it's okay to take breaks. Let them get up and stretch or take a short break to do something else.
Use distractions: If your child is restless, you can try using distractions to help them sit still. You can give them a toy to play with or let them watch a movie or TV show while you braid their hair.
Use a braiding aid: There are products available that can help hold the hair in place while you braid, making it easier for you and less frustrating for your child.
Be patient: It can take time for a child to get used to having their hair braided, so be patient and don't get frustrated if it takes a while to get the hang of it.
By following these tips, you can make the braiding process a little easier for both you and your child.
20 Cute and Adorable Kids Braids Hairstyles to Try out!
A thing to note before the braiding process is to start with freshly washed and blow-dried hair, this would help the hair stay healthy and the braids come out neat and beautiful.
1. Braided Ponytail with Bangs
This hairstyle has been a typical go-to for parents and for good reasons. It is fun and allows for creativity in accessorizing the braids.
2. Double Braided Ponytail with Curls at the end
The double-braided ponytail is a cute look that kids will surely love and doesn't take forever to install! The curls at the ends add a perfect finishing touch.
3. Double Braided Bangs and Ponytail
Kids' braid hairstyles enable room for experimentation with hair accessories such as beads, ribbons, etc, and this is greatly distinguishing and enhancing the braid appeal. Bangs are loved by kids and the more the merrier!
4. Double Lemonade Braids
Lemonade braids are an iconic look and you do not want your kid to miss out on that!
5. Heart' Lemonade Braids ( braids_by_erica)
Lemonade braids are side-swept braids that earned the name with the rise of Beyonce's album, along with its trend of popularity. It is a fabulous look and I bet you want your kids to feel and look that way!
6. Braid in a Bun
This is super easy to create and can be done in minutes! If you worry about your kids staying still, try this out!
7. Braided High Ponytail
A braided high ponytail is a must-try hairstyle for your kids because they'll love it! It's far less time-consuming and the outcome is gorgeous.
8. Stitch Braids
Stitch braids are braided closely to the scalp and in a straight manner, accessorized with beads the kid will be obsessed! 
9. Fulani Braids
Fulani braids, originating from the Fulani Tribe, in West Africa are another great way to get your kids to slay braids! I'd recommend opting for medium to large sizes to cut down on the salon time for the kids.
10. Spider' Braided Ponytail with Beads
Hairstyling gets much more innovative or rather creative day by day and it's fun to see the outcome. The spider braid intricate weave is one such creativity.
11. Double Messy Bun
The slightly ruffled appearance of the bun adds to the whimsical appeal and carefree look. This as well has a faster installation time.
12. Double Bubble Braids
If there is a look that signifies playful, carefree, and adorable, this is probably it! Bubble braids have become quite the trend with adults getting big on it too.
13. Beaded Braids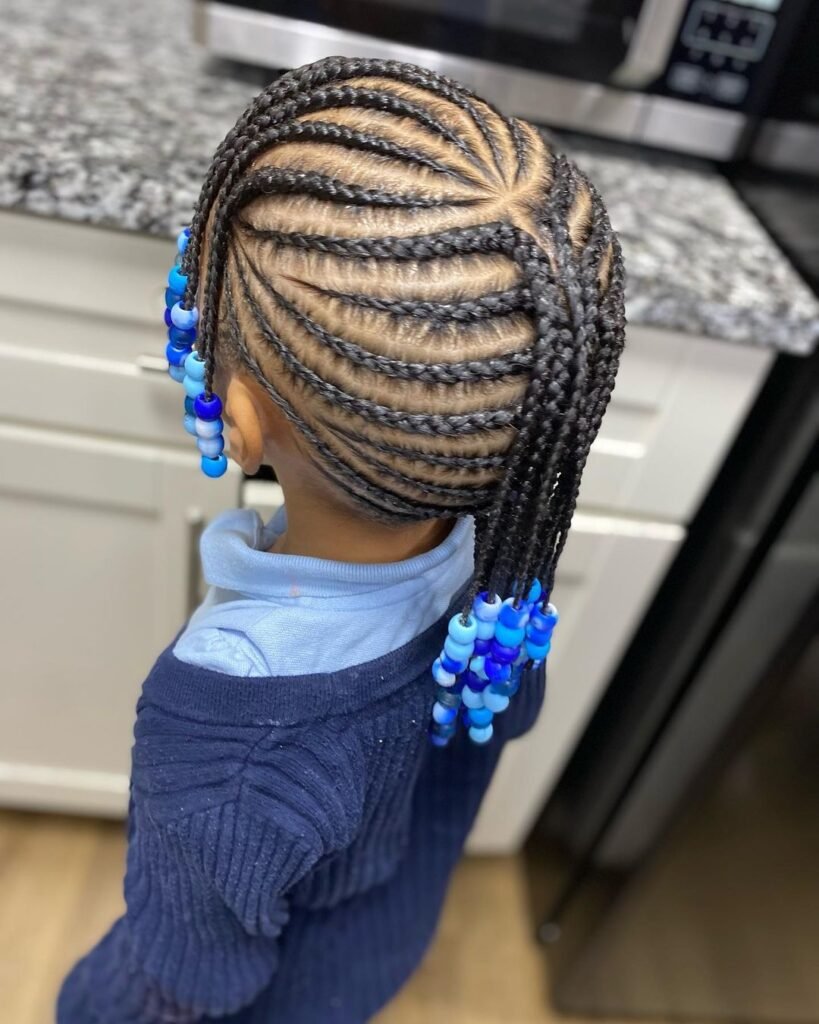 Beads are one of many beautiful ways to spice up looks but for kiddies' hairstyle, it is an absolute necessity!
14. Criss Cross Knotless Braids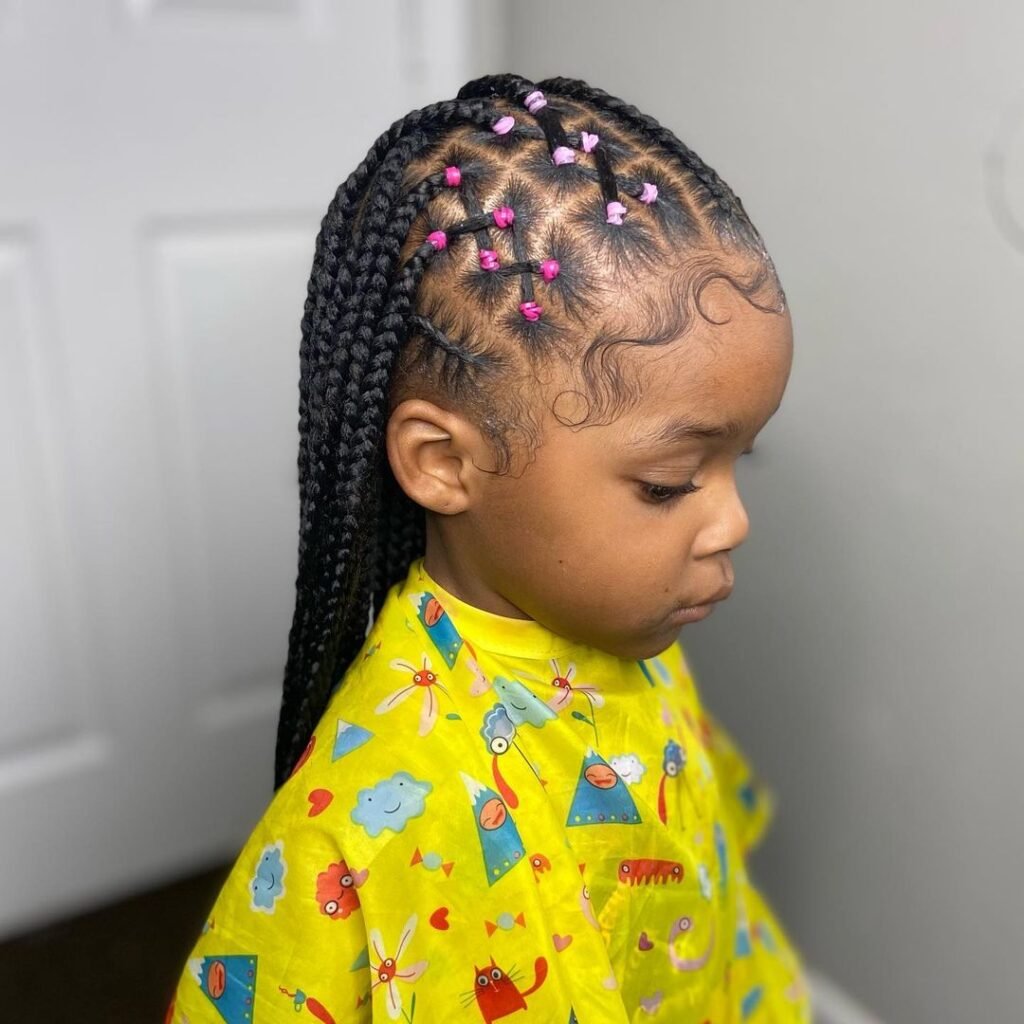 Criss Cross braids are a vibe that kids would surely love! It isn't as complicated as it might look and not as time-consuming either.
The part knotless braids are less painful than the regular box braid as the natural hair is first braided and the hair extension fed in intermittently. The lesser pain would be of comfort to the kids and enable better cooperation.
15. Spiral Stitch Braids
For this look, the hair is braided to fall on all sides. It has a casual and natural feel to it and can be done in minutes!
16. Box Braids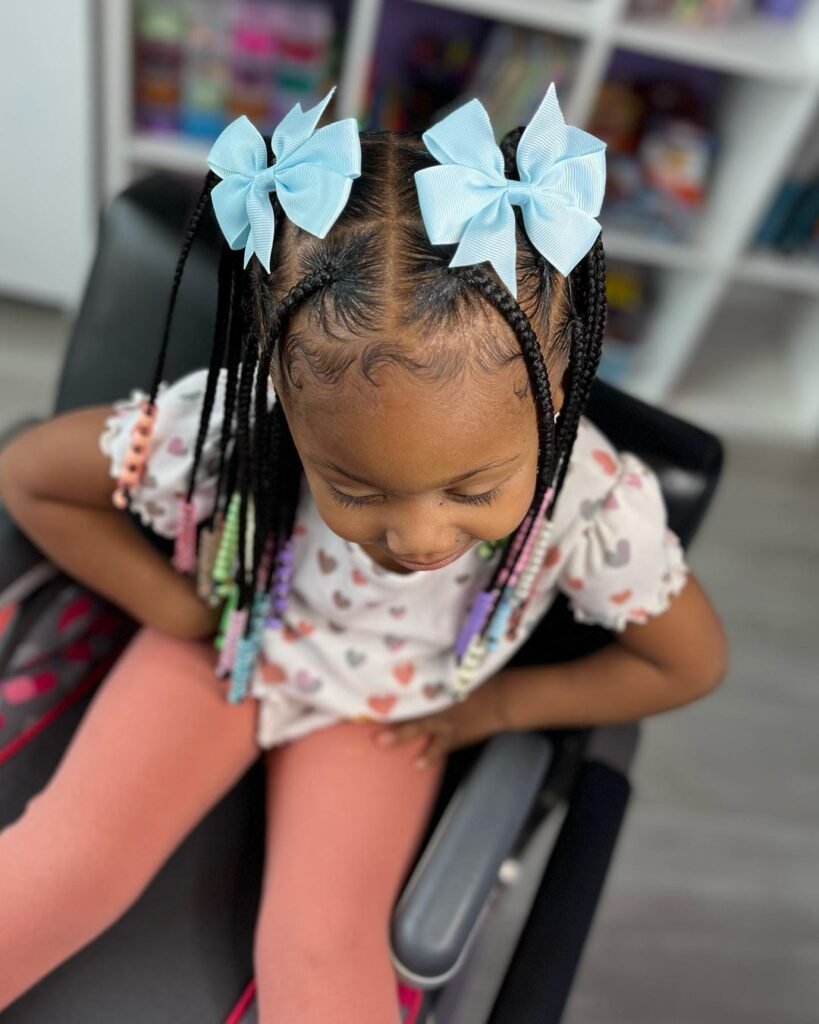 It would be absurd to not have this timeless hairstyle on the list. The slight drawback would be the installation time as box braids typically take longer hours to install although this wouldn't be a problem for medium to large-size and shorter-length box braids.
17. Double Ponytails and a Bun
This simple and cute hairstyle is all shades of gorgeous and can be done in no time perfect for toddlers!
18. Large Plaits
Now, this is a look! Practical and chic. It can be installed quickly and leaves quite an impression.
19. Layered Braids
Layering braids can be a bit time-consuming however that is largely dependent on the size. But, the results are totally worth it!
20. Snake Braids
Snake braids in a braided ponytail do not take long to install and they are stunning!
How to care for kids' braids
Taking good care of braids can help them last longer and look better. Here are a few tips for caring for kids' braids:
Use a gentle shampoo and conditioner: Choose a sulfate-free shampoo and conditioner specifically designed for braids or other protective styles. These products will help keep the braids clean without stripping them of moisture.
Protect the braids at night: Braids can get tangled or matted while your child sleeps, so it's important to protect them. You can use a satin pillowcase or wrap the braids in a silk or satin scarf before bed to help prevent tangles.
Moisturize the braids regularly: Braids can dry out over time, so it's important to moisturize them regularly to keep the hair healthy. You can use a leave-in conditioner and lightweight oil to moisturize the braids.
Avoid tight hairstyles: Tight hairstyles can put a lot of strain on the hair and lead to breakage. Be sure to avoid pulling the braids too tight when styling and use a wide-tooth comb or your fingers to gently detangle the braids.