Are you looking for a protective styling option that's versatile, low-maintenance, and chic? Look no further than stitch braids! This braiding technique involves braiding small sections of hair together, creating a seamless and secure braid that looks natural and effortless.
In this article, we'll explore some of the hottest stitch-braid hairstyles that you can rock this season. From bohemian braids to sleek ponytails, there's a stitch braid style for every occasion.
What are Stitch Braids?
Stitch braids, also known as cornrow braids or braided cornrows, are a traditional African hairstyle in which the hair is braided very close to the scalp in a straight line. Stitch braids can be created using a variety of techniques, such as the crochet method or the latch hook method, and they can be styled in many different ways.
Stitch braids are a popular choice for people with natural hair, as they can be an effective way to protect the hair and promote healthy growth. They can also be a stylish and versatile option for people of all hair types and textures.
How long does it take to install stitch braids?
The time it takes to install stitch braids can vary depending on several factors, including the length and thickness of your natural hair, the length and thickness of the braids you are using, and the skill level of the stylist.
In general, it can take anywhere from a few hours to a full day to complete the installation of stitch braids. If you have very long or thick hair, or if you are opting for a style with a lot of braids, it may take longer. If you are having the braids installed by a professional stylist, they will be able to give you a more accurate estimate of the time it will take based on your specific hair and style preferences.
The number of packs of hair you will need for stitch braids will depend on the length and thickness of your natural hair, as well as the desired length and fullness of the braids. Here are some general guidelines to help you determine how many packs of hair you will need:
For a full head of small or medium-sized braids, you will likely need 4-6 packs of hair.
For larger braids or a more voluminous look, you may need 6-8 packs of hair.
If you are adding hair to your natural hair to create a longer braid style, you will need more packs of hair.
Keep in mind that these are just estimates, and the actual amount of hair you need may vary. It's always a good idea to have a little extra hair on hand in case you need it.
20 Hottest Stitch Braid Hairstyles
Here's a top pick for gorgeous stitch-braid hairstyles suitable for work, a wedding, or a night out on the town.
1. Lemonade Braids with Curls
Stitch braids can be made into lemonade braids which gained popularity with the iconic Beyonce and to say the least, reeks of class and gorgeousness.
2. Heart Galore Stitch Braids
Too many hearts in the world can't possibly hurt anyone, right? Let your hair do the talking with intricate multiple heart shapes and intricate weaves.
3. Half Stitch Braids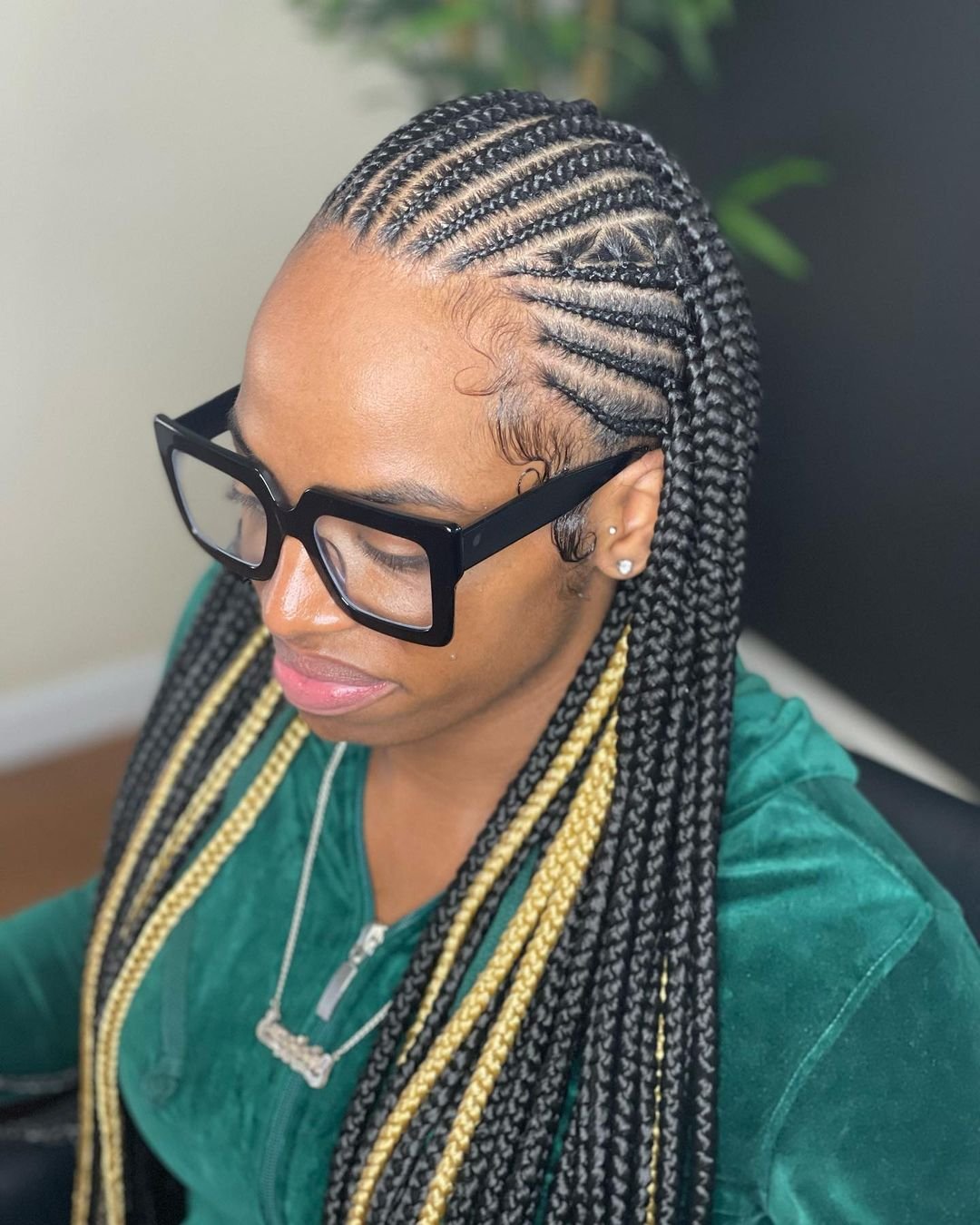 Spice up the stitch braids with a half-and-half look. Half-stitch braids and half-box braids get the heads rolling!
4. Sleek Braided Ponytail with Stitch braids at the sides
A braided ponytail is always a vibe but stitch braids at the sides are a game changer! If you are obsessed with sleek ponytails consider spicing them up with stitch braids.
5. 4 Stitch Braids
Simplicity does it every time. Stitch braids can be plain and simply suitable for both genders and quite easy to install and less time-consuming but no less lovely.
6. Six Stitch Braids
Stitch braids are an almost effortless look to stay chic and classy. And, six is a great number and a way to start!
7. Stitch Braids with Beads
Beads are always an incredible way to add spice and a fun touch to your braids and stitch braids are no exception!
8. Jumbo Sized Stitch Braids
The bigger the better they say and that is especially true when it comes to stitch braids because big says bold and daring.
9. Spider Shaped Stitch Braids
Who would have thought spiders would do hair so much good? This spider shape stitched braid hair inspiration makes for a badass move and it's a no-brainer that it's at the top of the list for badass hairstyles.
10. 6 Stitch Braids and Curls
Leaving curls at the ends of stitch braids does so much in adding beauty to the look and drawing attention to the face.
11. Star Shaped Freestyle Stitch Braids
This look gives off eccentric yet elegant vibes if you want to stand out on every occasion, then give this a shot!
12. Double Dutch Braids with Stitch at The Sides
Dutch braids on their own are a classic however, the addition of stitch braids at the sides takes the look to something more! and the curls are a perfect finishing touch.
13. Zig Zag Part Stitch Braids
The pattern design is everything for a look and the zig zag part carries a playful yet delicate touch.
14. Braided Ponytail
Braided Ponytails is the bomb! They bring attention to the cheekbones and the face in general and with stitch braids, the result is even more alluring.
15. Large and Intricate Stitch Braids
These freestyle large and intricate braids are suitable for events and occasions and far less time-consuming but the results are mind-blowing as always.
16. Bohemian Stitch Braids
Stitch braids with a boho-inspired appearance are a must-try! The curls dangling at the braids add so much appeal to the overall look drawing a great deal of attention to the wearer.
17. Medium-sized Stitch Braids
The look always has a vibe! Simple and medium-sized if you worry about it not being too small or large.
18. Snake Stitch Braids
Stitch snake braids earned popularity and for good reasons too. The snake braid pattern gets heads turning and is a sure attention seeker.
19. Spiral Stitch braids
These braids are easy to do and almost effortless producing a simple and carefree appearance.
20. Black and Orange Stitch Braids
With stitch braids, color mixes are very much possible and they rock! 
21. Goddess Stitch Braids
This exquisite hairstyle features meticulously stitched braids that create intricate patterns, adding a touch of divine elegance and beauty to your look.
22. 5 Stitch Braids
A stylish and modern twist on traditional braids, featuring five sleek and neatly woven sections that enhance your hairstyle with a chic flair.
23. 12 Feed-in Stitch Braids
For this stitch hairstyle technique, 12 meticulously crafted feed-in braids are intricately stitched, creating a seamless and natural look that adds length, volume, and versatility to your hair.
24. Straight Back Stitch Braids
A classic take on the cornrow hairstyle featuring neat and tightly woven braids that are skillfully stitched in straight lines along the scalp, creating a sleek and polished look with a touch of elegance.
25. Men's Stitch Braids
A trendy and masculine hairstyle where braids are precisely woven and stitched in patterns or rows, offering a stylish, edgy look that complements various hair lengths and textures for men.
26. Stitch Braids with Bun
This chic hairstyle combines the beauty of stitch braids with a stylish bun. The braids are skillfully woven and gathered into a bun, creating a sophisticated look.
27. Stitch Braids Ponytail
A sleek hairstyle that merges the precision of stitch braids with a stylish ponytail. The braids are skillfully woven that can be gathered into a high or low ponytail
28. Stitch Braids with Curly Bun
Another glamorous hairstyle that combines the intricacy of stitch braids with a sew-in curly bun. The braids are meticulously woven and styled into a stunning bun, complemented by cascading curls, resulting in a breathtaking and sophisticated look for special events or everyday glamour.
29. Kids Stitch Braids
This beautiful hairstyle is designed specifically for kids. Delicate and vibrant stitch braids are artfully crafted; you can also incorporate colorful beads and accessories to transform your little ones' hair into a captivating wonderland.
30. Red Stitch Braids
A fiery and bold hairstyle that embraces the captivating power of red. The stitch braids are expertly woven with vibrant scarlet hues, creating a striking and confident look that exudes passion and individuality.
31. Zig Zag Stitch Braids
Intricately woven in a mesmerizing zig zag pattern, these braids take your hair to new dimensions, adding a unique and edgy touch to your look.
32. Stitch Braids with Design
Make a bold statement with intricate and customized stitch braids that turn heads and ignite conversations.
33. Two Stitch Braids
Perfect for those seeking a stylish look without spending excessive time in the salon. These braids require only two sections, making the process quicker and more convenient.
34. Stitch Braids with Sew-in
Experience the best of both worlds with stitch braids seamlessly combined with a sew-in technique. These braids are meticulously woven and seamlessly integrated with a sew-in weave, creating a flawless and natural-looking hairstyle.
35. 8 Stitch Braids with Curly Bun
Get ready to rock a stylish look. Weave eight neat stitch braids and tie them up into a cute bun, adding bouncy curls for an extra touch of flair.
How to Care for Stitch Braids
Here are some tips for caring for stitch braids:
Keep your scalp clean: It's important to keep your scalp clean while wearing stitch braids to prevent build-up and irritation. Use a mild shampoo and conditioner to gently cleanse your scalp, and avoid using products with alcohol or sulfates, which can be drying.
Use a satin or silk pillowcase: Satin or silk pillowcases can help prevent tangles and breakage while you sleep.
Keep your braids moisturized: Use a leave-in conditioner or hair oil to keep your braids moisturized and prevent them from drying out. You can also use a water and oil mist to refresh your braids and add moisture.
Avoid tight ponytails: Avoid pulling your braids back into tight ponytails or buns, as this can cause breakage and damage to your hair.
Avoid pulling on your braids: Be gentle with your braids and avoid pulling on them or playing with them too much. This can cause tangles and breakage.
Get regular touch-ups: Stitch braids should be re-tightened every 2-4 weeks to keep them looking fresh and to prevent breakage. Consult with a stylist for regular touch-ups.