Braids are mainly a combination of hair woven together in a pattern that pulls them away from one's face. Braids are mostly cornrows or box braids which includes twists and a group of others. They remain the most popular and protective hairstyles in Africa.
These hairstyles last long especially when they are incorporated into new trendy styles like the lemonade braid. Lemonade braids has gradually become one of the top trending hairstyles in Africa. They were formerly referred to as side braids or the Beyonce braids. They are not only extremely cute, but also possesses the power to transform your entire look overnight!
I know your curiosity is hinged, so let's dive right into this braid style and why you should give it a try!
What are Lemonade Braids?
Lemonade braids are mostly associated with African women; however, they were brought to the limelight by Beyonce while slaying this hairstyle in her 2016 album and music video titled 'lemonade'. Although this hairstyle was popularly known as side braids, it quickly attained a new name afterwards and has been subsequently rocked by other celebrities like Nicki Minaj and Cardi B.
These braids are your usual traditional cornrows weaved with a deep side parting that generally makes them fall over one shoulder. They are very easy to maintain and can last for an estimated period of four weeks when properly looked after.
They can be installed with either your natural hair or with hair extensions.
Lemonade braids appear in different sizes namely micro, medium and large, depending on your preference.
Whichever way possible, this style can be braided uniquely but classy to make you stand out. Although the braiding process can take a minimum of 3 to 6 hours depending on your hair texture, volume, braid size and length, this protective hairstyle lets you experiment at will with your hair extensions to bring out the beauty in you.
Benefits of lemonade braids

They offer a variety of styles that can easily suit your unique fashion and personality only to give you an exceptional look. They can be easily adorned with beads, yarns and strings of different colors that always demand attention.
It is a protective hairstyle that shields your hair from harsh weathers and hair breakage. They can be properly maintained by covering your hair with a bonnet before going to bed and cleaning your scalp regularly alongside the application of hair oil. This is an age-old hairstyle with a legacy of leaving women looking extremely gorgeous and beautiful.
20 Lemonade Braid Styles

Let's quickly dive into the 20 beautiful lemonade hairstyles that will accentuate your beauty!
1. Intricately Styled Lemonade Braids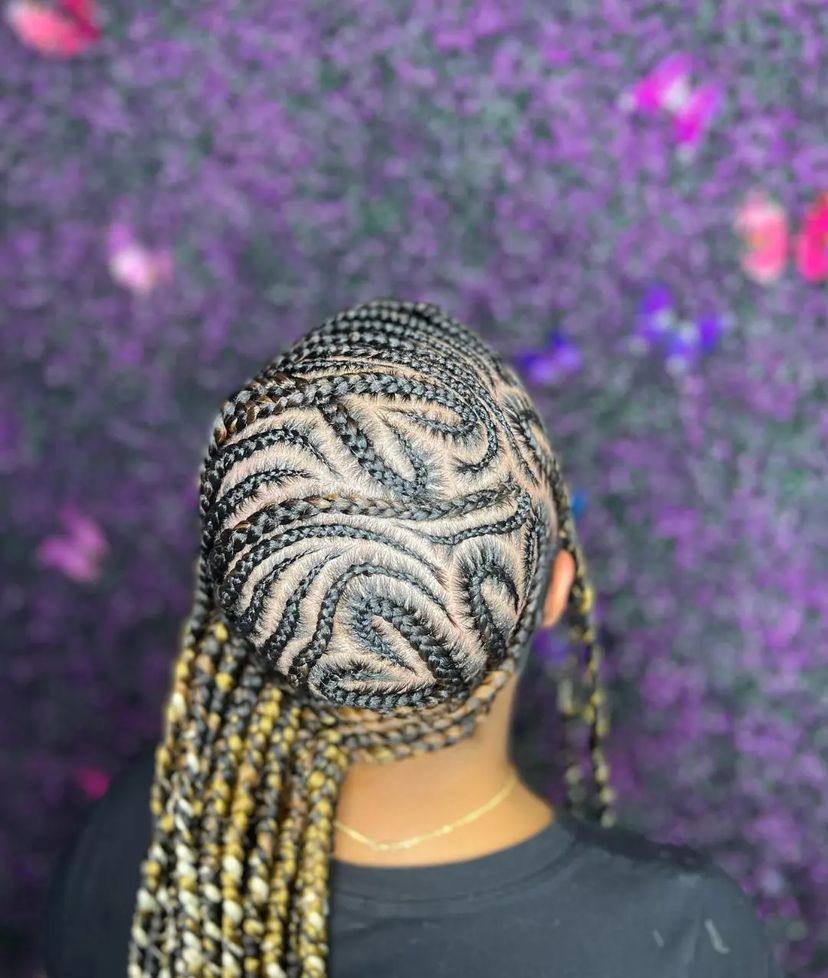 This beautiful hairstyle is creatively woven with braid designs of different shapes and pattern. It is easily suited for simple occasions or events.
2. Lemonade Braid with Curls
Curls are a no 'jokes' when it comes to braids. They fit perfectly to most braid styles which include the lemonade braid, as seen here.
3. Big Medium Lemonade Braid
This is beautiful, elegant and bold! It is easy to style and simple to rock.
4. Stylish Feed-In Lemonade Braid
Feed in braid is super cool, and here is a stylish one, patterned and woven into a beautiful lemonade braid!
5. Half Heart Part Lemonade Braid

Let's pattern our lemonade braids into something deeper, shall we!
6. Net Lemonade Braid
If creativity was a hairstyle, this would be it! However, caution and care would have to be exercised to avoid edge thinning and hair breakage.
8. Small Lemonade Braid
This hairstyle is perfect for all those who would love to try small smoothly weave braids. This can perfectly be rocked to any occasion.
9. Intricate Feed-In Lemonade Braid
It's not enough that feed in braids is amazing, but the blend of large and intricate cornrows is to kill for!
10. Zig Zag Side Lemonade Braid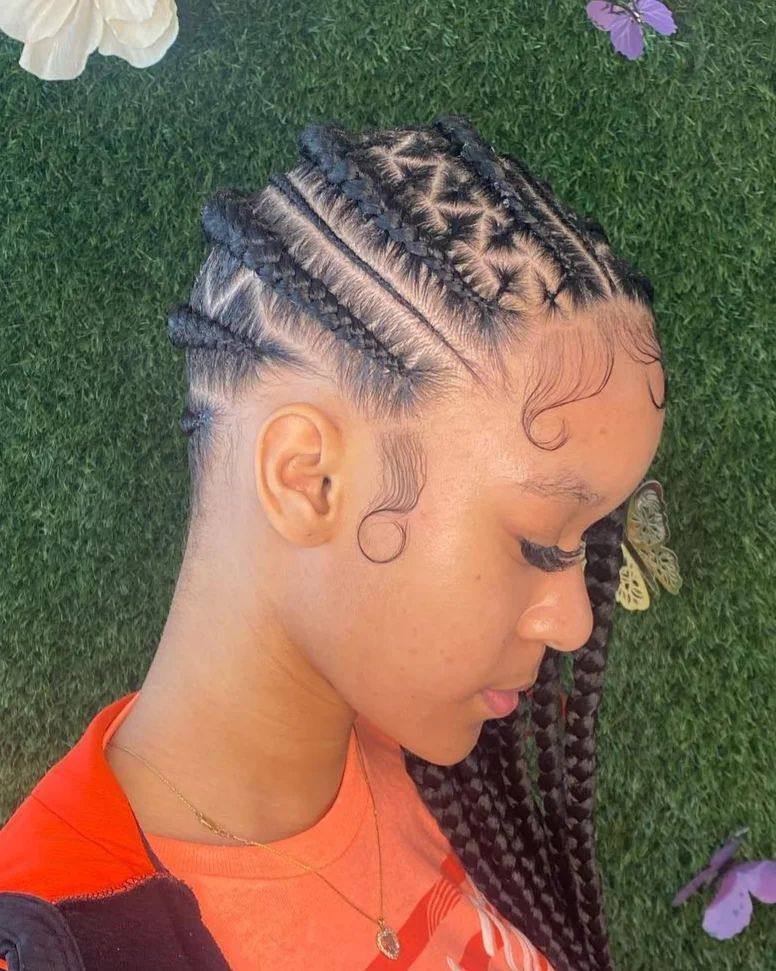 Just as the lemonade braid never goes out of style, the same applies to the zig-zag pattern braids. This pattern can be used on any hairstyle and in every way possible. Here it is intricately installed into the lemonade braid enhancing its visual aesthetics.
11. Medium Stitched Heart Part Lemonade Braid
When considering a heart part, it can either be small, medium, or big. Well, here is a medium-stitched love-part lemonade braid.
11. Big Medium Lemonade Braid
For those who love ease and simplicity, look no further!
12. Jumbo Side Bun Lemonade Braid
This is a colorful side bun lemonade braid that is stylish, colorful, and intricately woven. It can be rocked at audacious events or parties.
13. Tribal Lemonade Braid
This lemonade braid is fashioned in a tribal way that lets you simply rock it with confidence. Its roots are weaved in small micro size using the feed in pattern. It's a cool and bold look.
14. Stylish Intrinsic Lemonade Braid
This looks different from the ordinary I must say. So here the love part is installed around the mid side of the scalp and let to fall freely along the ear. The weaves of this braid style are fashioned to stylishly guide the love part, giving this style a creative look.
15. Bold Lemonade Braid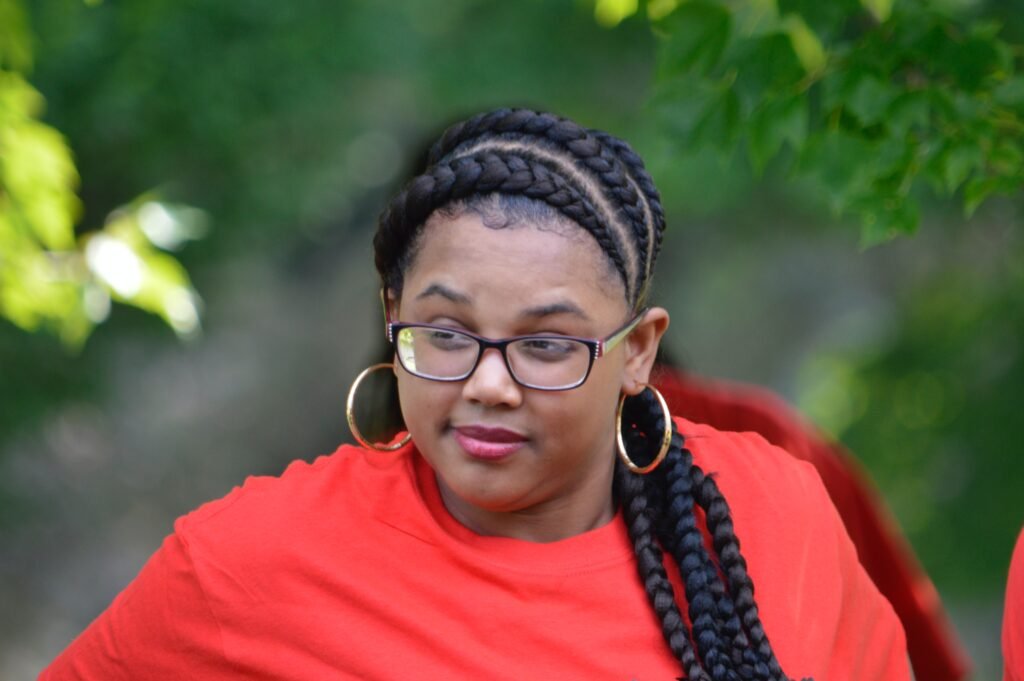 Ever wondered why lemonade braids look cool? That's because it's bold, cool, audacious and cute!
16. Simple Lemonade Braid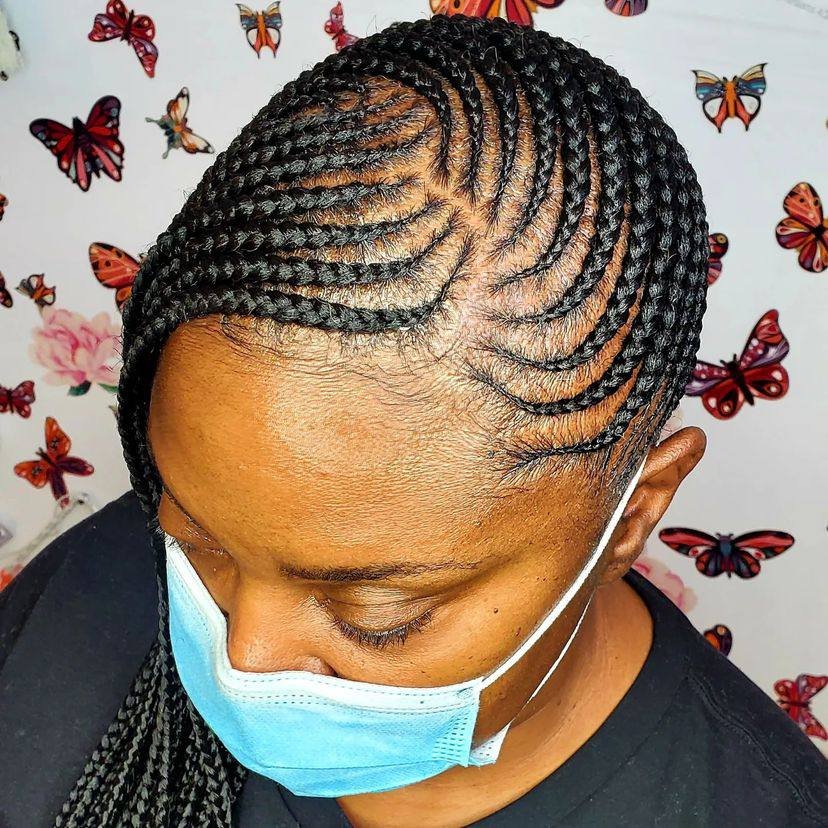 Are you probably in a hurry, and just want to install your lemonade braids quickly? This will save you time and stress.
17. Colorful Lemonade Braid with Beads
Who said beads, curls, and colors don't go well with lemonade braids! This style is a personal favorite and deserves to be rocked!
18. Extra Large Lemonade Braid
Large braids are the loudest, always provoking stares and compliments. So, what better way to rock your lemonade braids if not with the boldest braid size!
19. Two Love Part Lemonade Braid
It is common to install one love part in your lemonade braid, but installing two love parts? Is on another level!
20. Feed In Lemonade Braid
What a smooth feed in braid we have here. Feed in braids are a top notch and this simple braid size, is simply the best.
Care tips for Lemonade Braids

Caring for your lemonade braids should start from the installation. Many times people fall into the situation of having very tight braids and that can only be damaging to your hair. Attending to for your braids means caring for your hair.
To care for your lemonade braids, avoid styling them too much and wearing them for too long. Over-styling and excessive physical manipulation will only cause hair breakage, the same as wearing them for over four weeks.
This might cause hair to frizz. Wearing a bonnet before going to bed is a must-do nighttime ritual as it would retain your hair moisture and prevent dryness, and you must moisturize your hair often. Add in lightweight conditioners, oils and creams.
Conclusion

If your biggest dilemma is how to style your hair or what braid you should install, waste no time on this and jump right into the lemonade braid trend!