Small box braids are a versatile and low-maintenance hairstyle that can be worn by anyone. They are a great way to protect your natural hair while still being able to experiment with different colours and styles.
In this article, we'll show you 30 different ways to style your small box braids, from sleek and sophisticated to bold and colourful. Whether you're looking for a new look for work or a fun weekend hairstyle, you're sure to find something you love in this collection of ideas.
What are small box braids?
Small box braids are a type of braided hairstyle that involves dividing the hair into small square-shaped sections, or "boxes," before braiding them. Each braid is typically about the size of a pencil or pen and the braids are often left hanging loose, but can also be styled in various ways.
Box braids are a protective style and are popular among African American women, but can be worn by people of any ethnicity. They can be done with synthetic hair or human hair, and the style can last for several weeks with proper maintenance.
How long does it take to install small box braids?
The time it takes to install small box braids can vary depending on several factors, including the length and thickness of your hair, the length of the braids, and the skill level of the stylist. On average, it can take anywhere from 4 to 8 hours to install small box braids. However, it can take longer or shorter depending on the factors mentioned above. If you have long and thick hair, it may take longer, while if you have shorter or thinner hair, it may take less time.
It's always a good idea to communicate with your stylist about your hair type and preferences and ask for an estimate of how long the service will take before starting the installation process.
How many packs of hair are needed for small box braids?
The number of packs of hair needed for small box braids can vary depending on the desired length and thickness of the braids. Typically, for small box braids, one or two packs of hair should be enough for a full head of braids for short or medium-length hair. If you have longer or thicker hair, you may need more than 3 packs of hair to achieve the desired fullness and length.
30 Stunning Small Box Braids Styles for 2023!
We assembled a lovely list of dope styles suitable for various occasions.
1. Reverse Small Box Braids
A thing of beauty!
2. A touch of blue
Blue is a fun way to experiment with colours and slay braids differently.
3. Small traditional box braids
Traditional box braids are made with anchor knots and with the advent of knotless braids, it's being neglige to a side. However, many still argue for the preference for traditional box braids and good reasons.
4. Small human hair knotless
For a realistic boho look, opt for this style!
5. Small knotless with curly ends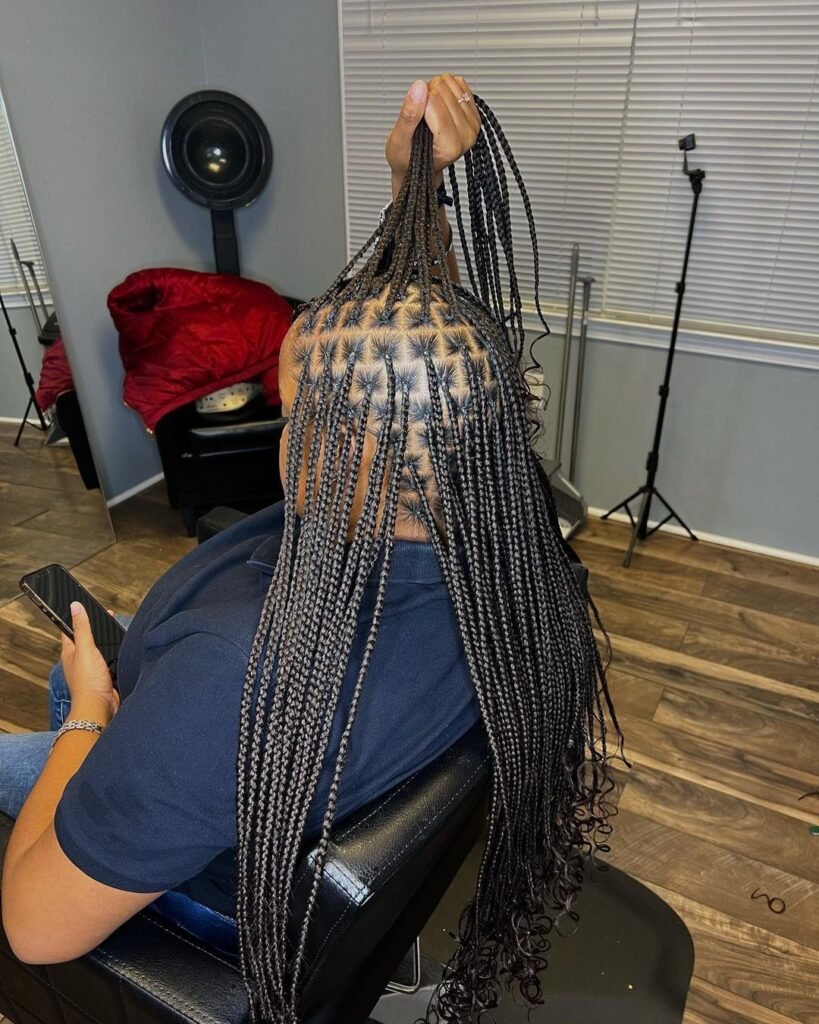 Curls are a game-changer! They make braids look fantastic!
6. Blue and Green
Blue and Green braiding hair colour makes for an interesting combo! If daring adequately describes you? Try this out!
7. Shoulder-length small box braids w curls
Shoulder lengths are a timeless and classy way to rock braids and if you worry about versatility with hairstyling, you shouldn't!
8. Centre part
The centre part is a forever classic!
9. Triangle Goddess Braids
The triangle part offers a certain kind of uniqueness to braids taking it from simple to boogie!
10. Ombre SMedium w curls
The ombre colour is a stunner! And in a small-medium size, it would be a guaranteed obsession.
11. Knotless bob with light curls
Bob and curls seem to blend perfectly! If you are a bob lover this should be a go-to!
12. Bohemian Small Box Braids
We can never get enough of the boho style, its eccentricity and uniqueness are unmatched!
13. Half n Half Extended Curls
Box braids are a timeless look, one that offers creativity and usefulness.
14. Small knotless with crinkled ends
The crinkled end grapples the attention of others rather seamlessly.
15. Small knotless on shaved sides
Who says small box braids can't be rocked on shaved sides? There you have your answer!
16. Micro braids
This style features extra small box braids, they are typically more time-consuming but are far longer lasting.
17. Boho on Shaved sides
If small box braids can be worn on shaved sides why not take it a notch with a Bohemian look?
18. Gypsy braids
Gypsy braids equal one word "gorgeous"!
19. Small Goddess Braids
Goddess braids leave you feeling like the name implies, a Goddess!
20. Small Traditional with curls
Knotless braids and curls go in hand, however, the outcome is pretty much the same for regular traditional box braids.
21. Small with beads
Beads show a carefree and fun look. It is super easy to install and can be worn in a variety of colours.
22. Butt-length
Do you want it long enough to make a statement? Give butt length a shot.
23. Top Bun
Gather your braids into a bun or ponytail at the back of your head for a sleek and sophisticated look.
24. Shoulder length
Shoulder length has been said to work exceptionally well with medium to large-size braids, and that it's true. The outcome with small box braids is equally gorgeous.
25. Double buns
Why make a bun when you can double it up?
26. Bun with bangs
I bet you didn't think you could slay your braids this way, well, think again!
27. Waist length small box braids
Waist length is a typical go-to for most people, long enough that it feels comfortable and offers versatility with hairstyling.
28. Knotless with curls with style
Knotless braids seem to be at the lips of every braider and stylist, it is a trend for good reasons. However, aside from its visual appeal, it possesses an almost natural look.
29. Messy buns and bangs
Buns in a whimsical look and bangs are an extraordinary blend!
30. Double Knots
Gather your braids into a bun at the top of your head for a sleek and stylish look.
Care tips for small box braids
Keep them moisturized: Box braids can dry out quickly, so it's important to keep them moisturized to prevent itching and breakage. Use a lightweight oil or leave-in conditioner to keep your braids shiny and smooth.
Avoid tight hairstyles: Tight hairstyles like ponytails or buns can put a lot of tension on the braids and cause them to break. Try to avoid tight hairstyles or use a hair tie that is gentle on your braids.
Protect your braids while sleeping: To avoid matting and tangling, it's best to sleep with a satin scarf or bonnet over your braids. It will also help to keep the moisture in your hair.
Keep them clean: Box braids can trap dirt and oil, so it's important to keep them clean. Try to wash your hair at least once a week or as needed to keep your braids fresh and clean.
Seek professional help when taking them out: When it's time to take the braids out, it's best to seek help from a professional stylist to avoid any damage to your natural hair.