Get ready to turn heads with these stunning Brandy braids hairstyles. These braids are versatile and perfect for any occasion. Whether you're looking for a fresh new look or simply want to change up your current hairstyle, these braids are sure to make a statement. In this article, we'll take a look at some of the hottest Brandi braids trends and how to achieve them. So, grab your braiding hair, and let's get started!
What are brandy braids?
Box braids, also known as "brandy braids" or "individual braids" are a type of hairstyle that typically involves small to medium-sized braids that are made from synthetic or human hair, and are braided close to the scalp.
They are a popular hairstyle among African American women and have recently been popularized by celebrities such as Brandy and Beyonce. The braids sported by the iconic singer Brandy Rayana Norwood were given the name brandy braids due to their distinctive appearance.
The braids can be styled in various ways, including wearing them down, in a bun, or a ponytail. They can last for several weeks and can be maintained by re-twisting the roots or re-braiding the ends.
How to Create Brandy Braids?
Creating box braids can be a time-consuming process, but with the right technique and patience, you can achieve the look yourself. Here is a basic guide on how to create box braids:
Section your hair into small square sections, using a rat-tail comb or your fingers. The size of the sections will determine the size of the braids. Take a small section of hair from one of the sections, and divide it into three equal parts.
Take a small amount of synthetic or human hair and add it to the section of natural hair. Braid the three sections of hair together, starting from the roots and working your way down to the ends.
Repeat steps 3 and 4 for each section of hair until all of your hair is braided. Once all of your hair is braided, you can either leave the braids hanging loose or style them in a bun or ponytail.
Also, be prepared that this process can take several hours and it's important to have good edge control and hair moisturizer to take care of your natural hair while braiding.
20 Brandy-Inspired Braids for 2023!
We compiled a list of popular brandy-inspired styles that are stare worthy for 2023! And with Brandy Braids the possibilities are endless, and you can always customize them with different colors, accessories, and more.
1. Bob box braids
Bob box braids were the look in the 90s and even now, they made it to the list! Bob's braids have a characteristic appeal of framing and accentuating the facial features rather nicely.
2. Lemonade Braids
These are side-swept lemonade braids and the outcome is typically one word " stunning! It was popularized by Beyonce and has earned quite the stares.
3. Micro Braids
This happened to be Brandy Norwood's all-time favorite! She's mostly seen rocking micro braids styled in different ways. Micro braids are time-consuming, but longer lasting and are a beauty too.
4. Tree Braids
Don't they just look dynamic? You'll get that Goddess feeling with Tree braids and if you hadn't done something like this? Do not hold back!
5. Micro braids with Curls
Curls make it all better, it is the spice! And we wouldn't have it any other way.
You Might be Interested in 20 Beautiful Coi Leray Braids
6. Layered Braids
Layered braids are an iconic look and would forever stay the same!
7. Layered French Curly Braids
This was popularly worn by Brandy and it did her so much good! And here it is again doing a great deal of good as well.
8. Large Box Braids
It would an anomaly if this didn't make it to the list, large box braids are a cute look and would enable you to cut down on the hours at the salon.
9. Messy Knot
Messy and beautiful is the word! The messy knot was significantly associated with Brandy and it was a rather unique way to style box braids.
10. Half up Half down
Half up Half down style is the symbol of Brandy braids, it is a surefire look! Take that from brandy herself.
11. A No Part Look
A no-part natural look was what had Brandy rolling on the red carpets and events, adorning it with her unique smile.
12. Top Bun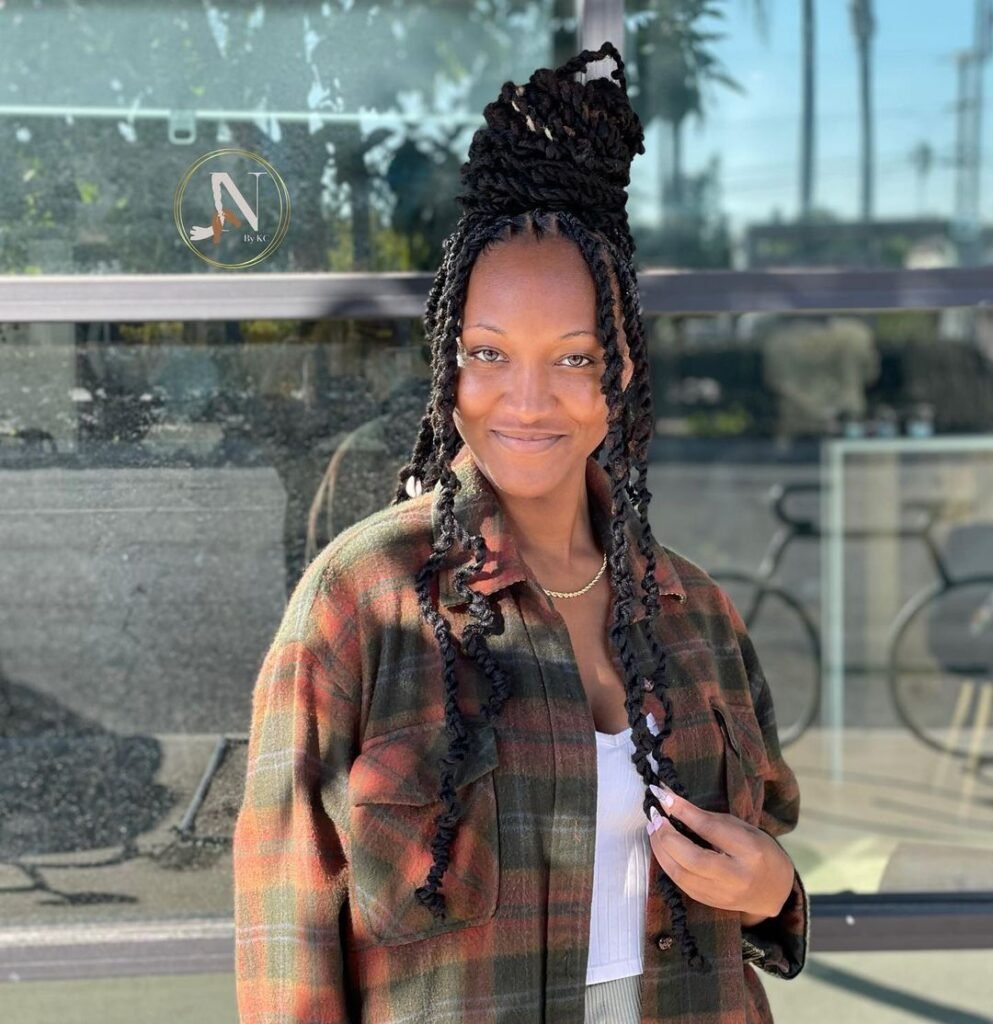 The top bun look is a stunner! It does something to the face by highlighting the cheekbones.
13. Messy Half up Half down
Half up Half down plus messy, now that's a look right there that certainly turns heads! Its slightly tousled appearance gives it a natural yet romantic look. The style is easy to achieve.
14. XSmall Knotless
Extra small knotless braids were a thing, not too small as micro braids, and don't fall in the small category.
15. Box braids with curly ends
Box braids with curly ends, an oldie but a goodie! The curly ends are a signature move as they take the braids from ordinary to something more!
16. Medium Shoulder Length Braids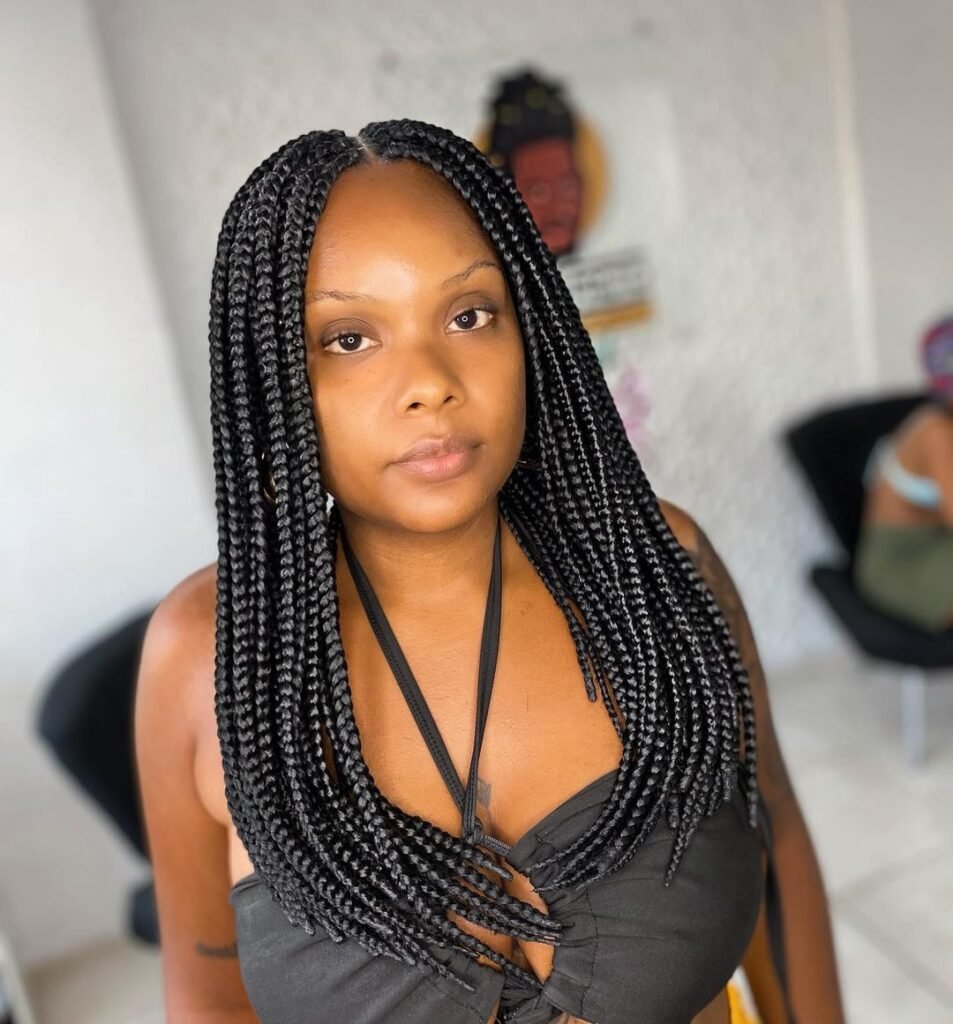 Brandy had been spotted to rock a medium shoulder-length braid and it did look great on her! And, medium-sized braids are typically less time-consuming.
17. Micro Braids in a loose Half n Half
Micro braids in a tousled half-and-half style. It is stunning! And, suitable for various occasions.
18. Bob Tree Braids
Tree braids but in a bob form, dope isn't enough to describe this look. It is amazingly beautiful!
19. Braided Half up Half down
This style features the top half in braids with the rest of the hair down either with the inclusion of an extension or not.
20. Senegalese Twists
Stunning wouldn't do this hairstyle enough justice! The Senegalese twist is a daring and chic look, we can never get enough!
How to care for Brandy Braids
Proper care is essential to maintaining the health of your hair and prolonging the life of your Brandi Braids.
Moisturize your hair: Use a good quality leave-in conditioner or hair oil to moisturize your hair and scalp. This will help keep your hair and scalp healthy, and will also help prevent itching and dryness.
Protect your hair at night: To protect your hair while you sleep, you can use a satin or silk scarf or pillowcase. This will help to prevent breakage and will also help to keep your braids looking neat.
Avoid tight hairstyles: Avoid tight hairstyles that can cause tension on the braids and can lead to breakage.
Cleanse your hair: Cleanse your hair and scalp regularly with a mild shampoo and conditioner. Be gentle and avoid rubbing your hair, instead try to use your fingers to massage your scalp.
Avoid excessive styling: Avoid excessive stylings, such as using gels or heavy oils, which can cause buildup and can lead to a flaky scalp.
Take breaks: Give your hair a break every few months. If you wear braids frequently, take a break and let your hair breathe for a few weeks.