The installation of crochet braids is quick, and they look as cool as actual braids too! Additionally, it may be styled in many different ways and is suitable for various events. Looking for the best ideas for your crochet hairstyle? Read on!
How Do Crochet Braids Work?
As a protective hairstyle, appealing, natural-looking crochet braids are made by braiding, weaving, or crocheting synthetic extensions into your natural hair using a crochet hook or latch hook. These low-maintenance braids are usually referred to as latch hook braids because of the braiding technique used. Crochet and box braids are frequently confused with one another.
Crochet hairstyles are associated with African American hair culture and have long been popular among people with black hair.
The name has nothing to do with the kind of hair used to construct the braids; rather, it refers to the method for adding hair extensions to your hair. Similar to several types of weaves, the crochet technique requires that your hair be cornrowed before any extensions are inserted. In this instance, the hair is loose as opposed to a weave, which is a substantial amount of hair that is sewn in.
A crochet needle is used to pierce the cornrow braid. A small amount of hair is threaded onto the needle, dragged through the cornrow braid, and then tied in a knot to secure it to the hair.
Crochet braids are a protective hairstyle that may be worn in a variety of ways and typically doesn't hurt your natural hair as long as you take good care of them by shampooing, deep conditioning, and doing regular maintenance. Crochet braids must be taken out every six to eight weeks to keep hair healthy and damage-free.
Do crochet braids in any way affect hair? Before you use crochet braids, your hair must be in good condition. If your hair is already thin and breaks easily, you shouldn't use the crochet method since it will make it heavier, and, depending on how you insert it, there may be friction that damages your hair.
What kind of hair works best for crochet braids?
Marley's hair works and is available on Amazon and other beauty websites. The freetress hair has a ton of favorable reviews.
How much time does installation take?
Depending on the style, the time required for the actual crocheting might range from 45 minutes to several hours. It usually takes 2.5 hours. Cornrows will inevitably start taking longer to complete. Your natural hair volume, length, and intended style all play a role in this.
25 Trendy Crochet Braid Styles and Patterns
Check out this comprehensive selection of crochet hairstyles to get you in the mood for fall!
1. Side Part with Curly Ends
The curls at the tips and the side parting are the distinguishing features of this crochet braids style. It offers a switch up from the basic look.
2. Weaved Crochet Braids
This styling method offers a certain form of elegance and is suitable for various occasions ranging from girls hanging out, and casual to more formal events.
3. Top Bun
The bun is a typical highlight of the day, drawing attention to the face, and accentuating the eyes and the cheekbones. They are one of the favorite styling methods for braids.
4. Crochet Ringlet
The tiny curly ringlets are so pretty! And, gives an almost natural appearance.
5. Box Crochet Braids
This crochet style gives off a natural and seamless appearance typically likened to conventional box braids.
6. Boho Crochet Braids
The bohemian vibes come to life with the crochet braids as well. Worried about pulling off a boho appearance with crochet braids? This should tell you otherwise!
7. Soft Locs
Crochet braids do the face so much good! The natural and gorgeous appearance this style gives, takes the game to a whole new level!
8. Illusion Hairline Crochet Braids
It's one thing to rock gorgeous crochet braids and another for it to give an illusion of a full and pretty hairline. This style offers the best of both worlds!
9. Half n Half Crochet Braids
A perfect blend of half locs and half curls left at the tips provides a bohemian and slightly eccentric appearance.
10. A No Part Crochet Box Braids
A no-part always looks for the win! Offers more versatility with hairstyling.
11. Feed in Crochet Braids
Feed-in braids styles mixed with crochet braids are to die for! The combo is a gear from mundane to top-notch.
12. Double Knot
One gorgeous way to style the crochet braids is to put the front braid pieces in a double knot.
13. A High Bun
Bunning the curls up is one of the easiest and most beautiful ways of styling crochet hair in seconds! And, it is perfect for a variety of occasions.
14. Gorgeous Crochet Twist Braids
The full and thick look of the twist braids is stare-worthy! Walk into occasions with suaveness as you draw in the attention of many.
15. Centre Part Twist Crochet Braids
The classic middle part does the work quite well!
16. Free stress Tighter Curls
Tight curls and crochet braids are gorgeous! There's less matting compared to looser curled types.
17. Seamless Free Stress Curls
The seamless and natural feel of the hairline and the tight curls make these crochet braids amazing!
18. Ombre Color Crochet Braids
Ombre-colored crochet braids should be given a try! The color blend is just right!
19. Crochet Braids with Curls
Curls significantly enhance the appearance of the braids. Not a fan? Consider experimenting with it!
20. Side Cornrows Crochet Braids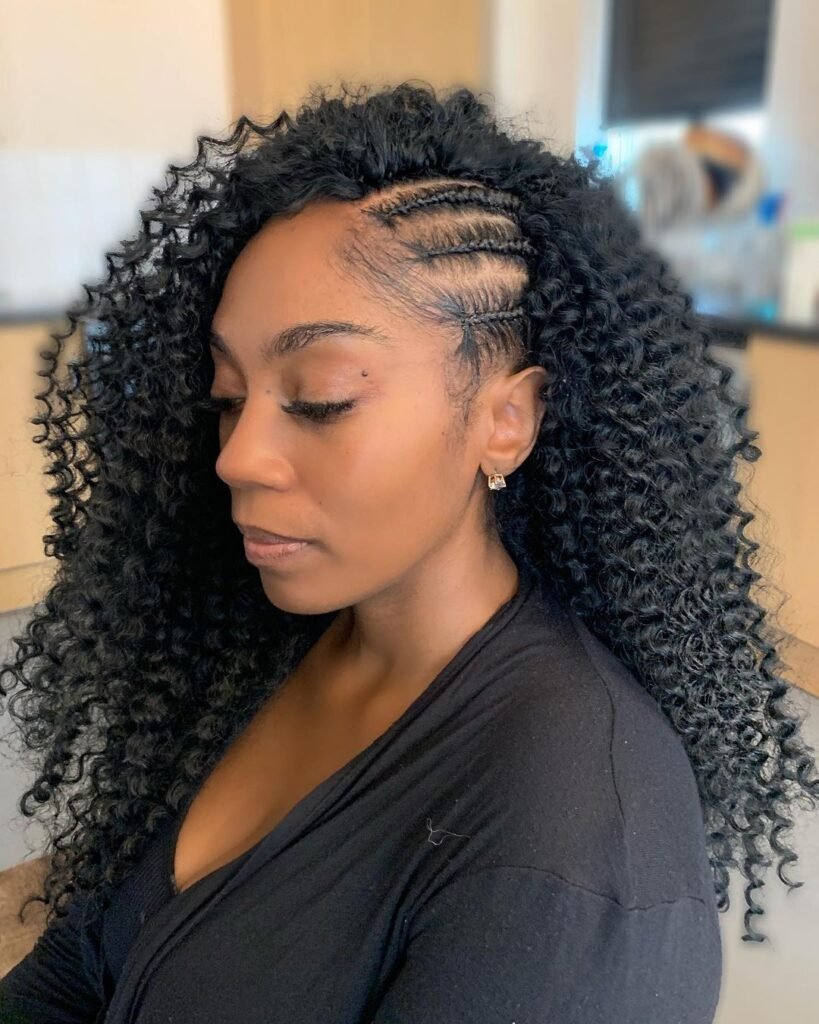 A few cornrows at the side and crochet braids are a great way to rock and style crochet braids!
21. Double Top Knots
High gorgeous knots would always be a sure way to go with the attention it brings to the face. This crochet style should be a go-to!
22. Loose Free Stress Curls
Loose curls have a semblance of a natural hair look and this adds to its appeal.
23. Small Crochet Braids
Like small box braids, crochet braids can be made similarly and installed to achieve the same effect.
24. Braided Crochet Ponytail
The crochet braids can be done as a ponytail and here's one way to do so!
25. Spring Twist Crochet Braids
The crochet style equals dope! The twist is a bomb look!
How To Maintain Crochet Braids
Put on a satin scarf or hat at night to maintain your hair's attractive appearance. A head wrap made of silk or satin provides a velvety glide that minimizes frizz and holds the hair in place.
By combining water, shampoo, and conditioner in a spray bottle and using it to mist your hair between the cornrows on your crochet braids, you may clean them.
After shampooing your hair, apply the leave-in conditioner mixture to your scalp. Use a dry shampoo to further clean the scalp–this would help to absorb excess oils, sweat, and dirt especially if you lead an active lifestyle.
Make sure your cornrows are not too large because this could make the end look to have more bulk.
Crochet braids should not be combed or brushed; instead, use your fingers to untangle matted or tangled hair. If the hair's ends are highly tangled, you can also use scissors to cut the knots or tangles.