Butterfly locs are a fashionable and adaptable protective hairstyle that can last for several weeks, providing a low-maintenance substitute to traditional locs. With butterfly locs, you can experiment with various hair colors, lengths, and textures without committing to permanently locking your hair.
Nonetheless, if you're wondering how to keep your butterfly locs looking chic and fabulous after installation, here are 20 styling options to help you achieve a trendy and modern look.
20 Top Ways to Style Butterfly Locs
1. Double Bun
While a bun can be a cute hairstyle, double mini buns are a statement! This look is so irresistible that you just can't get enough of it. To create this style, start by splitting your butterfly locs into a front and back section.
Then, divide the front section into two and secure each part with a ponytail holder. Finally, wrap each ponytail to create a bun, and voila! You've achieved an easy and stylish hairdo.
2. Side Part
The part styling technique is a favored way to style hair in general due to its ease of creation and a certain vibe it exudes, making it perfect for an everyday look.
3. Butterfly Locs Updo With Bangs
Butterfly locs can be styled beautifully into updos, especially when combined with bangs. Creating a high bun or updo with your faux locs and leaving a few locs to frame your face can result in a stunning, chic, and stylish look.
4. Half n Half
A recent hair trend involves gathering the top half of your butterfly locs into a ponytail or bun while leaving the rest of your locs loose. This style is popular because it's easy to achieve and draws attention to the face.
5. Half Bun
Create a half-up, half-down style with a small bun at the top of your head for a trendy and effortless look.
6. Spiral bun
Spiral buns are becoming a popular hair trend. As the name suggests, this hairstyle features a carefully crafted bun that is twisted into spirals.
7. Low knot
To keep the hair around your hairline out of the way, gather the butterfly locs from your temples and in front of your ears. Pull them back behind your head and secure them with a hair tie. This simple technique can help create a neater look.
8. Middle Part
Styling butterfly locs with a middle part is effortless and easy – all you need to do is create a part in the middle of your head, and you're good to go. The beauty of this style is that it's almost impossible to get wrong, making it a great option for anyone looking for a simple yet stylish look.
9. Space Buns
Buns are becoming more and more creative with the introduction of new styles like spiral buns, messy buns, and space buns. The evolution of bun hairstyles just keeps getting better and better.
10. Half ponytail and bangs
The combination of a ponytail and bangs is a stunning hairstyle that never fails to impress. This pairing exudes a cute and youthful vibe that's hard to resist.
11. Double Ponytail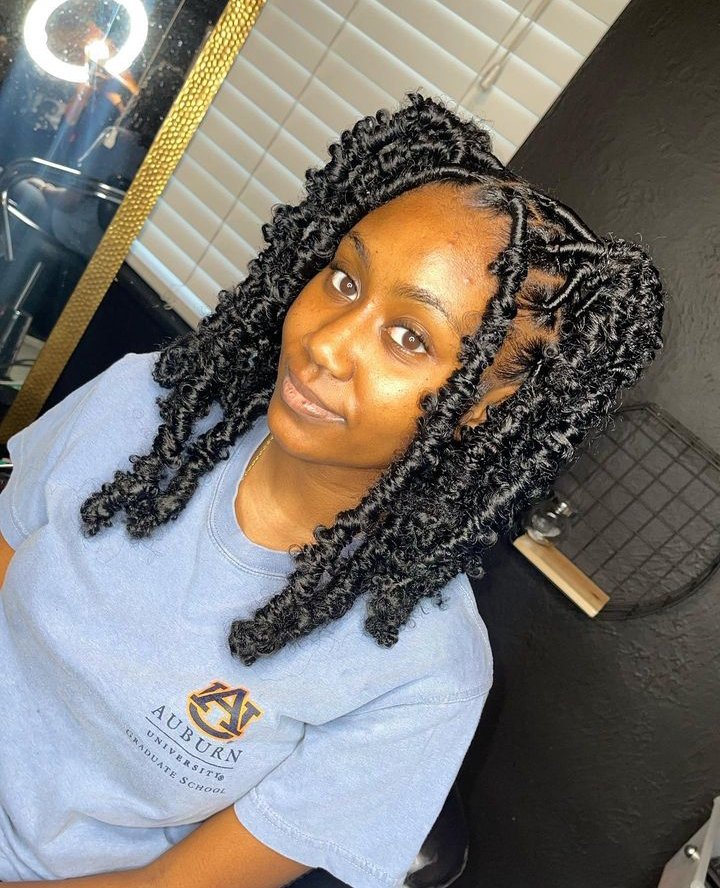 While ponytails are a classic go-to hairstyle, they can seem outdated and boring. However, you can switch up your ponytail game by creating two instead of one. This simple change can give your hairstyle a fresh and modern twist that you'll love.
12. Double knot style
The double knot style is a favorite among many because it's both easy to create and stylish. To achieve this look, simply part your locs down the middle and gather each side, securing them with a hair tie to create a knot.
13. Top Messy Bun
The new trend in hair styling is embracing the messy look. This style creates a tousled and slightly ruffled appearance, giving off an edgy and elegant vibe that's simply gorgeous.
14. A No Part look
The no-part parting look is a stunning hairstyle that gives off a relaxed and natural appearance. This style is recognized for its lack of an obvious part, achieved by arranging your locs in a free-flowing manner.
15. Triple Buns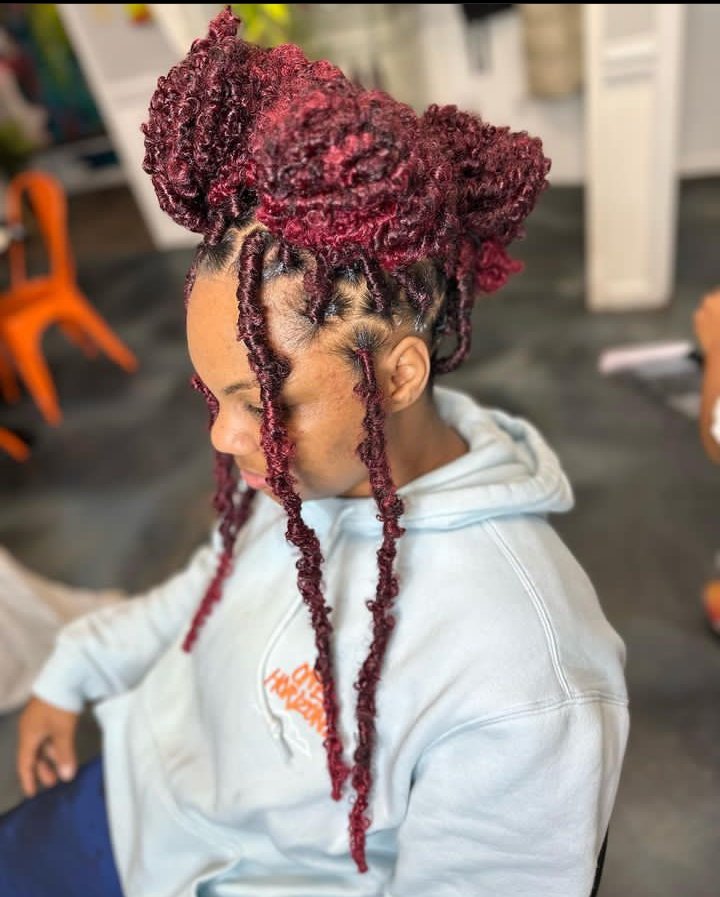 Buns have always been a popular choice for hairstyling, but triple buns take it to the next level. This chic and beautiful look is not something you see every day, making it a standout choice.
16. Loc'd in a scarf
For a chic look, try combining a messy bun with a scarf. Begin by creating a messy bun at the back of your head. Place a silk scarf against the back of your head, and wrap it around your head, crossing it in front of the bun and bringing it towards the back.
Tie the scarf into a knot, and then wrap the tail ends around the scarf to hide them. To ensure the bun looks tall and vertical, wrap it in a way that's not too low or squashed. If the scarf is too wide, fold it in half lengthwise a few times.
17. Crown Braid
Create a crown-like effect with your butterfly locs by braiding the front section and wrapping it around your head. This style is both easy to achieve and absolutely fabulous, suitable for a range of occasions from casual to glam.
18. Styled with Accessories
Personalize your faux locs by adding hair accessories like beads or cuffs. It's a quick and easy way to add a unique touch to your style and make a statement.
19. Double Half n Half
The double half up half down hairstyle takes the coolness factor to the next level and is the ultimate choice for anyone who wants to rock a baddie look
20. Styling Edges
Sleek edges are a crucial styling hack for faux locs and for good reason. When done correctly, they can create a polished and stylish look. Fortunately, there are a variety of edge smoothing products available, such as edge gels, conditioners, creams, and brushes, that can be used to achieve this effect.